Southeast Asian Summits Open Under the Shadow of Ukraine, Myanmar
The ASEAN, G-20, and APEC summits will take place in a climate of global tension and growing strategic polarization.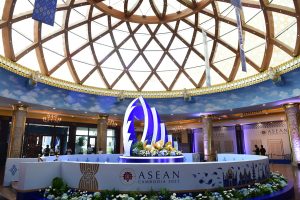 Southeast Asian leaders will today convene in the Cambodian capital Phnom Penh, kicking off 10 days of intense summitry in Southeast Asia. The Association of Southeast Asian Nations (ASEAN) summits and their various parallel meetings will run until November 13, after which attention will turn to Indonesia for the G-20 leaders' summit on November 15-16. This will be followed by the APEC Summit, which will be held in Bangkok on November 18-19. It is the first time in years that all three events are being held in Southeast Asia.
The intensity of the diplomatic activities will be matched only by the density of the agenda. The ASEAN meetings, the G-20, and APEC will take place under the gathering clouds of regional and global turmoil, including the Russia-Ukraine war, the intensifying conflict in Myanmar, and the growing strategic competition between the United States and China. From sheer limitations of time and attention, all this is likely to consign perennial agenda items – such as the South China Sea disputes, recovery from the COVID-19 pandemic, and myriad economic initiatives – to the backburner.
Perhaps the predominant issue will be the fallout from the Russian invasion and occupation of Ukraine. Earlier this year, it appeared that Vladimir Putin's action might derail the G-20 summit, and President Joko "Jokowi" Widodo came under considerable Western pressure to withdraw Putin's invitation. While Jokowi stood firm, insisting that the G-20 is "not meant to be a political forum," this tension appears to have abated in light of Putin's decision not to attend the East Asia Summit on November 13, and his likely absence from both the G-20 and APEC summits.
Meanwhile, Cambodian Prime Minister Hun Sen, whose country has the rotating chairmanship of ASEAN, has invited Ukraine to participate in the bloc's summits on Friday. Ukrainian Foreign Minister Dmytro Kuleba has already arrived in Phnom Penh, where he will sign ASEAN's Treaty of Amity and Cooperation and Kyiv will become an official partner to the group.
The Cambodian leader, who has been surprisingly outspoken about the Russian invasion, spoke with Ukrainian President Volodymyr Zelenskyy by phone at the start of the month. In a meeting yesterday with Kuleba in Phnom Penh, Hun Sen said that his own country's experience of war and invasion made him sympathetic to Ukraine's plight.
However, Phnom Penh's line has not been followed by the region as a whole. Like Jokowi, Hun Sen invited President Volodymyr Zelenskyy to address the ASEAN summits by video link, but this will reportedly not happen after the bloc's 10 members failed to reach a consensus on allowing Zelenskyy to speak. The decision was a stark reflection of Southeast Asian nations' divided positions on the Russian invasion.
Putin's likely absence from the coming summits ensures that greater focus falls on the question of U.S.-China rivalry. As they have done for the past few years, both superpowers are likely to use the upcoming string of summits to advance their preferred narratives, and to seek to sway international and regional opinion in their own direction.
Daniel Kritenbrink, U.S. assistant secretary of state for East Asian and Pacific affairs, said in October that Biden's presence at the ASEAN meetings (and the G-20) will "demonstrate our strong and enduring commitment to the region… From the president to the secretary of state, throughout the entire U.S. government, we know that America's future security and prosperity are entirely dependent on what happens in the Indo-Pacific." China's Foreign Ministry did not mention the U.S. when outlining details of Li Keqiang's upcoming appearance, laying out only a bland statement that Beijing is "committed to its foreign policy of maintaining world peace and promoting common developments."
Alongside this rhetorical sparring, Biden and China's President Xi Jinping could also meet for their first face-to-face meeting on the sidelines of the G-20, talks that are likely to focus on areas of common concern such as climate change. Given the structural underpinnings of the U.S.-China rivalry, and the domestic nationalist constituencies that have now been mobilized in support, it is unclear how much impact this meeting will have in releasing the tension between the two powers.
Whatever happens, however, ASEAN will seek to strike a balance between the two superpowers, with which it has close economic and security ties. This year, the Southeast Asian bloc is elevating the U.S. to a "comprehensive strategic partnership" status. This designation is mostly symbolic, but it will place Washington on par with China, which was anointed a "comprehensive strategic partner" last year. All this suggests that ASEAN continue to "row between the reefs," as Indonesia's first foreign minister, Mohammad Hatta, once put it, remaining friends to all and enemies to none.
Of more concern to ASEAN is the question of Myanmar. For nearly two years, the organization has faced the challenge of trying to curtail the escalating violence in Myanmar.
As I wrote yesterday, tomorrow's ASEAN Summits will be a key moment in the bloc's policy towards its perennial problem member. In recent months, tension and frustration among ASEAN's member states has grown as the military government has shown scant signs of complying with the group's Five-Point Consensus peace plan, which calls for an immediate cessation of violence and inclusive political dialogue.
But despite the continuing inflexibility of the coup government, and its growing list of atrocities and war crimes, last month's Special Foreign Ministers' Meeting in Jakarta offered few signs of a significant change of approach, as many human rights groups, Myanmar civil society organizations, and outside observers are recommending. At the meeting, the bloc's foreign ministers recommitted themselves to the Consensus, with a chairman's statement recommending "concrete, practical, and time-bound actions" for its implementation.
And according to a leaked internal ASEAN document that was published by the rights group Fortify Rights today, the bloc plans to retain the Five-Point Consensus and the ASEAN Secretariat will have the responsibility "to draft the implementation plan." Fortify Rights also noted that the chairman's statement issued after last month's special meeting has subsequently been removed from the ASEAN website and replaced with a much shorter statement that makes no mention of "concrete, practical, and time-bound actions."
As with the Russia-Ukraine war, ASEAN clearly remains divided on how to handle the humanitarian and political emergency in Myanmar. While nations like Indonesia, Malaysia, and Singapore are in favor of a stronger line, other member states prefer to take a more hands-off approach – and the document obtained by Fortify Rights suggests that unity remains a long way off. Any recommendations that are handed down at this week's summit will therefore be ones of degree rather than kind.