Targeted Killings Spread Terror in Rohingya Refugee Camps
Both Bangladesh police and Rohingya accuse the militant group ARSA of conducting a campaign of terror and crime in the refugee camps.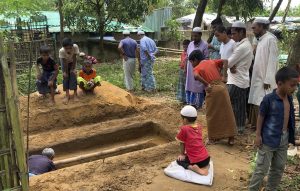 Elite police in Bangladesh launched a crackdown named "Operation Root Out" after targeted killings spiked in Rohingya camps. Police have arrested at least 90 Rohingya refugees, including 24 who were directly involved in the murders. Last October, six Rohingya community leaders and a child were killed in the camp, allegedly by the Myanmar-based armed organization Arakan Rohingya Salvation Army (ARSA).
Farouk Ahmed, spokesperson of the Armed Police Battalion in charge of the camp's security (APBN-8), told The Diplomat, "There were seven murders last month, so we started a crackdown named 'Operation Root Out.' Under that operation, we have arrested around 90 Rohingya who were involved in last month's murders."
He added, "ARSA is involved in these murders, and they are responsible for these murders… ARSA comes here from Myanmar and targets civil Rohingya leaders who work on repatriation." In addition to murder, Ahmed claimed ARSA was involved in "murder, extortion, kidnapping, drug peddling, and human trafficking" in the camps."
Militants of "the Islamic Mahad [another militant group] or ARSA enter the Rohingya camps and create conflict and chaos. They all are terrorists. We have started the crackdown to stabilize the order in the camp," he said.
In the last four months, at least 20 Rohingya have been killed, mostly Rohingya community leaders. Bangladesh Police arrested at least 900 Rohingya terrorists from the camp in the previous six months.
John Quinley III, an expert on human rights with Fortify Rights, confirmed to The Diplomat that leaders in the refugee camps have been killed in targeted attacks by non-state actors in the last few weeks.
"Our team at Fortify Rights has received reports, including photographic evidence from the aftermath of some of the killings that have taken place. Over the years, there have been killings, abductions, torture, and threats from non-state actors against Rohingya refugees, including human rights defenders."
In 2017, ARSA attacked Myanmar Army security posts. The Myanmar army used that as a pretext to wage a bloody campaign against the Rohingya in Rakhine state, which the United States and United Nations have declared to be a genocide. To save their lives, 740,000 Rohingya fled Myanmar and took shelter in Bangladesh's southeastern Cox's Bazar district. The number of Rohingya refugees has increased to 920,000 in five years. These Rohingya are living in refugee camps in Bangladesh with limited livelihood rights.
On the night of October 26, a Rohingya named Mohammad Jasim was taken from his home and brutally killed. He lived in the Balukhali refugee camp in Ukhia.
Jasim's wife, Sophia Khatun (20), narrated how ARSA killed her husband before her eyes.
After Jasim entered the house and sat down to eat rice, five masked armed men broke the door and entered the house with hammers and sticks. As soon as they saw my husband, they started saying, "We have been looking for you for a long time; we have found you today. Today your death is inevitable." Armed terrorists were abusing Jasim, beating him. My husband hugged my mother and me, begging to be saved.

That night, about 60 Arakan Rohingya Salvation Army terrorists surrounded our house, all wearing masks. No Rohingya neighbors helped us. As I screamed, they hit my forehead hard with weapons, and I got an injury on my forehead. They also beat my brother with a stick. ARSA took my husband to the street near our house and brutally shot him dead after some scuffling with us.

ARSA terrorists killed my husband in front of my eyes. I asked them what my husband did wrong, and they said my husband was a traitor. The ARSA commander ordered us to kill him. He opposed ARSA's work… ARSA brutally killed my husband.
Now Sophia despairs over her future and that of her children. "We took refuge in Bangladesh to live in peace, to escape the persecution of the Myanmar army. ARSA has destroyed all my means of survival. We got married in December 2017. Now I am a widow. I have two children. He was a daily laborer."
ARSA, formerly known as Al-Yaqin, is not only killing people in the camps but is also accused of rape, extorting money from Rohingya to buy weapons, forcing Rohingya to join ARSA, and human trafficking. ARSA's name comes up first in cases of smuggling and gun fights with opposing militant groups. ARSA has become a name of terror for the Rohingya in the camp. It particularly seems to target Rohingya working for eventual repatriation to Myanmar.
Abdul Malek (a pseudonym), aged 40, told The Diplomat, "My daughter works in an NGO. We have to pay ARSA 2,000 ($19.53) taka per month… With this money, they will buy weapons and fight against the Myanmar army.
"We didn't listen to them; one day, my daughter was picked up by the ARSA terrorists on her way back from the office. No Rohingya said anything, my daughter asked for so much help, and no one helped her. She was raped and released, but when I was going to file a case against them at the police station, they got that information, and they attacked me on the way and broke my hand.
"ARSA will kill me if I file any case against them."
Abdu Rashid (another pseudonym), 27, runs a private school in the camp and work for our community rights. "I just said that instead of killing ARSA Rohingya in the camps, they should fight against the Myanmar army for our rights. Then we will believe that they are working for our rights," he told The Diplomat. "Now they are killing their own people in the camp. To say this, they vandalized my home. They kidnapped and tortured me inhumanly." His family was only able to secure his release by paying a ransom of 300,000 taka ($2,928).
"Now I stopped my activities; if I open my mouth again, they will kill me. They declared it."
A Rohingya women leader also spoke to The Diplomat. Like the others, she wants to remain anonymous for security reasons. She recounted being forced to flee the camp for fear for her life.
"I have escaped from the camp, and now I am surviving outside the camp, renting a home from the host community. I don't know how long I can do it – ARSA has threatened me several times. They are ready to kill me. They said I am a woman, women's work is not activism, not working for repatriation. They will kill me for being vocal about the rights of our community in the camp.
"When ARSA killed our leader Mohibullah, they buried the future of the Rohingya that day. Now ARSA is trying to kill camp Majhis and Rohingya civil rights leaders. ARSA does not work for Rohingya. It has entered the field to wipe out Rohingya. No one is safe from them."
In September 2021, an armed group killed Mohibullah, a top Rohingya leader who had been leading a campaign called "Going Home." The goal was to allow Rohingya to return to Myanmar with rights and dignity.
Mohibullah's family blamed ARSA for the murder, saying he was killed on the orders of ARSA commander Ataullah Abu Ammar Jununi.
"ARSA is making life miserable for the Rohingya who seek refuge in Bangladesh to save their lives. They are responsible for seven murders in one month. Everyone says they are involved in this murder," Aung Kyaw Moe, an adviser on the human rights for the civilian National Unity Government, told The Diplomat. He said the NUG is collecting documentation "of all the misdeeds of ARSA," including the murders in the camp. "There is a political motive behind the killing of all the leaders of the camp. We have got the information."
Aung Kyaw Moe claims that ARSA is actually in collaboration with sections of the Myanmar military, and he insists that both the Myanmar Army and ARSA need to be held accountable. "Those who committed genocide against the Rohingya and those who associate with the Myanmar Army in carrying out the genocide against the Rohingya have to face justice as criminals. They will be brought to justice with the cooperation of the international community. We will not spare ARSA; they must also face justice because they are killing my Rohingya brothers, creating unrest in the camp."
Shahidul Haque, a former Major General and previously Bangladesh's defense attaché to Myanmar, agrees that ARSA is working more for the Myanmar military than for the Rohingya.
"What has ARSA done for the Rohingya? They have harmed the Rohingya more. They work in the interests of the Myanmar Army."
Haque explained that the Myanmar army does not want the Rohingya to return from Bangladesh. ARSA seems to agree, based on its targeting of those who work for repatriation.
But ARSA is not the only armed group seeking to dominate the refugee camps. ARSA and Islamic Mahad, another Rohingya armed group, have allegedly had gunfights several times in the camps. Some Rohingya families living in Saudi Arabia help Islamic Mahad with financial support and weapons. The top leader of Islami Mahad claimed that Libyan militant organizations trained the group.
In October last year, ARSA attacked an Islamic seminary controlled by Islami Mahad at night, killing six, including students and teachers. A top leader of the organization claimed that they were mujahids of Islami Mahad.
The Diplomat interviewed a top leader of Islamic Mahad, who denied that the group had engaged in any gunfights with ARSA in the camp.
The leader, speaking under the condition of anonymity, said, "Islamic Mahad does not engage in any conflict in the camp, and we do not commit any murders. We were attacked by ARSA in October of last year. Even though they killed our leaders, we do not consider anyone as an opponent… we will not engage in any conflict or take revenge."
He claims that Islamic Mahad has "trained fighters to protect our rights… But we are not involved in killing and do not do robbery, rape, or kidnapping. Our militants are strictly instructed not to cause any chaos in camps. We have highly educated members."
Quinley of Fortify Rights urges Bangladesh authorities to "prioritize refugee protection and work with UNCHR to provide protective spaces for those seeking safety in the camps. Dhaka should also work to give refugees access to livelihoods, education, and freedom of movement, creating a more rights-respecting environment in the camps."
The Diplomat tried to contact ARSA through email and Twitter, but they did not respond. They have yet to make any statement against the accusations leveled against them for the seven murders last month.