Uranium Exploration Stepped Up In India's Northeast
India's emphasis on uranium exploration assumes importance in the context of goals set by the government to harness non-fossil energy.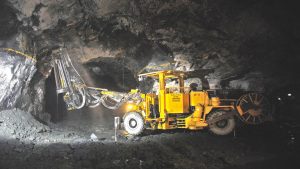 The Indian government has unveiled an ambitious plan to step up uranium exploration in the country's northeast, with new spots for such exploration being identified across as many as three states in the frontier region.
The Department of Atomic Energy has selected eight districts in the states of Assam, Tripura and Arunachal Pradesh for the exploration of uranium out of a total of 40 districts across other states in the country.
In response to an application for information under the Right to Information Act (RTI), the Atomic Minerals Directorate for Exploration and Research disclosed that the districts of Jorhat, Nagaon, Karbi Anglong, Hojai in Assam; West Siang and West Kameng in Arunachal Pradesh; and Khowai and West Tripura in Tripura are under exploration for uranium.
"There are different stages of exploration lasting for a few years.  The new spots that have been identified in the three states of the northeast will undergo exploration continuously for a few years before conclusions are drawn. Not all deposits are viable for commercial extraction," an official said, adding, "In Assam, chances could be bright for [the site at] Karbi Anglong."
Uranium is a naturally occurring element found in most rocks in concentrations of 2 to 4 parts per million and is as common in the Earth's crust as molybdenum, tungsten and tin. It is a heavy metal used as an abundant source of concentrated energy.
As uranium slowly decays, it emits invisible bursts of penetrating energy called atomic radiation while producing more than a dozen other radioactive substances as by-products. These unstable by-products, having little or no commercial value, are called uranium decay products. They are discarded as waste when uranium is mined.
Before uranium is used in a reactor for electricity generation, it must undergo a chain of processes to produce a usable fuel. About 10 percent of the world's electricity is generated from uranium in nuclear reactors.
In India, the current installed nuclear power capacity is 6,780 MW consisting of 22 operational nuclear power reactors. The government has firmed up plans to enhance the capacity to 22,480 MW by 2031. Currently, there is only one operating mine at Jaduguda in Jharkhand. The emphasis on establishing more mines is because the Jaduguda mine reserves are depleting fast.
The emphasis on uranium exploration in India also assumes importance given the goals set by the government to harness non-fossil energy.  At the COP26 Summit held in Glasgow, Prime Minister Narendra Modi said that 500 GW of non-fossil energy would be produced in the country by 2030 and 50 percent of the country's energy requirements would be met from renewable energy.
Nuclear energy has one of the smallest carbon footprints. Its use is essential to check climate change and greenhouse gas emissions. Although nuclear reactors take substantial investment to build, they have low running costs and longevity.  Nuclear reactors produce more electricity on less land than any other clean-air source.
In addition to the districts in the northeast mentioned by the directorate in the reply, nearly 20,000 tonnes of uranium oxide had been confirmed at several places in Meghalaya which is another state in the frontier zone. Among these spots, Wahkyn and Domiasiat have the largest and richest sandstone-type deposits in the country.
However, efforts to begin mining at Domiasiat have hit a dead end following protests from local groups. So far, the government has been unable to grant the license to the state-owned Uranium Corporation of India Ltd which is mandated with mining in the country.