Where Is the 'New' Kazakhstan, President Tokayev?
In March, Tokayev promised a "New Kazakhstan" but there was nothing new in the recent uncompetitive presidential election.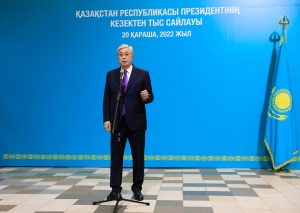 On  November 20, Kazakhstan held a snap presidential election in which President Kassym-Jomart Tokayev won a landslide victory. The outcome of the election, where the incumbent president secured another seven years in office, came as no surprise to both foreign and local observers, especially because the vote was held with no real competition. 
The election took place after Tokayev pledged to ensure a new Kazakhstan, with more democracy and a thriving civil society. In March this year, Tokayev delivered a speech declaring the path toward "Zhana Qazaqstan," or the "New Kazakhstan." The speech was a direct response to the tragic events of January 2022 – when Kazakhstan saw its bloodiest violence since independence – and sought to address the widespread political discontent in the country. Tokayev pledged to eliminate Kazakhstan's "super-presidential structure" inherited from former President Nursultan Nazarbayev. A purge began on allies and relatives of the ex-president, and the capital was again renamed Astana, after being named Nur-Sultan when Nazarbayev resigned in 2019.
Tokayev promised to implement political reforms to create this New Kazakhstan, stating in his speech: "We are faced with the task of strengthening the role of Parliament, which will be important in the successful implementation of the concept of a 'listening state.' We have a clear image of the future and outlines of New Kazakhstan — an effective state with a strong civil society." 
However, civil society conditions remain difficult, and democratic reform has stalled. Tokayev's landslide victory on November 20 was marred by systemic obstacles to enabling a functioning democracy: restricted freedom of expression, freedom to peacefully assemble, and freedom to freely associate (see IPHR and KIBHR reports for the CIVICUS Monitor). Despite the promises in Tokayev's March speech, the political situation has not improved since the January events. The government has so far failed to initiate effective and impartial investigations into the tragic deaths of the over 200 people who lost their lives during those cold January days, as well as the many cases of arbitrary detention and torture that have been widely reported. Although a large number of alleged torture cases were opened for investigation, the investigations fell short of international standards and were often prematurely closed (see briefing paper prior to the visit of European Council President Charles Michel in October 2022).
Unsurprisingly Unfree
On election day in Kazakhstan, groups of local civil society activists protested against the presidential election, which they claimed was rigged, unfair, and unfree. In Almaty, 10 activists from the opposition movement Oyan, Qazaqstan! and five activists from the unregistered opposition Democratic Party were arrested. According to monitoring by the Kazakhstan International Bureau for Human Rights and Rule of Law (KIBHR), more than 30 people nationwide were detained (and released) on November 20, and 20 more arrested and sentenced to up to 15 days of detention for participating in unsanctioned protests in the days leading up to the vote.
The OSCE/ODIHR's election monitoring mission similarly concluded that the vote was unfair, as they highlighted the lack of competitiveness in the elections. Similarly, the parliamentary elections in January 2021 were also judged unfree and unfair, taking place against a background of a lack of genuine political competition and space for political opposition groups, with restrictions on the rights to freedom of association, assembly, and expression and persecution of those critical of the government, including opposition supporters and activists. In relation to the referendum on constitutional changes in June 2022, OSCE/ODIHR concluded that the referendum "… took place in an environment short of genuine political pluralism. There was an absence of an active 'No' campaign and lack of meaningful political debate on the substance of the proposals."
No elections in Kazakhstan have ever been deemed free and fair by independent international observers.  
Observing Obstacles
Other irregularities were also documented in relation to the election. One of the most significant mechanisms for ensuring a fair electoral process is to allow independent election observation. This year, polling stations were frequented by a large number of government-aligned observers. In October, it was announced that a Tokayev-supporting group called "People's Coalition" founded a few weeks earlier at the Amanat (formerly Nur-Otan) party congress, would be recruiting 20,000 election observers for the upcoming election. As there are over 10,000 polling stations in Kazakhstan, this meant that in theory the People's Coalition would be able to station two pro-Tokayev election observers in each polling station across the country. Although there are no reports that any of these pro-government election observers were turned away, there is plenty of evidence that local independent observers from civil society were hampered in their work on election day.
The Astana-based election observing organization Erkindik Qanaty reported on election day that 11 of their observers were removed from polling stations, and also that some observers experienced threats and pressure because of their monitoring activities. One observer in Astana had water poured over her, and was sworn at by anоther observer, whom Erkindik Qanaty suspected was engaged in organizing carousel voting with students. Erkindik Qanaty monitors observed elections in 160 polling stations inside and outside Kazakhstan. Another observer from the monitoring organization Tauelsiz Bakylaushylar was also detained without any stated reason in Almaty on Sunday morning on his way to a polling station.
Local election observation organizations have come under growing pressure in Kazakhstan in recent years. Freedom of association in the country is restricted to such a level that even registering an NGO can be nearly impossible. There are significant underlying problems for Kazakhstani civil society, where certain organizations have been prohibited for years from registering or carrying out activities related to election observation. For example, a Uralsk-based election observation group was repeatedly denied permission to register in 2019-2020. Although the group was able to monitor the referendum in June this year, they faced systemic issues: the Electoral Commission disagreed with statements from the independent observers, who had documented the issuance of multiple ballots to voters. Similar problems were reported in the recent vote – Erkindik Qanaty was for instance able to document instances of alleged ballot stuffing.
Now that Tokayev has secured another seven years in office, it would be appropriate for him and his government to implement the promises that he made in his March speech and allow civil society and independent media in Kazakhstan to thrive, permitting them to hold the authorities accountable for their actions. It would also be timely to ease the procedures for new parties to register and cease persecution of opposition leaders. It is particularly important to ensure that fundamental freedoms — the rights to freely associate, speak, and peacefully assemble — are allowed for all Kazakhstani citizens alike.