Why Thailand's Current Account Returned to Surplus in September
The development, driven by the revival of the tourism sector, suggests that the country is beginning to recover from the pandemic in earnest.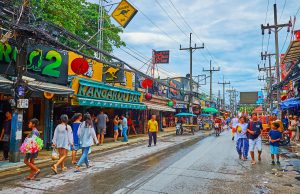 The Bank of Thailand reported that in September there was a $623 million surplus in the current account, which measures the balance of tradable goods, services, and income into and out of the country. This is even though Thailand has seen the value of imports soar this year as a result of skyrocketing global energy prices. So what does this mean, and is it a good thing? Given the way Thailand's economy is structured, government officials would almost certainly consider this a positive development. And in a broader sense, it shows that the economy is beginning to recover from the pandemic in earnest.
The political economy of Thailand is built around exports. It has, quite successfully, positioned itself as a major export hub and global tourist destination. The ultimate objective is for foreigners (be they tourists or businesses) to spend their currencies in Thailand in exchange for goods and services. That is the backbone of the country's economic model. They want the value of the goods they export to exceed the value of imports and to bring in lots of foreign exchange through the tourism sector. Generally speaking, if this strategy is working it will result in a surplus in the country's current account as more foreign currency is spent inside Thailand than outside of it.
Because of this reliance on exporting goods and services to foreigners, Thailand was squeezed particularly hard by the pandemic. The tourism sector alone brings in tens of billions of dollars in foreign exchange and is a key reason Thailand was running massive current account surpluses before the pandemic. Losing those inflows put a lot of pressure on this particular economic model. In 2019, Thailand had a current account surplus of $38 billion. In 2021, with tourism locked down, the current account flipped to a $10 billion deficit.
For Thai policymakers, it was essential to get back to their preferred style of export-led growth as soon as possible. That's why they were pushing things like the Phuket re-opening with such vigor last year. And in fact, the balance of trade has been consistently in surplus, meaning that even during the pandemic the value of goods exported by Thailand has exceeded the value of imports, except very recently due to the soaring cost of energy and commodity imports. What has been needed was a recovery in the tourism sector.
And we are now starting to see that, for the first time since the pandemic began.  The balance of services, primary, and secondary income was -$1.2 billion in September of this year, the smallest deficit Thailand has posted in this category since February 2020. As a point of comparison, in September 2021 the balance in services and income was -$4.5 billion. The shrinking of this deficit almost certainly reflects a robust recovery in inbound tourism, helped by a weakening baht and the return of international travel. Foreigners are once again coming to Thailand and spending their currencies on services, like tourism. Bank of Thailand reports 1.3 million foreign tourists arrived in September, up from 12,000 in September 2021. It is the largest number of foreign tourists Thailand has seen since February 2020.
This trend is likely to continue into 2023. As global energy prices moderate next year, and even more foreign visitors return to Thailand, it seems probable that the kind of big current account surpluses Thailand has grown accustomed to will return to being a regular feature of the economy. If the baht remains weak against the dollar for a while, it will give this whole process a boost.  When taken together all of these signs indicate that Thailand's economy is on track to return to its pre-pandemic trajectory, and September's current account surplus is probably not a fluke.