'ASEAN Centrality' in an Era of Renewed Power Politics
Regional engagement has increasingly transcended ASEAN through bilateral, trilateral, and plurilateral initiatives that are outside of the ASEAN framework.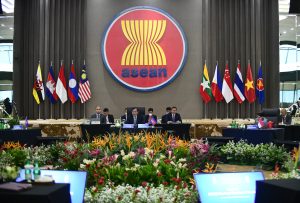 November was summit season for Asia, with the G-20 Summit held in Jakarta on November 15-16 and the Asia-Pacific Economic Cooperation (APEC) Summit held in Bangkok on November 18-19. These events took on added importance amid a string of global crises demanding a multilateral response, from Russia's invasion of Ukraine to food and energy price pressures and signs of an impending global recession. The G-20 Summit in particular was in the spotlight as the setting for the first in-person meeting between U.S. President Joe Biden and Chinese President Xi Jinping, as well as some of Xi's first interactions with other world leaders, both friendly (Australia) and unfriendly (Canada).
Amid these high-profile summits, the meeting of the Association of Southeast Asian Nations (ASEAN) and ASEAN-led East Asia Summit in Phnom Penh, Cambodia, on November 10-13 may have been overlooked. An organization like ASEAN may seem outdated as "middle power" diplomacy takes a backseat in an era of renewed great power politics. Meanwhile, the regional architecture is undergoing transition as established, open, and inclusive regional initiatives (notably those embedded within the ASEAN framework) are being challenged by newer, exclusive, and functionally-driven initiatives. These range from the Quad to the Supply Chain Resilience Initiative and the AUKUS security pact. 
Pressure Points on "ASEAN Centrality" 
In this context, the idea of "ASEAN centrality" faces several pressure points amid an international order in flux. Some of this can be attributed to growing fissures within ASEAN, notably between pro-Beijing member states and others that have sought to maintain a more balanced foreign policy. This started becoming evident from 2012, during Cambodia's chairmanship, when ASEAN failed to issue a joint communiqué citing China's actions in the South China Sea. 
ASEAN's informal rules of interaction, embedded in the principles of non-confrontation, non-intervention and consensus (the so-called "ASEAN way") also pose a challenge. These norms, while granting ASEAN longevity, have relegated it to irrelevance on contentious issues like the territorial disputes in the South China Sea and the suspension of democracy in Myanmar. The Russian invasion of Ukraine has further fueled these concerns amid ASEAN'S lukewarm response to Moscow's actions.
Regional engagement has increasingly transcended ASEAN through bilateral, trilateral, and plurilateral initiatives that are outside of the ASEAN framework. The most notable example of this is the Quad, comprising Australia, India, Japan, and the United States. Initiatives of this type often start out as functionally-driven and focus on specific issues. For instance, in 2020, India, Japan, and Australia launched the Supply Chain Resilience Initiative with the aim of diversifying and strengthening the resilience of regional supply chains. As such initiatives mature, they often move beyond a single-issue focus. For instance, the Quad has expanded its mandate to address pandemic response, climate change, and supply chain resilience.
Cooperation has also increased via other minilateral initiatives. This includes the U.S.-Japan-India trilateral framework, which began at the joint secretary level in 2011 before being upgraded to the ministerial level in 2015 and summit level in 2018. A joint secretary-level trilateral dialogue between India, Australia, and Indonesia has also been held since 2017. 
In the context of perceived institutional inertia within ASEAN and the emergence of new or newly-defined regional initiatives, ASEAN's relevance will continue to be questioned. This questioning is particularly important in the context of a reversion to a regional and global order marked by great power competition.
Regional Architecture in Flux
ASEAN was founded in the 1960s as a means of maintaining regional alignment and autonomy in the face of the bipolar superpower rivalry of the Cold War. ASEAN gained newfound importance in the early post-Cold War period, at a time when globalization was emerging as the key narrative driving the international system. This prompted a push to establish open and inclusive regional and global initiatives. ASEAN was at the forefront of this through initiatives such as the ASEAN Regional Forum established in 1994, the East Asia Summit in 2005, and ASEAN Defense Ministers Meeting Plus (ADMM+) in 2012. 
As the neoliberal international order comes under growing strain, the organizing principle that formed the basis of these ASEAN-centered forums needs to be renewed or revisited. Amid the increasingly pronounced China-U.S. strategic rivalry, bifurcation or polarization of the international system threatens to undermine the commitment to an open and inclusive regional architecture embedded in the principle of ASEAN centrality.
For instance, the fact that the United States, Russia, and China are all members of several ASEAN-led regional initiatives – including the ASEAN Regional Forum, the East Asia Summit, and ADMM+ – will place growing strain on these forums. This became evident during the recently concluded G-20 Summit in Jakarta, where there were concerns over Russian President Vladimir Putin's attendance – which was ultimately resolved when Putin decided not to attend, while the Russian Foreign Minister Sergei Lavrov's participation was low-key.
The increasingly bold and assertive foreign policies of other powers in the Asia-Pacific region have also crowded out the ASEAN model of regionalism to some extent. The most notable example of this is China's Belt and Road Initiative (BRI), which shows little deference to the concept of ASEAN centrality, with a continued preference for bilateral rather than multilateral engagements with the region.
Meanwhile, the United States, while paying lip service to ASEAN centrality, has demonstrated a proclivity toward regional engagement outside of the ASEAN framework. At the most recent ASEAN Summit, which Biden attended in person, ASEAN-U.S. relations were upgraded to a Comprehensive Strategic Partnership. This development followed the ASEAN-U.S. Special Summit in Washington, D.C. earlier this year. Yet the primary U.S. focus on challenging China's regional assertiveness runs counter to ASEAN's preference for maintaining equidistance from all major poles of influence in the international system.
The United States has prioritized reaffirming bilateral alliances and establishing new minilateral engagements that fall outside the ASEAN framework, such as the Quad and AUKUS. The fact that the U.S. appointed an ambassador to ASEAN only in May this year, after the post had been left vacant for five years, was as much a sign of U.S. neglect of the region as it was an attempt to signal its renewed interest in ASEAN. A similar trend was evident in the United States' modest commitment to a fund aimed at facilitating cooperation with ASEAN.
Dual concerns in many Asia-Pacific states about China's growing assertiveness, and at the same time about the credibility of the U.S. commitment toward the region, have also been the catalyst for a wave of regional initiatives. These range from India's "Act East" Policy and Japan's "Free and Open Indo-Pacific" strategy, to South Korea's "New Southern Policy" and Taiwan's "New Southbound Policy." All of these initiatives have paid lip-service to ASEAN centrality while seeking to strengthen regional engagement outside of the ASEAN framework. 
Although ASEAN-led forums remain important as convening bodies, the most substantive action often takes place outside of the ASEAN framework in minilateral forums. For instance, a notable achievement of this year's East Asia Summit was a joint statement issued by the leaders of the United States, Japan and South Korea aimed at expanding trilateral cooperation.  
Reflecting a "New World Order"
The challenge facing ASEAN in its sixth decade is that it has yet to fully reflect or sufficiently leverage the changing strategic environment marked by the rise of China and the more pronounced China-U.S. strategic rivalry. ASEAN may struggle to straddle this increasingly polarized international system given the region's long-standing preference for neutrality, which dates back to its call for a Zone of Peace, Freedom, and Neutrality in 1971. 
Can ASEAN member states simultaneously remain a part of both the U.S.-led security architecture – as seen with several states that are either formal U.S. alliance partners (the Philippines and Thailand) or maintain close security partnerships with the United States (Singapore, Indonesia, Malaysia, and Vietnam) – and the China-dominated economic architecture, with China as a leading source of trade and investment? From ASEAN's perspective, it has been served well by this approach so far, but it will be increasingly difficult to sustain in an emerging global order marked by zero-sum competition.
What is clear is that Southeast Asia will be on the frontline of tensions in the China-U.S. relationship – whether as a result of a potential conflict in the Taiwan Strait leading to disruption of shipping lanes through the South China Sea and drawing in U.S. alliance partners (such as the Philippines), or as a result of technological rivalry between China and the United States, which spills over into a global competition to set rules and standards governing the use of critical and emerging technologies.
Greater coherence on the bloc's regional outlook is needed across all member states as they appear to be drifting apart. Some demonstrate a preference for a Sino-centric regional order (Laos and Cambodia) while others favor a U.S.-led regional order (the Philippines) or sit on the fence (Singapore), or even demonstrate a growing ambivalence toward ASEAN (Indonesia under President Joko Widodo). A restatement of the strategic purpose of ASEAN's external engagement would acknowledge that the existence of ASEAN has been driven by more than just the economic and commercial considerations of expanding trade, investment, and connectivity, and is also rooted in a desire to ensure a balanced regional architecture that is not dominated by any one power. 
Of course, this has always been implicitly recognized in supporting the ASEAN-centric regional architecture. Yet renewed emphasis on this point by ASEAN member states would help to clarify the norms, values, and principles that drive ASEAN's external engagement and ensure its continued relevance in an era of renewed power politics.
This article is based on the findings of a research paper published in The Pacific Review; an international relations journal covering the interactions of the countries of the Asia-Pacific. The Pacific Review has a particular interest in how the region is defined and organized, and covers transnational political, security, military, economic, and cultural exchanges in seeking greater understanding of the region.