Indonesia Set to Pass Controversial New Criminal Code This Month
The code will outlaw sex and cohabitation before marriage, and ban insults against the president and state institutions.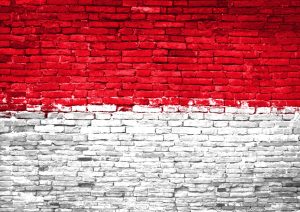 Later this month, Indonesia's parliament is expected to pass a new and controversial draft criminal code that will penalize sex outside marriage and ban insults against the president and state institutions.
Edward Omar Sharif Hiariej, Indonesia's deputy justice minister, told Reuters this week that the code is likely to be passed on December 15, saying, "We're proud to have a criminal code that's in line with Indonesian values."
Described by the news agency, as "decades in the making," the code has alarmed civil liberties advocates and sparked protests in the past. Under the new code, a recent draft of which was cited by Reuters, sex outside marriage carries a maximum one-year prison sentence, while insulting the president carries a maximum of three years. In both of these cases, the charges can only be brought by limited parties: in the former case, close relatives, and in the latter, the president themselves.
The legislative overhaul will also ban criticisms of Indonesia's state ideology, Pancasila, while another clause will prohibit people outside medical professionals from publicly demonstrating the use of contraceptive devices.
In a recent interview with The Guardian, Nurina Savitri, a campaign manager at Amnesty International Indonesia, said that there were dozens of articles in the new code that could be used to stifle dissent.
"There are at least 88 articles containing broad provisions that could be misused and misinterpreted by both authorities and the public to criminalize those who peacefully express their opinions or exercise their rights to peaceful assembly and association," she said.
The government initially attempted to pass the criminal code in 2019 but backed down in the face of a wave of student protests, some of which devolved into violent confrontations with police. One observer described the demonstrations against the code as constituting Indonesia's "largest pro-democracy movement in more than two decades."
The latest draft does appear to have been altered in some ways since 2019, during which time President Joko Widodo's administration has held public consultations to provide information about the changes. For instance, it includes a provision that could allow the death penalty to be commuted to life imprisonment after 10 years of good behavior. However, the draft continues to include controversial provisions. In addition to those cited above, it also includes a provision that criminalizes abortion except in cases of rape, and mandates imprisonment for "black magic."
Writing for the Lowy Interpreter in August, Eduard Lazarus argued that the code's conservative slant could be seen as an effort to placate the forces of political Islam following Jokowi's crackdown against the Islamic right-wing. This has involved the banning of two radical Islamic groups, Hizbut Tahrir Indonesia and the Islamic Defenders Front (Front Pembela Islam, FPI), on the grounds that their activities conflicted with the precepts of Pancasila, which emphasizes unity and diversity.
"If this political ban amounts to a stick approach," Lazarus wrote, "the draft criminal code appears to be the carrot of positive reinforcement, showing that the government is nonetheless willing to cater to their religious socio-cultural aspirations – provided that they don't themselves pose a political threat."
At the same time, the code appears to grant many things that the Islamic right-wing has been advocating for years. Andreas Harsono, a researcher at Human Rights Watch Indonesia, told Al Jazeera earlier this year that the draft criminal code "reflects the growing influence of Islamism" in Indonesia, and that "many Islamists consider it to be the crown jewel of what they claim to be Sharia law." He added, "It will be disastrous not only for women, and religious and gender minorities, but for all Indonesians."