MSMEs: The Key to Indonesia's Decarbonization Efforts
Without support for small businesses, the country will struggle to achieve its ambitious climate goals.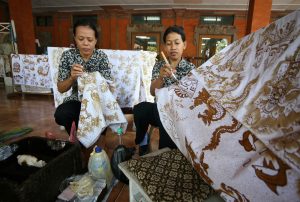 Micro, small, and medium-sized enterprises (MSMEs) comprise the majority – 99.9 percent – of Indonesia's business population, and employ 96.9 percent of its total workforce. They are essential drivers of economic growth, but are simultaneously a key contributor to the country's greenhouse gas emissions. This has only been worsened by the rapid growth of Indonesia's digital economy.
After the COVID-19 pandemic, digital economy investments reached a four-year high, totaling $4.7 billion in the first quarter of 2021, most of which came from MSMEs that had shifted their activities to online platforms. Because of the growing public preference for online retail and the rapid expansion of digital banking, the digital economy growth is projected to grow eightfold by 2030.
However, this digital economy growth has carried a heavy environmental cost. Globally, it has generated demand for over 42 million megawatt-hours of additional electricity and raised concerns about digital waste management. With more Indonesian consumers opting for online transactions, it is harder for the government to control plastic usage and waste disposal, especially as the Government still has 11 million tons of unmanaged waste.
During last year's G-20 Summit in Italy, President Joko "Jokowi" Widodo emphasized that the empowerment of MSMEs had become a cornerstone of Indonesia's green policy. MSMEs are an integral part of our economy, and thus supporting their decarbonization process is essential to Indonesia's renewable energy transition.
Current market conditions provide an excellent opportunity to promote more sustainable options for MSMEs. A recent global survey found that 85 percent of people had shifted their purchasing behavior towards more sustainable products in the past five years. This is also the case seen in Indonesia, where more consumers have turned on the "go-green" option in ride-hail applications such as Gojek and Grab and opted for electric vehicles, indicating that they are willing to pay an extra charge to contribute to sustainability.
Experiences from countries like the United Kingdom, Denmark, and Switzerland demonstrate that adopting greener practices can bring benefits to MSMEs, such as increasing their competitiveness and resilience, opening new markets, reducing costs, and bolstering their profitability. This green transition of MSMEs is also likely to have qualitative impacts on job quality and satisfaction. By increasing the skills and knowledge of their employees, MSMEs can also contribute to inclusive growth.
In the G-20 Leaders' Declaration issued following last month's summit in Bali, Jokowi also emphasized the need for recovery across various sectors, including the building of resilience and the creation of sustainable industries for MSMEs. He described this as a necessary effort to ensure that no one is left behind in the global renewable energy transition.
As the momentum toward global sustainability continues to increase, we need to support MSMEs in making sustainability the norm rather than the exception.
Unlocking Sustainable Finances for MSMEs
Decarbonizing MSMEs, however, entails serious investments in infrastructure, human resources, technology, and research and development. All of these efforts pose a financial burden for MSMEs. This high burden and enterprises' limited resources have become obstacles to MSMEs balancing their business performance and environmental objectives.
Access to financing is a crucial factor in facilitating MSMEs' green transition. There are very limited financing sources for small-scale green projects in Indonesia, but blended finance can be an innovative solution. Banks and private investors often shy away from financing MSMEs' projects because of the small project scale and related investment risks. Blended finance utilizes public funds, concessional donor funds, and impact investment funds to rebalance the risk-reward equation for pioneering investments in MSMEs. A great example of a successful blended finance project is the Corporate Sustainability Bond for Natural Rubber Production, which was established by The Tropical Landscapes Finance Facility, a multistakeholder partnership by the UN Environment Program, The World Agroforestry Centre, BNP Paribas, and ADM Capital in 2018. The transaction involves a $95 million long-dated sustainability bond to finance natural rubber production across heavily degraded concession areas in Jambi and East Kalimantan provinces. The project also partnered with a global tire manufacturer as a purchaser of future production.
Delivering capital for the decarbonization of MSMEs will require coordinated systematic efforts by the government, investors, and beneficiary MSMEs themselves. The types of blended finance and the mechanism of fund allocation need to be tailored to the characteristics of Indonesian MSMEs. According to the Convergence Historical Deals Database, Indonesia accounts for a preponderance of Southeast Asia's blended finance transactions. Just recently, Indonesia launched a first-of-its-kind integrated funding platform called SDG Indonesia One. The platform has already reached $3.03 billion in commitments from a litany of donors and investors. With the correct approaches, this platform should be able to close the financial gap in Indonesia's decarbonization journey.
An intermediary organization can help facilitate the process of implementing a blended finance framework, bridging the investors and MSMEs and acting as a capital market instrument that pools funds and mobilizes private capital. The intermediary organization can also play a catalytic role in strategic transactions between MSMEs and investors, facilitating the process in "understandable language" for both parties.
The Role of Parent Companies
Another mechanism for greening opportunities also exists through "parent companies," the larger corporations to which MSMEs provide their products and/or services. A recent study found that 100 companies are responsible for 71 percent of global emissions. Some of these companies have production facilities in Indonesia and supply most Indonesian market products. For these larger corporations, the pressure to take sustainability actions is more significant, and they are hence more committed to decarbonizing their product life cycle.
An example of such commitment was demonstrated in the B-20 events that were held alongside the G-20 in Bali in November, where the large multinational corporations and local companies that are part of the Jababeka Industrial Estate in Cikarang, West Java pledged to work together to become the first net-zero industrial cluster in Southeast Asia.
With the support of these parent companies, MSMEs can increase their awareness of environmental issues and reduce the financial or information barriers to action. Given the fragmentation of the production process, larger companies must consider that their environmental targets largely depend on the greenness of their entire supply chain.
Creating a Supportive Environment
A recent OECD report suggested that green public procurement can help create demand for green products and services when private demand is insufficient, reducing the market constraint on MSMEs. However, such incentive programs should be carefully planned to ensure long-term sustainability without exacerbating subsidies already directed toward the energy sector. In the absence of well-designed and inclusive policies, climate change mitigation measures will undoubtedly place a higher burden on MSMEs.
An example of supporting regulation is the Indonesian Strategic Actions, which were followed by the Roadmap on Extended Producer Responsibility. Introduced as a tool to extend producers' responsibility over the life-cycle of a product and promote a more circular economy, the policy aims to reduce the total environmental costs of a product by engaging companies to sort their production and end product waste.
An enabling environment is necessary for MSMEs to engage in green business successfully. These enterprises often have greater flexibility than larger firms and can sometimes adopt new technologies more quickly. The right policy, market framework, and standards for MSMEs, which are customized to fit their needs and specificities, can help them contribute and reap the benefits of green growth. MSME-compatible policies and standards also need to be equipped with the right public education measures.
The Path Forward
With the strategic use of blended finance to close the finance gap in green projects, assistance from intermediary organizations to bridge and ensure effective stakeholder collaboration, comprehensive support from larger corporations in decarbonizing the product life-cycle, and in-place supportive policies, MSMEs can play an active role in helping Indonesia reach its ambitious climate goals.
MSMEs supported Indonesia's recovery efforts from the COVID-19 pandemic, and their role can be extended to the country's energy transition efforts, ensuring that the process benefits all. A joint effort by the government, the private sector, and beneficiary MSMEs will be crucial in collectively solving our future climate challenges.
The article was written with support from Horionsah Hasan, First Secretary for Economic Affairs at the Indonesian Embassy, accredited to Denmark and Lithuania.