Period Poverty and Floods: A Toxic Combination in Conservative Pakistan
The catastrophic floods this summer worsened Pakistan's already severe menstrual health problems. Yet few are willing to even discuss the issue.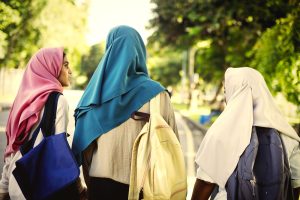 The rains began in June 2022, and soon afterward more than a third of Pakistan was underwater. Around 1,400 people lost their lives, including 458 children, and half a million are displaced.
Pakistan is on the verge of a humanitarian crisis as more than 6.4 million people are in dire need of emergency responsive care or aid. The flood-affected people are facing the dangers of homelessness and lack of food and security, with no means of transportation and no shelter. Diseases like cholera, malaria, and respiratory and skin infections are already making millions of lives more miserable. For women, there is an additional danger: period poverty, and the resulting health consequences.
Women and children are always more vulnerable to disasters. In a country like Pakistan, where the role of women is already much restricted, especially in rural areas, the consequences are even more tragic and devastating. Gender-based violence is also one of the leading challenges, as displaced women are at higher risk of attack when leaving their tents to use toilets at night or going to fetch water, firewood, or rations. Sindh, Khyber Pakhtunkhwa, and Balochistan provinces have all seen reported cases of sexual assault and harassment against flood-affected women. Women are disempowered financially, so there is always the potential that women are forced to trade sexual favors for access to resources. Malnourishment is also on the rise due to a lack of governmental response and aid for the flood-affected people.
There is also a shortage of female health workers or doctors, while cultural norms prevent women from visiting male health workers. This leaves many women without healthcare at a time when their need is greater than ever. According to the United Nations Population Fund (UNFPA), around 73,000 flood-affected women in Pakistan delivered babies in September.
Due to the deadly floods, Pakistani women are suffering from urinary tract infections (UTIs) and many reproductive and health issues. Miscarriages are peaking due to the lack of medical facilities whereas stagnant water, unhygienic conditions, and poor sanitation put women at extreme risk of infections and other complications during their menstrual cycles. More than 8 million Pakistani women are facing the horrors of floods in the form of poor menstrual hygiene.
The results can be catastrophic: "The doctor advised me to remove my uterus because it is infecting other parts of my body too. We have lost everything in the floods, and we cannot afford any such surgery," one woman from Sindh province recounted.
The 2022 floods have thus exposed one of the country's biggest challenges: extreme "period poverty." Since Pakistan is a highly patriarchal and conservative country, discussing women's menstruation cycles, or periods, is still considered a social taboo. Because of this tragedy, flood-relief organizations have often overlooked the need to distribute menstrual products to the women in flood-affected areas.
More than 660,000 people are still living in camps, and that makes women's lives more miserable during their monthly cycle. The lack of toilets, sanitary products, female doctors, or medical camps have caused health issues, especially vaginal diseases, among the young girls and women of the rural areas. The unavailability of menstrual products is forcing women to use plastic bags, leaves, damp newspapers, damp rags, and old clothes.
When these difficulties were pointed out, it sparked some debate as to whether people should donate sanitary pads – many claim that the women of rural areas don't know how to use them. Such arguments clearly exhibit the lack of emotional intelligence of the majority of Pakistani men, who often relate menstruation with "shame." Even in todays' world, talking about menstrual hygiene is a taboo in Pakistan, which has cost the lives of many young girls and women. Dr Alia Haider, in remarks to The Current, summed it up best when she said, "It would be very unfair to give women medicines but not sanitary pads," pointing out that menstrual products are not a luxury but a basic human need.
Yet even initiating a discussion to that end is difficult. Sexism and discrimination make menstruation a taboo subject in conservative Pakistani society. Activists or lawyers who mention the word "periods" are often labeled as "shameless." Buying sanitary pads becomes a battle when shops or pharmacies offer "brown paper" to hide the packing, as if it is something disgusting to be ashamed of.
Pakistan's education system is also responsible for the miasma of shame around menstruation, as there is no proper education or awareness campaigns or programs for middle schoolers, the age when girls typically start menstruation. Nearly half of Pakistani girls do not know anything about menstruation until they experience their very first cycle. Because the notion of "impurity" is attached to periods, 44 percent of girls do not receive basic menstrual awareness or hygiene management instruction at home or school. Not coincidentally, Pakistan has a school drop-out rate of more than 80 percent of girls; due to the lack of education and resources for period management, it is simply not viable for many girls to attend school while menstruating.
Unfortunately, in Pakistan, getting one's first period also means the end of childhood, which often results in child marriages, a practice extremely common in rural areas. Pakistan's rate of child marriage is the sixth-highest in the world.
Another important challenge to tackle period poverty is the high cost of sanitary products. Pads are not a luxury, as Haider astutely noted, but the cost makes them seem that way. The government of Pakistan has failed Pakistani women on this issue, as no policies or measures have been initiated to control or eradicate period poverty, especially following the floods. Periods are natural and because of that, women should be getting free menstrual products with no taxation, advocates say.
The current taxes on sanitary products exacerbate the issues of period poverty and poor menstrual hygiene, robbing women of their comfort, dignity, and health. Activists around the world have long argued that taxation on a product that is a basic necessity for women is a violation of human rights. However, campaigns like "Blood Tax" or "Don't Tax My Period" did not receive much acknowledgement in a country like Pakistan, because the public, policymakers, and, in particular, the government never consider period poverty or menstrual hygiene as serious issues to deal with.
According to The National Hygiene Survey, the vast majority of women who use old cloth during their periods re-use the cloth without washing it, because they have no access to clean water and soap. In that case, using a sanitary pad is a way more convenient and clean option to prevent vaginal diseases. Yet in Pakistan's rural areas, less than a fifth of women use sanitary products; 79 percent of Pakistani women suffer from poor menstrual hygiene every month.
Pakistan's floods have made these challenges worse, but it can also be the motivation for Pakistan to tackle its "period poverty" epidemic once and for all. Providing free sanitary products is extremely important to tackle period poverty, but proper sanitation facilities are equally required to better the lives of Pakistan's young girls and women. Sanitation facilities – bathrooms, clean water, and privacy – must be provided in schools and workplaces so that young girls and women can easily use sanitary products. And above all else, Pakistan's education sector and civil society must work to make sure menstruation – a natural fact of life for half the world's population – is no longer seen as a source of shame.