Shocking Delhi Murder Bares India's Problem With Intimate Partner Violence
The murder of Shraddha Walkar shone a spotlight on the pervasive issue of domestic violence.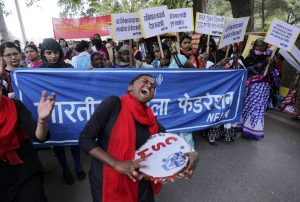 The issue of intimate partner violence (IPV) has exploded in India. The country is reeling in shock over the gruesome murder of 26-year old Shraddha Walkar in the national capital, New Delhi.
The heinous crime, also dubbed as the "fridge murder," has been playing out in all its gory details in the media for the past few weeks. Walkar was allegedly strangled by her live-in partner, Aaftab Poonawala, who then chopped up her body into 35 pieces. Poonawala reportedly kept the body parts in a refrigerator for almost three weeks at his residence in South Delhi's Mehrauli, before dumping Walkar's remains across the city over the course of several days.
Ironically, the crime took place just ahead of the International Day for Elimination of All Forms of Violence against Women (November 25). The United Nations defines gender-based violence as "any act of gender-based violence that results in, or is likely to result in, physical, sexual, or mental harm or suffering to women, including threats of such acts, coercion or arbitrary deprivation of liberty, whether occurring in public or in private life." 
Domestic violence is one subtype of gender-based violence, and IPV is a further subtype of domestic violence, a recognized by the Indian Protection of Women from Domestic Violence Act 2005.
Domestic violence is a punishable offense under Indian law and recognized as a violation of human rights. Yet, the latest round of the National Family Health Survey 5 (2019-21) reveals that violence against women persists to such an extent that 32 percent of ever-married women aged 18-49 years have experienced emotional, physical, or sexual violence committed by their spouses, with more rural than urban women reporting such experiences. 
According to research in the Journal of Epidemiology and Community Health, one in three women in India is likely to have been subjected to IPV of a physical, emotional, or sexual nature. Yet only one in 10 of these women formally reports the offense to the police or healthcare professionals, the findings show. These figures suggest that India is unlikely to meet Sustainable Development Goal 5, which focuses on gender equality and the elimination of all forms of violence against women and girls by 2030.
Another report titled "Progress on the Sustainable Development Goals: The gender snapshot 2022" published by the United Nations Women and the U.N. Department of Economic and Social Affairs has identified gender-based violence against women as one of the factors that could delay achieving global gender equality by 286 years. It highlighted that one in every 10 women and girls aged 15-49 across the world was subjected to sexual and/or physical violence by an intimate partner in 2021.
Given the gravity of the situation U.N. Secretary General Antonio Guterres recently urged world leaders to increase funding by 50 percent to women rights organizations and movements by 2026. In his message ahead of the International Day for the Elimination of Violence Against Women, he said that "every 11 minutes, a girl or a woman is killed by an intimate partner or family member."
"Women and girls also face rampant online violence, from misogynistic hate speech, to sexual harassment, image abuse and grooming by predators," Guterres added, while also highlighting the rising menace of online abuse and cybercrimes targeting women. He called upon global leaders "to take active steps to stop violence against women." 
"The problem is more pervasive than most people think," said activist and social worker Sushma Pandey of Sakhi, a non-profit focused on women's issues. "And it is widely prevalent across all strata, not just the uneducated poor or rural segments. We've come across women from all age groups and classes who have been battered by their abusive partners or husbands with none to support them." 
One such victim is Delhi-based Kamala Sharma (name changed on request). The 38-year-old mother of two has been married for 12 years and says she has faced "severe trauma" at the hands of her alcoholic husband.
"I've stayed in my marriage just for my kids even though my parents have advised me to leave him for good. But I've now reached a stage when I will have to leave him. He shows remorse for a day or two after beating me, and then it's back to square A. His behavior is impacting my young kids very badly."  
Married women with children who are financially dependent on their abusive husbands find it the most difficult to leave, according to surveys. The stigma of being a "divorcee" or "single mom" and concern about the impact of divorce on young kids deter many women from leaving abusive marriages. The lack of a strong support structure, fear of social judgment, and inability to provide for their children makes them feel trapped.  
According to the latest National Family Health Survey, domestic violence in Indian homes remains an open secret and a pervasive problem, violating a woman's basic human rights. The survey highlights that "…29.3% of married Indian women between the ages of 18-49 years have faced domestic violence/or sexual violence. 3.1% of pregnant women between the ages of 18-49 have experienced physical violence during any pregnancy."
However, activists say that official statistics can often be misleading and don't reflect reality. "Only a miniscule number of victims come forward to report abuse due to social conditioning. So only this number gets represented in official statistics," Pandey said. "Most [victims] are asked to 'adjust' even in such violent settings; some blame it on their bad karma while the rest just see it as something that's par for the course in a patriarchal society."
However, underreporting of domestic violence and the proportion of women opting to stay in abusive marriages is hardly surprising given India's ossified societal norms and victim shaming. "The more one faces violence in a relationship, the more it gets normalized and accepted in society," opined social worker Jagriti Kakkar. 
"Worse, in male-oriented households, it's the women who are often blamed for their husband's bad behavior. This further encourages the men to continue the abuse and the women to keep quiet. We must break this culture of silence around domestic abuse."
Kakkar added that while incidents of IPV have plummeted marginally with better education and women's economic empowerment, the victims' willingness to seek help or formally report it has worsened. "According to our field studies, barely 10-12 percent of women seek help following any form of violence. Internalized patriarchy, misogyny, violence, continue to impact Indian women."
Many women say they feel "unsafe" approaching the police because they are afraid of losing their sole breadwinner. If their partners are jailed, who will support them? 
That fear also grips Sharma, discouraging her from reporting her husband's abuse to the authorities. "I was also petrified that he'll abuse me even more once released, and may even harm my parents and siblings," she shared. 
Apart from physical trauma, psychologists say the mental effects of domestic violence are even more damning and long lasting. Depression, anxiety, low self-esteem, anxiety, suicidal thoughts, alcohol and drug abuse are some of its common effects. 
Given the magnitude of the problem, and how entrenched it is in Indian society, as well as the fact that nearly half of India's 1.35 billion population is women, experts recommend a wholistic approach to address it by involving all stakeholders. Involving grassroots and civil society groups at every stage of decision-making; implementing laws to make sure survivors get quick justice and redress; and launching public campaigns that challenge patriarchal norms and encourage women to speak up can go a long way in tackling the root of IPV.