Will India Be Affected by Delays of Arms Imports From Russia?
India's decision to ban imports of certain military products at this time is not necessarily a huge mistake.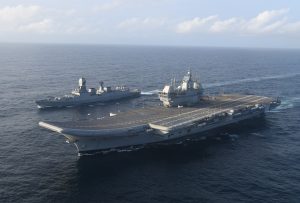 New Delhi's attempts to simultaneously retain partnerships with the West and Russia have been put to the test given Moscow's unjust invasion of Ukraine. India has managed to retain its position and is likely to keep it in the future, despite challenges that have arisen from the war. One challenge has been the need to take a diplomatic stand on the invasion (New Delhi took a neutral position by not supporting the resolutions that condemned Russia, and for this India was criticized by the West). The second challenge was the need to evacuate thousands of citizens from Ukraine (which forced India to ask both sides for a ceasefire to let them through). So far, India has also reaped one major benefit from the whole situation: New Delhi took the opportunity to purchase discounted Russian crude oil, which it began to import in large quantities for the first time in the history of the two countries.
And yet, there is one possible downside for India that New Delhi might have felt. Certain reports suggest that India – a country that still largely uses Russian-made military products – is facing delays in arms deliveries from Moscow. At the same time, in March this year, New Delhi decided to ban imports of certain military products. Given Russia's situation, and India's dependency on Moscow's weapons, was that decision a mistake?
For instance, the Indian Navy recently introduced the country's first indigenously produced aircraft career, INS Vikrant. According to Abhijit Singh, in a commentary published by the ORF on September 3, the ship's functioning might have been affected by delays for a time. "The ship's Russian-origin equipment, in particular the Aviation Facility Complex (AFC), is yet to be fully operationalized, following U.S.-led sanctions imposed on Moscow for invading Ukraine," Singh writes. According to several sources, deliveries of the next batch of S-400 systems have also been delayed (see Sarosh Bana's text for The Strategist). 
Separately, the Russian invasion of Ukraine is likely to derail or significantly delay those security projects that depend on Indian cooperation with Ukraine, as New Delhi has also been purchasing military products from Kyiv (which The Wire's Rahul Bedi has signaled from the first day of the war, as he did in case of supplies from Russia).
Even if none of the above tidings are confirmed, such delays are still likely to occur in the near future. While India is naturally striving to become self-reliant, it is for now shelf-reliant – with regard to Russia. There are two reasons for this. First, as Moscow is focused on its (cruel and mistaken) invasion of Ukraine, the Russian military industry will be mostly striving to keep delivering for its own armed forces.
Second, as a result of the war, the United States, together with its Western and Asian partners, have cut Moscow off from advanced semiconductors, which Russian weapons use (see this great report by RUSI and this thorough article by Politico). As pointed out above by commentators such as Singh, this may also affect India. It is likely that any modern Russian military products contracted to India require semiconductors produced by the West (or Taiwan/Singapore/South Korea/Japan, all of whom joined the sanctions). As the future of the war remains unclear, the more advanced semiconductors Russia currently has in stock, the better for its industry – but in the face of shortages, the country may still be forced to choose between shipping products to India or delivering to its own armed forces.
Thus, the more Russia currently has on its shelves, and the more it can produce, the more Moscow will be able to simultaneously arm its own forces and deliver the promised supplies to India. The bigger the Russian shortages are, the longer Western sanctions are in place, and the longer the war goes on, the greater the possibility that deliveries to India will be increasingly delayed. After a certain point, this could affect Indo-Russian ties, once again proving how foolish and suicidal the invasion of Ukraine has been for Moscow. Not only will President Vladimir Putin have harmed his country's economy but also Russia's relations with many other states.
And yet, all of this seems to be unrelated to New Delhi's recent import ban – or at least unrelated to the Indian government's original intentions when it comes to the ban. First of all, the ultimate long-term goal for India is to be able to produce crucial military products on its own (as much as it is possible). To achieve this, the government is trying to both support its own industry as well as reduce imports from other countries; currently, India is one of the largest importers of weapons in the world. This, of course, means not only limiting imports from Russia but, eventually and ideally, from all outside sources. The effects of the invasion of Ukraine could have strengthened the conviction that this should be done, but the need to reduce this deep dependency has been discussed for decades.
A new plan to strive toward this goal was declared in 2020 in the form of the Atmanirbhar Bharat Abhiyan (Self-Reliant India Mission; here the ambitious goal is to make India independent not only when it comes to the defense industry). The bans on imports of military products are just one of the tools of this campaign. They are to be introduced in a phased manner, and three bans, each covering a long list of items, have been introduced since 2020.
The bans may not be as crucial as they seem, however. First of all, they mostly cover what the Indian defense industry is already producing, or what it may reasonably assume that it can start producing in the medium-term perspective. That way, the ban may be treated as a roadmap: it shows in which areas, and in what stages, the Indian government is assuming its defense industry will be becoming self-reliant in the coming years. 
Second, this is in effect a self-imposed ban. Most of the Indian defense industry consists of public, not private, companies. Thus, the government is banning imports for its own companies (which, being eventually under the control of the government, may take the decision not to import anyway). In case a certain capacity is not successfully built in a given phase or a new shortage occurs (as it is likely now), the government may lift the ban. 
Third, a cursory reading of the lists of banned products shows that not many represent significant and full platforms, such as lightweight tanks or helicopters. Most are components and subsystems that are imported to be used in certain platforms. India would not decide to suddenly ban the import of, say, an advanced multirole aircraft knowing that it is impossible to begin producing such a platform in a short time.
Thus, it is true that New Delhi is beginning to ban the imports of Russian (and other) military products and that at the same time India is likely to face delays in deliveries from Russia. And yet, it is unlikely that these two lists of products will overlap much. The crucial platforms that India has contracted from Russia, like S-400s, may be delayed from Moscow's side, but will not be banned from New Delhi's side. The risk, for India, is rather that of miscalculation: the assumption that the defense industry will be able to produce a certain item in the near future may turn out to be wrong. In this case, however, the ban may simply be lifted.
Thus, the imports bans may not turn out to be a mistake (especially since they can always be withdrawn on a case-by-case basis) but at the same time the delays of deliveries from Russia are likely to become a challenge for India no matter what New Delhi does.