Boat Carrying 184 Rohingya Refugees Lands in Western Indonesia
The leaky wooden vessel is just the latest to reach the shores of Aceh, as more and more refugees undertake the dangerous ocean crossings.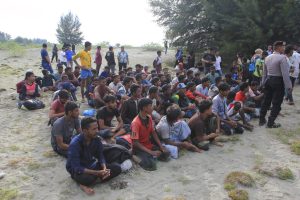 A wooden boat carrying 184 Rohingya Muslim refugees has landed in western Indonesia after a long and perilous journey from Bangladesh – a sign that last year's rash of ocean voyages is set to continue into 2023.
According to The Associated Press, the boat touched land at Kuala Gigieng beach in Aceh Besar regency, in Aceh on the western tip of the island of Sumatra, yesterday. The group of 184 people (Reuters reported the total number as 185), which included a pregnant woman and children, reportedly set off from Bangladesh, where the inhabitants were seeking to escape the hardships of the refugee camps around Cox's Bazar.
Fahmi Irwan Ramli, the police chief of the regional capital Banda Aceh, told the AP that the refugees appeared generally in good condition, but that four were sick and being treated by doctors.
Hundreds of Rohingya have landed in Aceh over the past few months. On December 27, a vessel carrying at least 185 people landed in Ujong Pie village, Aceh after drifting at sea for weeks, two days after 58 Rohingya civilians – some reported to be "very sick" and "very weak from hunger and dehydration" – came ashore in a smaller wooden vessel in another part of the region. In November, two boats carrying a total of 229 Rohingya landed in Aceh.
An unusual number of boats have landed in the devoutly Islamic region. Partly this is due to the fact that the country is one of the first points of land that the vessels reach in Southeast Asia. Partly, too, it reflects the region's unusual hospitality toward stranded Rohingya. Indeed, most of these rescues have been carried out by local fishermen, whom the local system of customary maritime law, known as Panglima Laot, obliges to help boats in distress.
Since 2017, when Myanmar military assaults drove more than 700,000 Rohingya civilians across the border into Bangladesh, more than a million people have languished in the huge refugee camps dotted around Cox's Bazar.
But with no chance of returning to their own country, which has been torn by conflict since the February 2021 coup, growing numbers are taking things into their own hands, paying considerable sums to human traffickers for deck space on small and often dangerously unseaworthy vessels in the hope of finding sanctuary in Southeast Asia. "In Bangladesh, there are no opportunities for Rohingya refugees. So we come here to Indonesia," Faisal, one of the Sunday's arrivals, told the AP.
The United Nations refugee agency (UNHCR) says that 2022 was likely one of the deadliest years at sea in almost a decade for the Rohingya. According to UNHCR, the year saw a "dramatic increase" in the number of people attempting to cross the Andaman Sea, from 287 in 2021 to 1,920 in 2022 – a more than six-fold increase. The report stated that 119 people have been reported dead or missing.
This death toll does not count the 180 Rohingya refugees who are believed to have died after their boat went missing in the Andaman Sea in late December.
As Parvez Uddin Chowdhury, a humanitarian worker based in Cox's Bazar, wrote in these pages last week, the growth in perilous ocean crossings is no surprise. The hardships that the Rohingya face in the Bangladeshi refugee camps – overcrowded, unsanitary, crime-ridden, and lacking in livelihoods – are driving increasing numbers to undertake voyages from which there is a high chance they will not survive.