Foreign Companies Enabling Myanmar's Domestic Arms Industry: Report
Since the late 1980s, the military has developed a "multi-faceted arms industrial complex" that has cushioned it from the impact of Western sanctions and arms embargoes.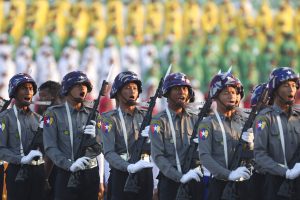 Companies from at least 13 countries have been enabling the Myanmar military to "produce many of the weapons it uses to commit daily atrocities," an advocacy group claimed today, calling on foreign governments to take action to undermine its weapons production capacity.
The report from the Special Advisory Council for Myanmar (SAC-M), released today, examines the Myanmar military's in-country arms production and the global value chains that facilitate it. It claims that 45 firms, including some based in Austria, China, France, Germany, India, Israel, Japan, Russia, Singapore, South Korea, Taiwan, Ukraine, and the United States, have provided or are still providing supplies that have helped sustain an elaborate "arms industrial complex."
"Foreign companies are enabling the Myanmar military – one of the world's worst human rights abusers – to produce many of the weapons it uses to commit daily atrocities against the Myanmar people," SAC-M's co-founder Yanghee Lee said in a statement accompanying the report's release.
"Foreign companies and their home states have moral and legal responsibilities to ensure their products are not facilitating human rights violations against civilians in Myanmar. Failing to do so makes them complicit in the Myanmar military's barbaric crimes."
Since the February 2021 coup, activists have worked hard to trace the various channels by which the military has procured the arms and equipment that it has used to suppress – with great brutality – the resistance to its rule. Less attention has so far been directed to the weapons that are manufactured in the country itself, which have helped the military cushion the impacts of long-standing arms embargoes and sanctions.
According to SAC-M, this production is coordinated by the Myanmar military's Directorate of Defense Industries (DDI) and carried out by a network of factories commonly known as KaPaSa, the Burmese acronym for the DDI. These KaPaSa facilities, which are located in around a dozen locations, perform a wide variety of functions, from processing raw materials and manufacturing arms to carrying out crucial repair work and reassembling components shipped from abroad. Together, the report states, they constitute "a large, sprawling multi-layered and multi-faceted arms industrial complex that has evolved over the years and is still evolving."
While domestic arms production in Myanmar has taken place since the 1950s, when many of the KaPaSa factories were first established with West German and Italian support, the current arms industrial complex dates to the late 1980s, when many foreign governments imposed arms embargoes in response to the military's crackdown on pro-democracy protesters in 1988.
Over the three-and-a-half decades since, the report states, Myanmar's military "has invested significantly in strengthening its domestic capacity to produce weapons as a necessary means for releasing the military from a dependence on external supplies." As a result, Myanmar's military has "gradually become largely self-sufficient" in manufacturing a range of arms, including M14 anti-personnel landmines and the MA-3 MK I and G3 rifles.
"The DDI has developed an extremely robust production capacity for small arms to meet its operational needs, which are focused almost exclusively on the brutal internal suppression of the Myanmar population," SAC-M states. These weapons "have been used in the military's widespread and systematic attacks against civilian targets, prior to, during and after 2021 attempted military coup, and continue to be so."
Chillingly, the report reproduces a photo taken on the day of the Inn Din massacre, in which 10 Rohingya men were shot and killed by Myanmar soldiers. The photo shows two soldiers armed with MA-3 MK I and G3 rifles, which it says were "both locally manufactured and likely used for the executions."
Noting that the DDI is still reliant on international supplies, including "a variety of raw materials, parts and components and end-items," the report calls on foreign governments to "investigate and, as relevant, initiate administrative and/or legal proceedings" against the companies involved in the supply chains of Myanmar's domestic arms industry. It also called for the imposition of fresh sanctions on "KaPaSa, its leadership, and its network of brokers."
Amid its findings, the report highlights the important role that Singapore plays in DDI's procurement of foreign supplies and materials, describing it "as a strategic transit point for potentially significant volumes of items – including certain raw materials – that feed the Myanmar military's weapon production."
This touches on an important aspect of Myanmar's current troubles. While a lot of blame has been directed toward nations like China and Russia for backing the military junta (and, indeed, selling it arms outright), Singapore has mostly escaped sustained scrutiny for its long-standing role as a crucial offshore trade hub and financial sanctuary for the Myanmar military and its galaxy of allied cronies and businesspeople.
In a report released in October, the Myanmar-based advocacy group Justice For Myanmar (JFM) identified a total of 116 companies that have in recent years supplied foreign arms, equipment, and spare parts to the Myanmar military. Of the 116 companies identified by JFM, at least 38 were Singapore-based.
This, in turn, hints at the difficulties in closing off every avenue by which the Myanmar military can keep itself armed and dangerous. Singapore has for years resisted calls from activists to crack down on the use of the city-state as a financial safe-haven by leading Myanmar cronies. Even if like-minded Western governments (the only to have imposed sanctions on the junta since the coup) take additional actions, China and Singapore are unlikely to do so.
Taken as a whole, the SAC-M report paints a striking picture of the extent to which the arms trade has become globalized, and how even a nation like Myanmar that has sought to achieve a degree of autarchy remains embedded in the global economy to a significant extent. However, due to the complexity of the supply chains involved, and the sheer number of national jurisdictions involved, exploiting this "weaponized interdependence" in order to reduce the operational capacity of the Myanmar military remains a daunting challenge.