Horrific Crime Reaffirms Delhi's Status as India's Most Unsafe City for Women
A woman was hit by a car filled with drunk men, who drove on for 13 kilometers, dragging her body lodged in the car's wheels.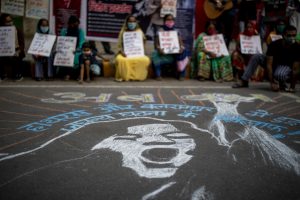 India's capital New Delhi figures as the most unsafe metro city for women in the country, according to the National Crime Records Bureau (NCRB) data. On January 1, even as the world was ringing in the New Year, Anjali Singh, a 20-year-old woman riding a scooter was hit by a car in Khanjawala, a Delhi suburb. The hit-and-run case took a horrific turn. Instead of helping the woman, the five men in the car, who were drunk, drove on for 13 kilometers, dragging the woman under the wheels of the car.
The victim's body was found naked on the side of the highway in the wee hours of the morning. Singh was an event manager and her family's sole breadwinner. The incident stunned India, drawing immediate parallels with the horrific gang rape of Nirbhaya in New Delhi in December 2012.
The victim, known in the media as "Nirbhaya," a 23-year-old physiotherapy intern was brutally raped by six men in the back of a moving bus in posh south Delhi. The drunken men raped her by turns, disemboweling her internal organs, leaving her bleeding and maimed on the side of the highway. She died a fortnight later after putting up a valiant fight. The massive public outrage, which manifested as street protests and candlelight vigils, forced the Congress-led United Progressive Alliance government and Parliament to enact stringent laws to punish rapists, including the death penalty in cases of gruesome rape. Public anger even brought down the Congress-led Delhi government in elections in 2013.
A decade after that horrific rape, not much has changed on the ground.
Changes in the law notwithstanding, Delhi was and still is synonymous with being an unsafe city for women. In fact, the city witnessed a 40 percent spike in crime against women in 2020-2021. Whether it is rape, assault, abduction, or kidnapping, Delhi ranks the highest in all these violent crimes among all metros in the country.
Prime Minister Narendra Modi's government has often claimed that India will be a much sought-after destination for business and tourism. However, its capital New Delhi is still unsafe for women. Foreign governments have consistently issued advisories to women tourists against traveling in India alone.
Importantly, responsibility for law and order in the national capital lies with the Modi-led BJP government and not the Delhi state government. Delhi Police report to the Union home ministry led by Amit Shah, Modi's right-hand man, and not the Delhi state government which is in the hands of the Aam Aadmi Party.
Following public outrage over Anjali's killing, the AAP government held the BJP government accountable for the lawlessness in the capital. After visiting Anjali's family and promising them a government job, an angry Manish Sisodia, deputy chief minister of Delhi said that such "incidents are worrying. It is unfortunate that BJP is only working against the Opposition instead of managing the poor law and order situation in the city. Their powers will be better utilised in managing crime."
The irony is that while ministers, parliamentarians, bureaucrats and judicial officers are provided with the best security, ordinary women in Delhi are unsafe and extremely vulnerable to horrific crimes. The people-to-police ratio in the capital is dismal with even the Comptroller Auditor General's Report highlighting the shortage of manpower in the Delhi Police.
The lack of police on Delhi's desolate stretches of roads and sprawling neighborhoods makes it easy for criminals to operate with impunity. As a result, women are not safe in public spaces, especially after dark. Harassment and abuse are common occurrences and inadequate public transport makes it more challenging for women to step out of their homes.
Home Minister Amit Shah has been silent on the incident as has Smriti Irani, the otherwise vocal, high-profile minister for Women and Child Development. The Modi government has touted grand schemes for women like the "Beti Bachao, Beti Padhao" (Save the girl child, educate the girl child) program but has done little about women's safety.
Reacting to Anjali's killing, opposition parliamentarian Priyanka Chaturvedi pointed out that "Women's (safety) issues are politicised but nothing is done about them."
Political apathy to checking violence against women is shocking. At most, the political class responds with knee-jerk reactions to violent crimes. It has failed to look for long-term solutions. For instance, Delhi attracts the maximum number of poor migrants from neighboring states in search of employment. Stark income inequalities have also contributed to the spiraling crime graph in the capital but the authorities have done little to address these socioeconomic realities.
India is a deeply patriarchal and conservative society. Violence against women and girls is not uncommon. Women are expected to be homemakers and stepping out to work is frowned upon. As per the last Census, Women comprise just 11 percent of Delhi's workforce, the lowest female workforce participation in the country, compared to 53 percent for men.
Whenever women are victims of violent crimes, questions are raised about their character and motivations for them being outside the home. It is alleged that Anjali was drunk. Questions are being raised about the nature of her job as an event manager and party organizer, which required her to stay out late at night.
Swati Mahiwal, the chief of Delhi's Women's Commission has urged people to refrain from victim-shaming Anjali. She has pointed out that Anjali died a painful death and should not have to suffer character assassination in addition.
Incidents like Anjali's killing go on to further impeding women's empowerment efforts. As countless women activists will validate, it will only make it more difficult for educated young women to step out to work, with families concerned about their safety and security. Therein lies the bigger tragedy.
Young, confident Anjali had purchased a two-wheeler from her own earnings to live and work independently and provide a better life for her impoverished family and six siblings. Her dream of empowerment in what is perceived to be a vibrant economy was cruelly shattered and nipped in the bud.