How Gujarat's Khambhat Became a Hotspot for Anti-Muslim Hate
The communal violence of April 2022 was more the norm than the exception in the city of Khambhat.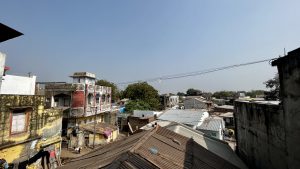 KHAMBHAT, India: On December 8, 2022, the Hindu nationalist Bharatiya Janata Party (BJP) won elections in India's western state of Gujarat, which paved the way for its seventh term at the helm. Breaking its own record in the previous elections, the BJP won 156 of 182 seats, garnering more than half of the popular vote in the state.
But in the central Gujarat city of Khambhat, the BJP lost to the largest opposition party of India – the Indian National Congress (INC).
Naushadbhai Patel, a trader from Khambhat's Pith Bazaar said that he was relieved that the BJP lost. "All Muslims here voted for the Congress, knowing well that if the BJP came to power here again, many lives and livelihoods would be lost," Patel explained.
In November 2022, at an election rally in Khambhat, Indian Home Minister Amit Shah boasted of demolitions undertaken by the BJP in Muslim areas. By emphasizing the issue of clearing out alleged "fake mazars (Islamic shrines or mausoleums)," Shah stirred communal sentiments in Khambhat – the same city that saw extreme violence on April 10, during Ram Navami (a Hindu festival).
This violence against Muslims in Khambhat and other parts of Gujarat, as well as India, was fanned by Hindu extremist organizations such as Vishwa Hindu Parishad and Bajrang Dal. It resulted in massive damage to Islamic shrines, mosques, and Muslim homes.
It was this violence that Patel referred to when explaining he relief at the INC's victory in the city.
Hotspot of Hate
Salma Ben, 50, a resident of Akbarpur, has suffered for simply being a Muslim in Khambhat more times than she can remember. In February 2019, she recalled for The Diplomat, her house was burned down by a violent mob chanting Hindu mantras.
"They began by pelting stones, moved on to throwing petrol bombs, and then they finally set fire to years of our hard work," she explained. Then again in 2020, her house was pelted with stones and set on fire.
Shaani Ahmad, another resident of Akbarpur, affirmed the loss. Ahmad said that Hindu mobs often conjure up reasons to kick up a storm. "Sometimes, neighboring Hindus accuse random Muslim boys of stalking Hindu girls, start pelting stones, and then we are left on our own. We either leave our houses for safer areas, or lock our houses from the inside," he said.
After the continuous losses that the residents of Akbarpur have faced – some 22 houses were gutted in 2019 and 2020 – residents now build houses with two exit doors, to more easily escape fire and stone pelting in the future. Underlying the precaution is the pessimistic expectation that these incidents will only become more frequent.
On April 10, 2022, Hindu groups in Gujarat led Ram Navami rallies into Muslim-majority areas, where they brandished swords and stones and vandalized Muslim-owned properties, mosques, Islamic shrines. According to a fact-finding report, the Ram Navami riots in Gujarat have been recorded as anti-Muslim in nature, led by right-wing organizations and conducted in the presence of the police.
In Khambhat's Shakarpur, the Ram Navami rally passed by an Islamic shrine, the Saat Shaheedo ki Dargah. The vendors outside the shrine saw a wave of violence moving toward them. Mohammad Malik, 70, a local vendor, fled the premises, fearing the religious rally. For 40 years, Malik had been selling groceries from his cart outside the shrine, but the ferocious mob reduced his business to rubble.
Locals have also alleged that under the garb of the riots, the Municipal Corporation selectively demolished Muslim-owned stalls outside the Dargah. Stallowners in Shakarpur were not served any notice of demolition. Not only did the Corporation demolish these stalls but it also trashed the land to discourage proprietors from re-erecting their stalls.
Ahead of the riots, the Vishwa Hindu Parishad and Bajrang Dal circulated social media content to invite Hindus to the processions. One such poster said, "Jai Hindu Rashtra" and invited people to come forward to found a Hindu Rashtra (Hindu nation), with a photo of the Hindu deity Ram at the center. Using such posters, the cadres of these organizations mobilized large masses of Hindus to join in what they called the "Ram Navami Shobha Yatra."
On Ram Navami 2022, the usual simple procession turned violent when these far-right Hindu groups led rallies into Muslim-dominated areas, blasting loud music outside mosques. To observers, the intent was clear: to instigate Muslims. Apart from the violence and vandalism that broke out, the events that unfolded in Khambhat led to a series of arrests – of Muslim residents.
In Shakarpur's neighboring Shahpur, an area of 100 residents, 12 Muslims were arrested on suspicion of being rioters. While Muslims themselves suffered economic losses and injuries, they were also being dragged to prison. Mohammad. Taha, 22, spent about a month and a half in Bilodra Jail.
"Those who actually conducted the rally, pelted stones, [and] harassed Muslims were roaming free and many like me, who were not even on the scene, were sent into custody" complained Taha.
Taha and 11 others from Shahpur, who were in custody for almost two months, have alleged that they were arrested because they believe it is easier to jail Muslims as scapegoats to hide the Hindu perpetrators.
History of Harassment
Salma has been a resident of Akbarpur for nearly 30 years; riots and hate speech, she explained, are not new here. "Ram Sena, Bajrang Dal make sure to instigate local Hindus, who then surround our houses, yell Hindu mantras, and force us to sloganeer too. This has been going on since years now," she said.
Salma, who had also filed a case at the state's High Court, has withdrawn her case out of hopelessness.
"The pressure is so much. My husband died of the continuous stress he dealt with, with our house being burnt down. Despite my appeal in the High Court, Muslims here, still live in fear," Salma said.
"When the home minister was delivering his speech here in Khambhat, none of us set foot outside our homes that day. That is the kind of anxiety we have. Anything can trigger violence against us," she continued.
Khambhat's locals told The Diplomat that communal conflicts in the district have persisted since the 1990s and steadily picked up a pattern of recurrence after the 2002 Gujarat Pogrom.
The district has a mixed population, which consists of the Chunara, Macchi, and Raval communities alongside Hindus and Muslims. Interestingly, there is a strong economic interdependence in Khambhat between the Hindus and Muslims. Kite making and agate stone exports are major sources of livelihood in Khambhat, apart from fishing. Notwithstanding this interdependence, the city has become one of the hotbeds of communal conflicts in Gujarat.
Hozefa Ujjaini, a social activist and the director of the NGO Buniyaad, explained that Khambhat has existed as a stronghold of the BJP since 1990. "Under the regime, the Hindu supremacist groups have spread hatred against the Muslims and get impunity from the state. The new small groups have also emerged and worked to build hatred."
He also pointed out that Khambhat faced major communal riots in 2002, 2016, 2018, 2019, 2020, and 2022. And these riots served to add fuel to the fire, increasing communal mindsets and attitudes.
"The deep-rooted work of the Hindutva forces build hatred on religious lines. Henceforth the small triggers lead to the riots," Ujjaini explained. "One of the precipitating factors in Khambhat contributing to communal riots is the factionalism within the ruling party and how it is manifesting itself even at the level of local self-governance bodies."
Locals recall how tiny triggers have turned to terrorizing trauma for them – like in 2016, when a minor accident was given a communal turn. After a Muslim tempo driver collided with a bike ridden by a person from the Raval community in Peeth Bazar, stone pelting and torching of places of worships and shops, mostly belonging to the Muslims, followed. In 2019, riots took place in Teen Darwaza in Khambhat over a social media post that triggered arguments about the compensation to be given to the martyrs in the Pulwama terror attack.
According to data collected by Ujjaini and Neha Dabhade, the deputy director of the Centre for Study of Society & Secularism, riots erupted on February 23, 2020, in which at least 60 houses were torched. Akbarpur locality was the epicenter of this riot. The targeted violence against Muslims continued for three days. The riots in February were preceded by tensions arising from the unidentified persons looting around 25 to 30 Hindu households in the Hindu dominated locality of Bhavsarwad, their report detailed. Locals corroborated the events. The Muslims suffered heavy losses from the looting and burning down of their property on a massive scale.
The 2020 riot followed by a rally organized by the Hindu Jagran Manch to protest the looting in Bhavsarwad with religious slogans by former Member of the Legislative Assembly (MLA) Sanjay Patel and Pinakin Brahmbhatt, both prominent BJP leaders from the region.
A Pattern of Persecution
In the April 2022 riots, Waseembhai Vora, a footwear-seller, lost his cart to the hate in Khambhat. His cart, which housed stock worth almost $1,000, was set on fire by rioters from the Ram Navami rally. Vora, 35, said, "Few other shopkeepers also lost their shops. We were not at fault, but still became targets of the rioters."
Vora and other shopkeepers who lost their shops told The Diplomat that they had experienced being hurt and harassed, with their shops being vandalized in the past as well. But this time, they said, it was a "brutal" effort; rioters laced their shops with petrol and set their earnings on fire.
Vora also shared the other side of communal carnage and destruction. "You know, after I lost my shop, a Hindu shopkeeper loaned me money, to set up my cart again. But those who harmed me were Hindu too. It is a very uncertain time," he added.
While the 2022 violence was tied to Ram Navami, a Hindu holiday that was used as an occasion to pelt stones at Muslim houses and desecrate mosques and Islamic shrines, Muslims pointed out that Ramzan, the Islamic month of fasting, was also going on.
"All of us, who lost their shops and carts saw a very tough Ramzan. We were banking on our meager savings and loans, since we had no way to earn back our livelihoods immediately," said Vora.
Khambhat is an example of how the smallest triggers can lead to communal riots – not just once, but repeatedly over the years. One major observation shared by locals, the fact-finding teams, and The Diplomat was that these riots often happen in broad daylight and under heavy police presence. Vora and other shopkeepers who lost their carts were located near the Tower Road, mere meters away from the local police station.
Khambhat's Muslims have been experiencing communal violence for decades now. They are sure that far-rights organizations will seize on the very next opportunity to provoke them by insulting Islam, pelting stones at their houses, and setting their properties on fire.
"We are living in fear but are also mentally prepared now" said Arshad M., another anxious shopkeeper who lost his cart in the 2022 violence.
This story was supported by the Human Rights and Religious Freedom Journalism Grant Program.