India is the World's Most Populous Country: What it Means
Despite its many massive problems, this is a country that is bursting forth with dynamism, ideas, diversity, and change.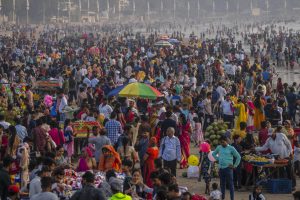 India has overtaken China to become the world's most populous nation, according to recent estimates. As reported by Bloomberg, at the end of 2022, India's population stood at 1.417 billion, based on U.N. projections, while according to data recently released by China's National Bureau of Statistics, its population at the end of 2022 was slightly less than 1.412 billion, a decrease from how many people it had in 2021. India now has 5 million more people than China.
It is almost certainly true that India now has more people than China, something that was projected to have anyhow occurred sometime during this year. In fact, it is possible that India overtook China sometime last year.
India's population has consistently been undercounted. For example, India's last census, held in 2011, missed 27.85 million people. On the other hand, China has obfuscated its population decline for many years. Yi Fuxian, a senior scientist at the University of Wisconsin-Madison, told Time magazine that "China's population began to decline 9-10 years earlier than Chinese officials and U.N. projections, meaning that China's real demographic crisis is beyond imagination…."
India becoming the most populous country in the world is hardly surprising. South Asia as a whole has already had a larger population — around 1.8 billion people — than China for at least a dozen years; had the erstwhile British Raj not been divided into India, Pakistan, and Bangladesh, undivided India's population would have already exceeded China's.
There are two reasons for India's population exceeding China's. First, India has always had a historically high population, especially in its fertile northern plains. There, due to climatic reasons, it is possible to grow both wheat, a winter grain, and rice, a summer grain, yielding twice as much food as many other parts of the world. Secondly, India transitioned away from higher fertility rates later than China did because of a lag in educating people, particularly women.
However, India has now achieved a fertility rate of two children per woman, demonstrating that drops in fertility can be achieved without resorting to draconian measures such as China's one-child policy.
India's population will continue to grow for a while, however, because many Indians are now entering childbearing age; two-thirds of Indians are under 35 years. Moreover, the decline in fertility rate is not even across India's states. In India's populous Hindi-speaking northern states of Uttar Pradesh and Bihar, the fertility rates are 2.35 and 2.98 per woman respectively, whereas in several southern states, the fertility rate is well below the 2.1 children per woman needed for a population to replace itself. Fertility is dropping across all religious, linguistic, and ethnic groups, contrary to beliefs that some groups have significantly higher birth rates than other groups. Between 1992 and 2005, the Muslim birth rate dropped from 4.4 to 2.6, whereas during the same period, the Hindu birth rate dropped from 3.3 to 2.1 children per woman.
It may be some time, however, before there are official figures from India confirming its actual population. Since 1881, India has held a census every ten years. However, the last census was held in 2011, as the 2021 census was pushed back due to the COVID-19 pandemic. It is unclear when the census will actually be held, with most analysts believing that it will only take place after India's 2024 general elections, even though the official reason for the postponement is still the pandemic. Information on caste population numbers, religious demographics, the distribution of economic benefits, the balance of population between northern and southern states are all volatile questions that the government would not want to be enunciated and enumerated before a major election. Nonetheless, India should hold a census as soon as possible because of the importance of collecting data on vital statistics relevant to the welfare of its population.
What are the implications of India becoming the most populous country in the world? To put it simply: This is India's moment. Despite its problems, despite persistent poverty, intercommunal tensions, and the uneven reach of opportunities and education, India is a country bursting forth with dynamism, ideas, diversity, and change. With over two-thirds of its population being of working age, India must seize this opportunity to grow. And while there is still much unemployment and informal employment, manufacturing is flocking to India — including vital industries like cell phones and semiconductors — and India is on track to become the third-largest economy in the world by the end of the decade. India is also expanding its infrastructure, including constructing indigenously-built semi-high-speed. Indian culture is breaking into more global spaces; a Telugu-language film, "RRR," recently won an Indian film its first Golden Globe award.
Most importantly, India is coming into its own as a major economic and geopolitical player, rather than serving as an accessory to the economic and geopolitical theories of others. It seeks to emulate the East Asian model of pushing for domestic manufacturing over the Western-backed free trade model. On geopolitical positions, India has doubled down on its independent stance, instead of backing either the West or Russia during the Ukraine conflict, a stance that has won it praise even in Pakistan for pursuing an independent policy. With the heightened domestic belief that India is indeed a great power, Indians increasingly say that their country should follow its own interests, and that other major powers are rivals. In a recent survey by Morning Consult, Indians viewed the United States as the biggest military threat after China, and ahead of Pakistan. Rather than act as a "balancing" power between the United States, Russia, and China, India will act as a great power in its own right.
India has always marched to the beat of its own drum, but this will become more pronounced in the next decade, as India continues to implement its own agenda. An India that is the most populous country in the world, with one of the world's largest economies and militaries, is an India that will push for its interests, values, and goals on the global stage.