Malaysia's Anwar Winds Up First Overseas Visit as Prime Minister
The leader's two-day state visit to Indonesia was shot through with personal and political resonances.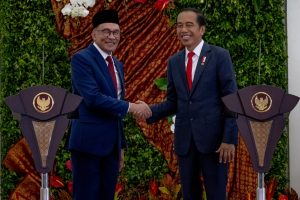 Malaysian Prime Minister Anwar Ibrahim yesterday wound up his first overseas trip since taking office, concluding a warm visit to neighboring Indonesia.
Anwar arrived in Jakarta on Sunday for the two-day state trip, with a delegation that included Foreign Minister Zambry Abdul Kadir, who held separate talks with his Indonesian counterpart Retno Marsudi last week, the Associated Press reported.
During a meeting at the presidential palace in Bogor, West Java, Anwar and Indonesian President Joko "Jokowi" Widodo discussed a wide-ranging agenda.
Among the most significant outcomes was Anwar's promise of support for the development of Indonesia's new capital Kalimantan, which is being planned on Borneo island. The new capital is a multibillion-dollar legacy project for Jokowi, whose second and last term comes to an end next year, and is expected to be under construction until 2045.
Anwar said that the development in eastern Kalimantan will benefit Malaysia's eastern states, Sabah and Sarawak, which share the island of Borneo, and added that at least 10 Malaysian companies have committed to invest in Nusantara.
"We take a positive approach to find a way so that the growth of the archipelago nation's capital will also benefit the region which includes Sarawak and Sabah," Anwar said, according to a report from Channel News Asia.
Anwar and Jokowi witnessed the signing of agreements for economic cooperation estimated to be worth $263 million, and discussed land and maritime border demarcation, the employment and protection of Indonesian migrant workers in Malaysia, and joint efforts to address their exports of palm oil.
Indonesia and Malaysia also unanimously agreed to increase the pressure on Myanmar's military government to implement the Association of Southeast Asian Nations (ASEAN)'s Five-Point Consensus. The junta has mostly ignored the consensus since it was agreed in April 2021.
The compact between Malaysia, the Southeast Asian nation that has been most outspoken about the situation in Myanmar since the February 2021 coup, and Indonesia, this year's chair of ASEAN, suggests that the bloc will take a harder line on the coup government in 2023.
Overall, the meeting between the two leaders was reportedly suffused with a warmth born of the close parallel between Anwar's career and Indonesia's political trajectory. In September 1998, after his sacking as deputy prime minister by former Prime Minister Mahathir Mohamad, Anwar became the head of the Reformasi movement that sought to democratize Malaysia, at a time when Indonesia was undergoing a similar movement for democratization – also known as Reformasi – following the pivotal ousting of President Suharto in May of that year.
Anwar subsequently spent considerable amounts of time in Indonesia during his many years in the wilderness of opposition. As a result, Indonesia has "a special place in my heart," Anwar told a joint news conference after the meeting with Jokowi.
"During the time when I was having a hard time, living in a state of flux, and suffering, Indonesia welcomed me as a true friend," he added. "I am very moved, I made a decision that I felt was appropriate by choosing Indonesia as the first country I am visiting."