Malaysia's PM Anwar Ibrahim Makes State Visit to Singapore
The one-day visit comes amid a period of stagnation in relations between Singapore and Kuala Lumpur.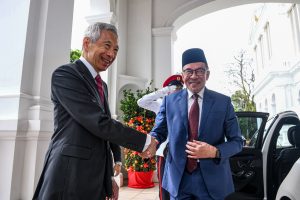 Malaysia's Prime Minister Anwar Ibrahim today undertook a one-day state visit to neighboring Singapore, his third foreign trip since being appointed to the country's top political post in November.
The crowded, single-day itinerary began with an official welcome ceremony at the Istana, followed by a courtesy call on President Halimah Yacob and a meeting with Prime Minister Lee Hsien Loong, who also hosted an official lunch at the Istana in Anwar's honor. In a statement yesterday, Singapore's Ministry of Foreign Affairs said that Anwar's visit "underscores the close and enduring relationship between Singapore and Malaysia, and our peoples."
During Anwar's trip, he and Lee signed three agreements, the first two of which were framework agreements outlining cooperation on the digital and green economies between between Singapore's Ministry of Trade and Industry and Malaysia's Ministry of International Trade and Industry. The third was a memorandum of understanding on cooperation in personal data protection, cybersecurity, and digital economy, between Singapore's Ministry of Communications and Information and Malaysia's Ministry of Communications and Digital. Anwar then held a brief engagement with Singapore's Malaysian diaspora before departing the country.
Anwar's visit checks off another state visit to Malaysia's most proximate neighbors, after visits to Indonesia (January 8-9) and Brunei (January 24-25), with only the Philippines – a nation with which he has a close personal relationship – yet to come.
Malaysia enjoys a unique relationship with Singapore, which was part of the Malaysian Federation founded in 1963 but separated from it two years later due to irreconcilable differences. Since then, bilateral relations have been close yet frequently shot through with tension. This was reflected in the acerbic relationship between Lee Kuan Yew of Singapore and Malaysia's Mahathir Mohamad, who traded barbs across the Johor Strait throughout the 1980s and 1990s, even as they joined forces to do battle in the "Asian values" debate that animated the early post-Cold War period.
Anwar's visit could well deliver a jolt to a relationship that has stagnated due to the recent political instability in Malaysia, which has slowed down the pace of progress on a number of important bilateral issues. These include the restoration of land and air connectivity between the two nations after the border closures and restrictions of the COVID-19 pandemic, a particularly important issue given that prior to COVID-19 some 300,000 people crossed Johor-Singapore Causeway each day.
Other outstanding issues in Malaysia-Singapore relations include the resolution of a long-running and sensitive dispute over the price that Singapore pays to draw water from Malaysia's Johor River, and the outstanding dispute over Pedra Branca, a maritime feature 7.7 nautical miles from Johor and about 25 nautical miles from the east of Singapore. There are also more mundane but similarly charged issues like Malaysia's export of chicken to Singapore, which Kuala Lumpur restricted last year in a bid to shore up domestic supplies and reduce the surging price of chicken.
While Anwar did not directly address any of these issues during today's visit, at least not publicly, the scene has now been set for them to be resolved – provided that Malaysia's fourth prime minister in four years manages to serve out his full term in office.