Min Aung Hlaing Family Assets Recovered in Thai Drug Raid
The discoveries, which include assets belonging to the Myanmar junta chief's adult son and daughter, suggest that military figures are using Thailand as a financial safe haven.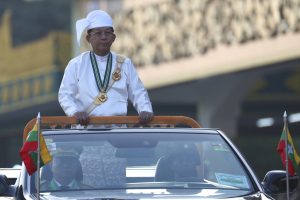 Assets belonging to the children of Senior Gen. Min Aung Hlaing, the head of Myanmar's military junta, were found by Thai police during a raid on the Bangkok apartment of a Myanmar tycoon currently in custody for drug trafficking and money laundering.
According to a report by Reuters, which cited an official seizure record and two people with knowledge of the case, the September 17 raid on the apartment belonging to Tun Min Latt yielded title deeds and bankbooks belonging to Min Aung Hlaing's daughter and son.
Reuters reported that police seized $8.96 million worth of assets, including luxury cars, watches and expensive bags, along with $239,091 in cash. The seizure record also contained real estate title deeds and a 2017 purchase contract for a four-bedroom unit in the same condo complex in the name of Min Aung Hlaing's son Aung Pyae Sone, and two Siam Commercial Bank (SCB) bankbooks belonging to his daughter Khin Thiri Thet Mon.
Tun Min Latt, 53, was arrested in September along with three Thai nationals and has since been indicted on charges of drug trafficking and for his alleged role in laundering drug money. This involved his alleged brazen purchase of energy from a Thai state-owned company, which he then sent over the border to be sold in Myanmar, as detailed in this joint report by Prachatai and the Organized Crime and Corruption Reporting Project.
Shortly after the tycoon's arrest, police said that they had seized an estimated 1.8 billion baht ($54 million) worth of assets including cash, cars, luxury watches, designer handbags, and real estate, including hotels and resorts. The assets seized during the September raid were presumably part of this total.
The recovery of the assets is in some ways no surprise. Tun Min Latt has been long known to enjoy close ties with Min Aung Hlaing and has reportedly procured supplies for the country's military. Tun Min Latt also formerly had a shared company with Khin Thiri Thet Mon, Myanmar-based advocacy group Justice For Myanmar (JFM) reported last year.
Despite the Min Aung Hlaing family's links to serious criminal proceedings, the Thai police are reportedly not treating Min Aung Hlaing's offspring as persons of interest in the case. JFM, which also obtained the seizure record cited by Reuters, said in a statement that it "understands the physical items were confiscated but the assets have not been seized, and that Thai police have not expanded their investigation to Min Aung Hlaing's children."
Nonetheless, the revelation raises obvious questions about the provenance of Min Aung Hlaing's family's wealth, as well as the possible – which is to say, continuing – use of Thailand by junta cronies as an offshore financial sanctuary – this despite the wall of Western sanctions that have been imposed on Myanmar's junta since the February 2021 coup. Like their father, Khin Thiri Thet Mon and Aung Pyae Sone have both been sanctioned by the United States and Canada. In announcing its sanctions, the U.S. Treasury Department claimed that the pair "have a variety of business holdings, which have directly benefited from their father's position and malign influence."
In its statement this week, JFM said that the case "demonstrates that senior Myanmar military family members have access to Thai banks and more broadly to Thailand as a destination to hide their illegal gains from the military's systemic corruption." It called on Thailand's allies "to apply pressure to ensure Thailand is not a destination for Myanmar war criminals to hide their loot with impunity."