Myanmar Junta Should Hand Power to 'Qualified' Leaders: Indonesian Minister
Indonesia's experience of democratization could offer a path forward for Myanmar – but only if the country's generals have the political will.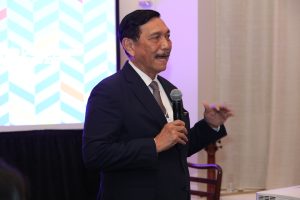 One of Indonesia's highest-ranking ministers has urged Myanmar's military junta to hand over power to "qualified" leaders, and to replicate his country's political transition following the fall of President Suharto's New Order dictatorship in 1998.
Luhut Panjaitan, the coordinating minister for maritime affairs and investment made the comments during a panel discussion at the World Economic Forum in Davos, Switzerland, according to a Reuters report.
"There are so many militaries in charge of government, but if you are not qualified, why should you be president?" Luhut was quoted as saying, in an apparent reference to military commander-in-chief and coup leader Senior Gen. Min Aung Hlaing. "Let someone else who is qualified manage this country like what happened in Indonesia."
Luhut's comments came at the top end of Indonesia's chairmanship of the Association of Southeast Asian Nations (ASEAN) for 2023, during which time it is expected to adopt a harder line toward the junta that seized power in February 2021.
Whether his advice will make any impression on the country's military brass is questionable. Indonesia's democratic trajectory since Suharto's resignation in May 1998 amid the chaos of the Asian financial crisis would appear to offer a template for Myanmar. But even with all of the obvious parallels, there are national specificities that make such a voluntary transition unlikely in the current circumstances.
The crucial elements are political will and self-perception. The Myanmar armed forces did engineer a limited democratic transition in the 2010s, but this was done from a position not of weakness but of strength, and the military made sure that it retained an ultimate veto over the process. Even a limited transition of this sort seems very unlikely now. In seizing power two years ago, the Myanmar military has reasserted its self-chosen role as the guardian of the union, and, as resistance to its rule has mounted, has come to see itself locked in a zero-sum struggle for survival.
For this reason, the country's descent into economic turmoil and civil war is unlikely to weaken its resolve to maintain control. Given the vast wealth enjoyed by many individual military commanders and those associated with them, there is also a strong personal motivation at play.
Luhut's comments also overlook the extent to which Indonesia's trajectory toward civilian-led democracy has stalled, with the military, ex-military, and military-adjacent figures becoming increasingly prominent over the past decade. Indeed, Luhut is himself a former general who served under Suharto.
The comment does reinforce the sense that Indonesia is likely to adopt a stronger stance toward the Myanmar junta than did last year's chair, Cambodia. But despite Indonesia's call for a rapid implementation of the ASEAN Five-Point Consensus, which demands an immediate cessation of violence and inclusive talks between all of the contending parties, progress is likely to be tricky.
Since the Consensus was agreed upon in April 2021, the Myanmar junta has done virtually nothing to enforce it, bar welcoming ASEAN's special envoys on periodic trips to the country. At last year's ASEAN summits, the region's leaders agreed to hold the military government to a concrete but unspecified timeline for the implementation of the Five-Point Consensus – but there appears to be no sign of a consensus within ASEAN on exactly what measures to take, let alone whether to scrap the Consensus and adopt a more robust approach.
Offering Indonesia's experience as a template for Myanmar is not without its merits –but all of that requires the military junta being in a receptive mood.