North Korea Likely to Lift Pandemic Border Restrictions in 2023
North Korea's quest to strengthen its military power will require financial backing – which means reopening borders for trade and migrant workers.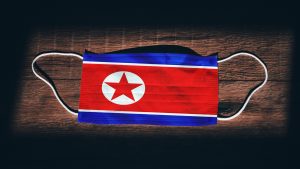 In his speech at the Workers' Party at the end of December 2022, the North Korean leader Kim Jong Un stressed that 2023 is the third year of key significance in implementing the Five-Year Plan (2021-25). However, his only specific plan to that end is to build a new street with 3,700 new apartments in 2023. On the security front, Kim ordered "exponential" expansion of his country's nuclear arsenal and the development of a solid-fueled ICBM, as well as launching a spy satellite in 2023 – all of which require significant financial resources.
To achieve its goals for 2023, the government seems to need a new strategy. Its self-reliant economic system has already been exhausted after spending three years with strict limits on cross-border trade and traffic because of the COVID-19 pandemic.
North Korea may finally be opening up its borders with China and Russia slowly in 2023. That could reflect a growing sense of recognition that North Korea needs to resume cross-border economic activities due to the lack of foreign currency.
Hesitancy Versus Need
Since January 2020, North Korea has severely banned all cross-border exchanges, including trade, traffic, and tourism, which are the main sources of foreign currency for the country. The closed border has accelerated the deterioration of North Korea's economy, with Kim making rare admissions of the country's difficulties in 2022. The country's gross domestic product (GDP) fell 4.5 to 4.6 percent year-on-year during 2020-21, according to data from Statistics Korea.
Since 2022, some signals have appeared that Pyongyang's leadership is seeking more sustainable ways to control both the pandemic and economic situations. In August 2022, just three months after admitting its first COVID-19 case on May 11, North Korea declared victory over the virus. Kim Jong Un might have made a decision to seek herd immunity to encourage domestic economic activities, including private markets and transregional distribution and mobilization of labors. At the time, North Korea was battling worsening food shortages, an economic crisis, and frustrated public sentiment due to COVID-19 restrictions.
After his declaration, Kim ordered the lifting of maximum anti-epidemic measures, imposed in May. North Korea dropped the mask-wearing requirement and other rules – such as limits on operating hours for commercial and public facilities – in all areas except border regions, according to the Korean Central News Agency.
The victory declaration also could have been a prelude to restoring trade with China, hampered by a border shutdown that had stretched over two years. Since September, North Korea and China have resumed freight train services from the Chinese border city of Dandong to North Korea's Sinuiju after a five-month suspension due to the pandemic.
According to Daily NK, a Seoul-based organization monitoring North Korea with the sources inside the country, there were also signs that North Korea intended to resume overland trade with China through the customs office in Sinuiju, where new buildings and facilities were added. Furthermore, North Korea commenced the first round of COVID-19 vaccinations for residents and trade officials in the border city of Sinuiju in mid-August and a second round of vaccinations in late September for residents of North Pyongan Province and Nampo, as well as some residents of Pyongyang.
However, cross-border trade cannot be resumed through North Korea's hopes alone; it also depends on the Chinese decision. For Pyongyang's part, the timing of preparations for lifting the border restrictions might have been driven by expectations for an announcement of eased COVID-19 policies after Chinese leader Xi Jinping's reappointment in the 20th Party Congress, held on October 16 to 22 of last year. The
After some delay, Chinese government finally issued new guidelines easing its strict zero-COVID policy in early December 2022 after a wave of protests against Xi's policy. The new guidelines represent a significant shift as mass testing, stringent lockdowns, and border closures are not needed anymore. The removal of COVID-19 restrictions in China could provide momentum for Kim Jong Un to recalibrate North Korea's strict border control and reopen its borders with China and Russia sooner or later, before the economic situation and food shortages become dire.
Opening Borders for North Korean Workers
Although cross-border freight train operations between North Korea and China resumed last year, trade has focused on a minimum level of medicines, foods, and construction materials – just enough to fulfill Pyongyang's most urgent needs. Overall, North Korea's trade with China is still significantly smaller than at pre-pandemic levels. North Korea's trade with China plunged by 80 percent in 2021, posing a bigger blow to Pyongyang than international sanctions to punish it for its nuclear weapons program, according to a trade association in Seoul.
Indeed, despite the international sanction regime, North Korea notched positive growth in 2019 by exporting non-sanctioned items to China, such as toys, shoes, wigs, and fake eyebrows. It was the self-imposed border shutdown that did severe economic damage.
Considering its experience, North Korea is likely to attempt to increase its export volumes, not only by selling non-sanctioned items but also by exporting illegal items, such as textiles, fishery, and minerals, through land and sea borders. Increased exports can bring a significant amount of foreign currency to the country. The current confrontational relations between China and the United States could allow North Korea to circumvent the United Nations' sanctions.
One of the greatest sources of foreign currency for the government is sending North Korean workers to China and Russia, which could be in the cards again despite being a violation of U.N. sanctions. In the past, North Korean workers overseas paid at least 50 percent of their monthly salary to the government. Additionally, they send home a significant part of their salary in the form of various "taxes" and funds for various construction projects. North Korean factory workers in China alone have made $12.28 million a month and $147.36 million a year even during the pandemic, meaning the government is earning a huge sum of money through the workers it sends to China.
According to news sources, North Korea recently began preparations to open new trade offices throughout Russia to dispatch personnel to Vladivostok, home to many North Korean laborers, as well as Saint Petersburg and Moscow. Furthermore, there was speculation that North Korea plans to send laborers to Russia-occupied Donetsk in eastern Ukraine after lifting pandemic border restrictions.
Tourism is another potential source of hard currency for Pyongyang. The majority of tourists are Chinese nationals; from mid-2018 to mid-2019, up to 120,000 Chinese tourists visited North Korea. Since North Korea closed its borders to foreign tourists on January 22, 2020, the economic losses are estimated to be at least $175 million. Nevertheless, North Korea will not consider reopening its borders for foreign tourists anytime soon, as China's easing of COVID-19 measures is now causing a large increase in new cases and raising fears about the emergence of potentially more dangerous variants of the coronavirus.
With this in mind, Pyongyang could keep in place its border restrictions preventing incoming travel, but allow for special exemptions on outgoing travel by North Korean traders and workers. That would let North Korea feasibly dispatch personnel from the country.
Conclusion
As mentioned, future changes to Pyongyang's border policy would depend on the level of herd immunity and potential virus mutations both in China and North Korea. Unlike other countries, North Korea's options in handling the unfolding economic and pandemic crisis at the same time are severely limited because of its poor health system and lack of vaccinations. Nevertheless, a gradual reopening seems to be the only option to rebuild its domestic economy. Since Pyongyang seems to have realized that the weakening economy will become more of a threat to future regime survival than the impact of COVID-19, it's likely that the pandemic's economic strain is forcing the country to explore a phased reopening of its borders.
However, even if North Korea reopens to some limited international exchanges, it does not mean that Pyongyang will engage in Seoul and Washington. Rather, it will continue to conduct missile and nuclear tests in 2023, strengthening its military power. But this goal can be only achieved by the government's financial power.