South Korea's Indo-Pacific Strategy: Quest for Clarity and Global Leadership
President Yoon Suk-yeol has consolidated his global vision for South Korea by embracing "strategic clarity" in the China-U.S. competition.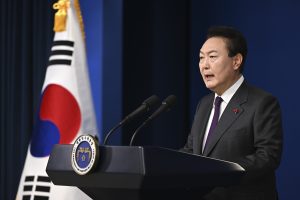 Less than a year after the Biden administration released the latest U.S. Indo-Pacific strategy, South Korea unveiled its own "Strategy for a Free, Peaceful and Prosperous Indo-Pacific Region" in December 2022. The move highlights a decisive shift in Seoul's political intent and vision as it leaves behind former President Moon Jae-in's cautious approach to the Indo-Pacific: South Korea's version of "strategic ambiguity" emphasized treading a delicate balance between the two great powers, the United States and China, without taking obvious sides. In particular, Moon's reticence to clearly align with Washington was meant to avoid upsetting Beijing in view of the "sophisticated" economic coercion faced by South Korea following the 2016-2017 Terminal High Altitude Area Defense (THAAD) missile defense program deployment.
At the same time, in his later years especially, a gradual shift toward U.S. policy vis-à-vis the Indo-Pacific was observed in Moon's flagship regional initiative, the New Southern Policy NSP, which came into greater alignment with the U.S. vision of a "free and open Indo-Pacific." So the present government's outlook is not as abrupt a phenomenon as it might appear; it is nonetheless bold.
The new South Korean President Yoon Suk-yeol has consolidated his global vision for South Korea by embracing "strategic clarity," even as the dilemma between favoring the U.S. – the security guarantor – and not antagonizing China – the largest trade partner – remains pertinent due to the ongoing China-U.S. strategic competition.
Can South Korea's balancing act be truly relegated to the past? Would the shift from strategy ambiguity to clarity bring insight or compound confusion? How can South Korea strengthen the rules-based order? What are the prospects for Yoon's "global pivotal state" vision to materialize?
Whither Clarity?
That Yoon would soon be embracing the U.S. vision for the Indo-Pacific was clear even before his inauguration. In April, Yoon's policy consultation delegation on a visit to the United States not only highlighted the upgrading of the South Korea-U.S. strategic alliance but also South Korea's new interest in being included as part of the Quadrilateral Security Dialogue (Quad) – the quintessential mark of an Indo-Pacific embrace due to China's vehement disapproval of the Quad as a U.S. tool.
South Korea being chosen as the first stopover for Biden's Asia visit in May and the ensuing developments, including the upgrade to the South Korea-U.S. "global comprehensive alliance" beyond the Korean Peninsula and Yoon signing onto the United States' Indo-Pacific Economic Framework for Prosperity (IPEF), put to rest any doubts about where Yoon's loyalty lay vis-à-vis the China-U.S. competition.
Unsurprisingly, Seoul's Indo-Pacific strategy is heavily influenced by the U.S. version, which is reflected in its overall vision. By emphasizing the co-prosperity of like-minded countries, human rights, objections to unilateral changes to the status quo by force,  rules-based maritime order in the South China Sea, peace and stability in the Taiwan Strait, and freedom of navigation, among others, the strategy castigates China without directly mentioning names, and backs the U.S. intent to contain its strategic rival.  Such implicit references and allusions to China throughout the document suggest that, in truth, Seoul holds a much less benign perception of China, and that is guiding its strategy.
By focusing on the rules-based international order and condemning unilateral efforts that challenge the status quo, Yoon is certainly echoing the threat Beijing poses to Washington and its allies like Tokyo. Naturally, the United States has openly endorsed South Korea's first-ever Indo-Pacific strategy as "a reflection of our shared commitment to the region's security and growing prosperity."
Notwithstanding such implicit antipathy to China, the strategy only makes one explicit reference to China, and that in a "positive" vein: naming China "a key partner for achieving prosperity and peace in the Indo-Pacific region." Interesting, too, is South Korea's emphasis on inclusivity as a foundation of the strategy, stating that it "neither targets nor excludes any specific nation." In contrast, the latest corresponding strategies of democratic like-minded states like the United States, Japan, and Canada – with which Seoul looks to enhance cooperation – have called out China as a strategic challenge.
Notably, the strategy itself is cleverly designed so that the Indo-Pacific's importance to South Korea's interests, and in particular trade dependency, is emphasized at the beginning, which provides the legitimacy for such a dichotomous approach to counter China. Given the risks Seoul faces from geopolitical tensions and rivalry in the Indo-Pacific – largely stemming from Beijing – there is context for Yoon to show that developing a new strategic plan to deal with the challenges is necessary, and he is clearly confident that following Washington's lead will be the most effective in furthering his country's interests.
Concurrently, even though North Korea does not appear to take up the same space in Yoon's foreign policy as previous administrations, it is certainly recognized as a relentless, abiding threat to South Korea due to the North's growing arsenal of nuclear and missile capabilities. In 2022, North Korea launched more missiles than any previous year and ended the year by flying drones into South Korean airspace for the first time since 2017. Therefore, Seoul's strategy fittingly labels North Korea as a "serious threat to peace and stability" both to the Korean Peninsula and globally.
In this respect, more than the potentially "forward-looking" bilateral relationship with Japan – which, due to the unresolved historical concerns, will likely remain a polarizing mire despite common security concerns – the U.S.-South Korea-Japan trilateral has been given a viable thrust by its inclusion into the strategy's core line of efforts. Also, the three-way cooperation has comprehensive aims besides the North Korean threat, including supply chain resilience, health crisis, cybersecurity, and climate action.
Interestingly, the document calls for only the denuclearization of North Korea and not the Korean Peninsula as a whole, suggesting Seoul's acknowledgment of the significant domestic public support (up to 70 percent in 2022) for South Korea attaining its own nuclear capabilities for national defense. In January, Yoon said his government was in talks with the United States to take on a greater role in managing nuclear weapons in the Korea Peninsula, which would be a remarkable development if realized. Thus far in his presidency, Yoon has kept the option for resuming diplomacy with Pyongyang open and offered an "audacious" plan of generous benefits if the North agrees to denuclearize.
Thus, the Indo-Pacific strategy signifies Seoul's movement toward a dual strategy that addresses both North Korea and China, as well as the peninsular and regional security challenges they present.
Notably, in terms of not overly provoking China, the document seems to have had the desired effect. Although in the recent past China has criticized the Yoon government's approach to the Indo-Pacific, accusing it of blindly following Washington, China's official response to the latest strategy has been rather nondescript: encouraging South Korea to work together while warning against "exclusive coteries."
However, critics have warned against a strategy that not only pivots toward the United States but also is endorsed by Washington, noting that it could in the long run expose South Korea's interests – particularly if the China-U.S. hostility worsens. Besides, although the decisive shift from strategic ambiguity to strategic clarity has been already accomplished to a great extent (much credit to the dynamic Foreign Minister Park Jin), it is bound to confront challenges, arising from contradictions due to the dual framing of the China question. Not to forget, the nature of the Northeast Asian politics compels such an equivocal narrative.
Going Global: Expanding the Diplomatic Scope
Beyond the China dilemma and the North Korean threat, South Korea's Indo-Pacific strategy harbingers the hope of fulfilling its underutilized potential as a technological, economic powerhouse and a middle power, which over time would develop into what Yoon desires: South Korea's role as a "Global Pivotal State." For this purpose, the strategy spans cooperation with diverse and far-reaching regions – the North Pacific, South and Southeast Asia, Oceania, Europe, and Latin America.
In this context, the strategy has asserted its intent to "expand the geographical scope and breadth of cooperation" by pursuing a leading role in building the rules-based international order in fields ranging from human rights to multiple security aspects (economic, military, intelligence, environmental, and technological). Also, economic and social development through "contributive and sharing diplomacy" – utilizing its learnings as an evolving democratic economy – would serve as one of the main goals of Seoul's global principled diplomacy vision.
Its emphasis on the weakened global governance system and South Korea's intent to contribute to strengthening the rule-based regional order is a welcome step away from the earlier obsession with the North Korean threat or lack of attention to the strategic aspects in favor of trade and investment goals (as evidenced by the NSP's limited outreach).
At the same time, boosting the economic security architecture via proactive interactions at multiple multilateral initiatives – such as the Regional Comprehensive Economic Partnership, IPEF, speedy membership application for the Comprehensive and Progressive Agreement for Trans-Pacific Partnership, all-out expanded economic partnership with ASEAN and India, and Digital Economy Partnership Agreement – will help reduce the risk from Chinese economic coercion for the export-dependent South Korea, not just ensure supply chain stability.
With comprehensive security as the focus of the strategy, one of the avenues that will get due prominence is maritime security cooperation with like-minded states like India and the European Union, which are both looking to boost their partnerships in the regional maritime security architecture due to China's increasing footprint, particularly in the Indian Ocean region. South Korea has already been engaging in maritime exercises like the India-led Milan and the U.S.-led Rim of the Pacific (RIMPAC); more such joint ventures, including initiatives for maritime domain awareness, capacity building, or intelligence sharing, will enhance interoperability and combat readiness in these uncertain times.
The security-tilted strategy is aiming to deepen engagements with both regional minilaterals like the Quad and global organizations like the North Atlantic Treaty Organization (NATO). South Korea's participation in NATO's Cyber Defense Group and summit in 2022, as well as approval for its mission to NATO, indicates a greater role in the coming years. In the Quad framework, Yoon's pledge for inclusion is gearing toward fruition, although first perhaps through the "Plus" format or working groups; the Quad members will not be in a hurry to disturb their existing congenial configuration.
In simple terms, Yoon's much-touted global vision aims to amplify economic diplomacy, enhance connections with lower- and middle-ranked economies, and embrace economic multilateral frameworks while seeking greater responsibilities in the regional and global geopolitics. The agenda is to move beyond the limited confines of Korean Peninsular or Northeast Asian diplomacy, and regain opportunities that will help South Korea create a global profile – much like what India and Japan are showcasing today.
Whether Yoon has oversold South Korea's diplomatic/strategic capabilities or its economic, technology-driven growth and the so-called "middle power" strengths for strategic autonomy, including soft power, will finally propel the long-anticipated transformation in South Korea's fortunes is the question.