Southeast Asia Prepares to Welcome Back Chinese Tourists
Unlike the U.S., Japan, and many other nations, most Southeast Asian governments are choosing to impose no new restrictions on the expected influx of Chinese nationals.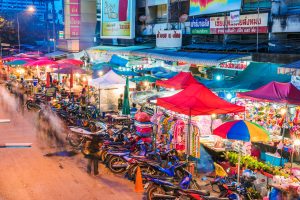 With the Chinese government gearing up to relax its strict travel restrictions on January 8, many Southeast Asian countries are anticipating increased numbers of Chinese tourists, with a mixture of relief and consternation about the possible transmissions of the virus.
Prior to the pandemic, China was the leading source of foreign tourist arrivals to the 10 member states of the Association of Southeast Asian Nations (ASEAN). In 2019, the year before the pandemic, around 32 million Chinese citizens traveled to ASEAN, just shy of a quarter of total international arrivals. That figure dropped sharply to 4 million in 2020, and China's continuation of strict COVID-19 restrictions, including a mandatory two-week quarantine for those returning home from international trips, has prevented the expected rebound.
While the region's economically pivotal tourism sector has recovered somewhat from the nadir of 2020, the lack of Chinese visitors, which in some places made up a third or more of international arrivals, has left a large gap. As one analyst for ING noted in November, "it is extremely unlikely that Asia-Pacific tourism can manage a full recovery without Chinese tourism returning."
Since Beijing announced the loosening of its travel restrictions, nations including the U.S., France, India, Japan, and Australia have required passengers from China to undergo COVID-19 tests prior to arrival, distrustful of the Chinese government COVID-19 statistics and concerned about the potential spread of the disease. The Chinese state media has described such efforts as "unfounded," "discriminatory," and an attempt to sabotage China's COVID-19 recovery.
However, most Southeast Asian nations have eschewed such restrictions, for obvious economic reasons. Prime Minister Hun Sen of Cambodia, a nation that prior to the pandemic derived around 25 percent of its export earnings from tourism, said this week that his country was an "attractive destination" for Chinese and would "not require Chinese people to do anything, just to come as normal tourists," according to a report in the Khmer Times. Prior to the pandemic, Cambodia was receiving more than two million Chinese tourists per year, or nearly 40 percent of its total international arrivals.
Ditto Malaysia, where the president of the Malaysian Inbound Tourism Malaysia (MITA) said that the government would not impose special restrictions on Chinese visitors arriving after January 8. "If Malaysia prevents the arrival of Chinese tourists, then the country will suffer a huge loss," MITA President Uzaidi Udanis said. "Neighboring countries such as Thailand, Singapore, Vietnam and others will be able to attract the market to their countries." Around 3 million Chinese citizens visited Malaysia in 2019.
Meanwhile, tourism authorities in Thailand say that they are expecting at least five million Chinese tourist arrivals this year, nearly half of the 11.5 million Chinese nationals who visited in 2019. The country's national communicable diseases committee has proposed to the Thai government that Chinese tourists arriving in Thailand will be treated like other foreign visitors, though they will be required to produce a certification of vaccination and are advised to take out health insurance coverage before arriving in Thailand.
Indonesia has similarly announced that it will maintain its lenient policies toward Chinese visitors. "There is no immediate need to change the existing policy but we will continue to monitor the situation," Covid Task Force spokesman Wiku Adisasmito told Bloomberg, though like all foreign travelers, Chinese arrivals will be required to show proof of complete vaccination against COVID-19. In Vietnam, which 5.8 million Chinese visited in 2019, medical experts have urged the government not to restrict the entry of Chinese visitors or mandate COVID-19 tests for people coming from China.
The one major exception is the Philippines, whose President Ferdinand Marcos Jr. last week suggested that it might mandate COVID-19 testing for inbound Chinese travelers, depending on advice from health professionals.
It is hard to say how likely it is that these nations will experience fresh outbreaks of COVID-19 from incoming Chinese visitors, especially given the Chinese government's opacity about the extent and severity of the country's current outbreak. But the fact that Southeast Asian countries are doing little to restrict the resumption of inbound Chinese tourism speaks to both their stunted economic recovery and their desperation for the return of the Chinese tourist yuan.