The Future of CICA: An Interview With Secretary General Kairat Sarybay
CICA is undergoing an overhaul internally in the hopes of taking "a prominent place in the comprehensive security architecture of the Asian continent and the world."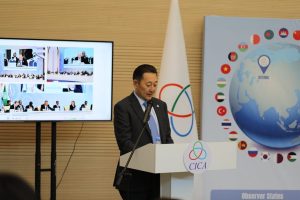 In late December 2022, The Diplomat conducted an exclusive interview with Ambassador Kairat Sarybay, the secretary general of the Conference on Interaction and Confidence Building Measures in Asia (CICA), to understand his vision for the future of his organization.
CICA stands out for having 28 member states, spanning geographically from Israel and Turkey to South Korea and China, including Russia and India. In other words, as Sarybay explained, "CICA is the only pan-Asian organization that covers a vast territory from the Pacific to the Mediterranean and from the Urals to the Indian Ocean."
CICA's sixth summit, which took place on October 12-13 in Astana, was a critical moment for the organization's future. A statement by CICA heads of state notes that negotiations will now commence for the "gradual, incremental, and consensus-based transformation of CICA into a full-fledged regional international organization."
CICA is looking to evolve. "The main objectives of the transformation process are to determine key areas of future cooperation and to strengthen the organizational and institutional framework of interaction within CICA," explains the CICA secretary general.
A "roadmap" is currently being drafted by the current chair (Kazakhstan) and the secretary general; some priorities of the chair – "which," Sarybay says, "for the most part have already been accomplished" – include updating the CICA Catalogue of Confidence Building Mechanisms (CBMs), establishing the Council of Eminent Persons, creating a permanent CICA Think Tank Forum, and establishing the CICA Fund.
Sarybay is confident that "in the future, CICA will definitely take a prominent place in the comprehensive security architecture of the Asian continent and the world. CICA will further contribute to [consolidating] the common vision of Asian states and their connectivity."
The Greater Asian region already has several multinational blocs of which CICA member states are also members, including the Arab League, Eurasian Economic Union (EAEU), Shanghai Cooperation Organization (SCO), and ASEAN. Hence, standing out can be challenging, particularly when an organization has 28 member states, meaning a plethora of voices at the table.
However, Sarybay views this large number as an asset. "Diversity is CICA's strength. Member states do not impose views or national positions on each other and offer and share best practices and experience and learn from each other, thereby creating a unique added value."
Moreover, the CICA secretary general stressed that his organization is not competing with other regional blocs for influence. Via "its cooperation with other organizations, CICA focuses on developing synergies with other fora." This objective is based on the idea that "there is no alternative to multilateralism in achieving peace, security, and prosperity, especially in geographic areas where conflicts, tensions or divergence of views persist. There can't be too much multilateralism in the current world," Sarybay concluded.
One key CICA partner is the United Nations Office on Drugs and Crime (UNODC), a partnership that dates back to 2015. The two agencies "possess valuable expert potential that should be utilized to its fullest, especially in Central Asia – a key region for ensuring peace, stability, and prosperity in Asia. To that end, I am regularly meeting with the UNODC Regional Representative for Central Asia," he noted.
Moreover, during the sixth CICA Summit, CICA and the Eurasian Economic Commission (EEC), a component of the EAEU, signed a Memorandum of Understanding (MOU) to foment regional integration. Via the MOU, "cooperation between the CICA Business Council and the EAEU Business Council could become one of the practical directions of this work," said Sarybay.
The CICA secretary general noted that all SCO member countries are also CICA member states, and the two organizations were "created primarily to build confidence on the Asian continent. Like the SCO, today, CICA has developed into a mature multilateral structure for multifaceted cooperation that goes far beyond security issues and ensuring regional stability." Cooperation between the CICA Secretariat and the SCO Regional Anti-Terrorist Structure (RATS) was established in 2017.
Looking to the future, CICA plans to establish ties with ASEAN by creating a link between the two Secretariats. "We [hope to conclude] a Memorandum of understanding between our Secretariats in the near future," Sarybay said. Moreover, "the Chairmanship is considering the possibility of opening a CICA liaison office at the U.N. Secretariat in New York, which could greatly enhance coordination between our organizations."
Sarybay added that at the sixth CICA Summit, "many new and breakthrough ideas and initiatives in different dimensions (human, economic, environmental [among others]) were presented."
For example, Kazakhstani President Kassym-Jomart Tokayev proposed:
The establishment of a CICA Council on Sustainable Interconnectivity;
The transformation of the CICA Finance Summit into a permanent forum to foment economic recovery;
Ensuring food security in the CICA region by establishing "green corridors" for agricultural products and unifying quality standards (in part through cooperation with the Islamic Organization for Food Security);
Organizing a high-level conference on environmental issues in the CICA countries with the prospect of creating a specialized CICA Council;
Organizing a meeting of volunteer movement leaders from CICA countries (under the auspices of the Youth Council of CICA) and creating a partnership network of universities across CICA.
"President of Uzbekistan Shavkat Mirziyoyev suggested launching a dialogue between generations to ensure better mutual understanding among people of different ages," Sarybay noted. The first meeting will occur during the CICA Youth Council in Samarkand in 2023.
The CICA member states are active in several areas: Turkey organizes regular seminars in the New Challenges and Threats Dimension; China holds events in the Economic Dimension; Kazakhstan is planning to have an event in the Military-Political Dimension; and Thailand, as coordinator in the area of Sustainable Development of the Environmental Dimension, launched an international training course on Sustainable Waste Management in Circular Economy.
Developing tourism after the pandemic is another vital objective, since "CICA covers around 90 percent" of Asia. Hence, a primary goal for 2023 and beyond is to construct "a robust mechanism for regular exchange of information and ideas … to expand cooperation between CICA Member States," Sarybay explained. The current coordinator is Tajikistan, which has already organized meetings between "the heads of tourism departments of the CICA member states."
Climate change and environmental protection are two of the 21st century's most critical issues. Countries worldwide, including many CICA member states, are promoting renewable energies, protecting their natural resources, and preparing for climate change-exacerbated natural disasters. In recent years CICA members have suffered severe natural disasters, including a drought in Kazakhstan and flooding in Pakistan, China, India, and Thailand.
Hence, CICA must also be proactive and develop a green strategy, namely the CICA Environmental Dimension. Sarybay listed some ongoing initiatives: Thailand is the coordinator for sustainable development; Mongolia is the coordinator (with Bangladesh and China as co-coordinators) for environment protection; Iran is the coordinator for natural disaster management and Bangladesh is the co-coordinator.
"CICA member states are working to raise awareness in these areas and share best practices," explained Sarybay. He added that "each CICA member state has different dynamics, environmental problems, and geographical features," therefore CICA's dialogue platform "enables 28 members to interact with each other and develop joint strategies."
He also noted that "the updated CICA Catalogue ensures that the member states develop and apply common programs on environmental protection without prejudice to the member states' rights and obligations."
Given that one country cannot successfully address climate change, CICA stands to distinguish itself from other regional blocs by taking a leading role in coordinating environmental protection-related initiatives.
Having member states with a history of tense relations and violent incidents – e.g., India and Pakistan, Israel and Palestine, or Kyrgyzstan and Tajikistan – can be challenging as CICA must navigate rough diplomatic waters with caution. However, CICA has developed an inclusive strategy: "to focus on a positive agenda, to propose something important and mutually beneficial for all members despite their bilateral issues."
Sarybay noted that CICA's fundamental principles include "consensus-based decision-making and voluntary implementation of CBMs," which create a "unique atmosphere allowing states that sometimes do not have diplomatic relations with each other, [sometimes not] even mutual diplomatic recognition, to sit at the same table."
One CICA member state of particular concern for the United States, Europe, and fellow CICA members is Afghanistan, given the Taliban's return to power. While the country remains a full CICA member, "at present, the Afghan delegation does not participate in CICA events; however, the seat of the participant remains with Afghanistan," explained Sarybay. Only time will tell the future of the landlocked, war-torn Central Asian state. Still, the CICA secretary general said, "We strongly hope for the resumption of Afghanistan's substantial contribution … in the near future."
Nevertheless, Sarybay made his opinion clear about potential instability caused by the Taliban or Taliban-supported violent organizations, "Afghanistan should not become a safe haven for terrorist groups." he declared. Moreover, he noted that CICA could have a role in helping the Afghan people. "With the establishment of [the] Fund, CICA will have new opportunities to provide humanitarian assistance to Afghanistan as well as to implement projects to strengthen the border capacity of neighboring countries" to combat drug trafficking, among other crimes, Sarybay noted.
CICA is based in Kazakhstan's capital, Astana. The Central Asian country is a founding member of the organization; moreover, the very idea of creating an entity like CICA was proposed by former President Nursultan Nazarbayev on October 5, 1992 at the 47th Session of the U.N. General Assembly.
The Kazakhstani government's support has been a pillar for the organization's three decades of existence. For Sarybay, a Kazakhstani citizen, support for CICA goes hand in hand with Kazakhstan's well-known multivector foreign policy. "From the very beginning of its independence, Kazakhstan adhered to the principle of multilateralism and holistic multivector foreign policy," Sarybay noted.
The secretary general is quite aware of the challenges that CICA member states face. "We are living in an era of constantly evolving high risks and threats to global security. Asia is the most challenging continent in this context… [T]hose risks have diverse root causes and symptoms, are multi-dimensional, and affect the quality of life of about 5 billion people or 60 percent of the world population." Addressing these challenges and risks alone will not be sufficient; hence, he argued, "there is no choice but to collectively address all security challenges through multilateral mechanisms."
Achieving multilateralism is challenging, but CICA has three decades of experience. Because of what the organization has accomplished and looks to accomplish in the following decades, "CICA is one of such precious instruments of multilateral cooperation available in the toolkit of Kazakhstan and all other CICA member states," concluded Sarybay.