There Is No Such Thing as ASEAN Neutrality
Despite its claims to the contrary, the Southeast Asian bloc is intervening in Myanmar's crisis – just not effectively.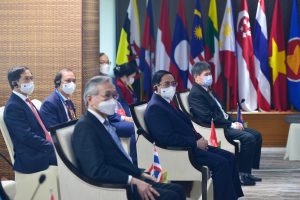 Southeast Asia's boys at Davos last week seemed intent to say what they won't do about Myanmar, which on Wednesday marks the second anniversary of the military coup that ousted its democratically-elected government. As Anutin Charnvirakul, deputy prime minister of Thailand, put it: "We can't interfere and [get] involved in domestic political affairs" of other member states. ASEAN's well-known policy of non-interference crops up daily. The first obvious problem is that it's wrong: ASEAN is intervening in Myanmar.
Just three months after the February 2021 coup, the bloc agreed on a Five-Point Consensus peace plan with the junta. According to the Chairman's Statement of the ASEAN Leaders' Meeting on April 24, 2021, "We acknowledged ASEAN's positive and constructive role in facilitating a peaceful solution in the interest of the people of Myanmar and their livelihoods, and therefore agreed to the 'Five-Point Consensus'." Point one of that consensus, according to the statement, contended that the "Leaders reached consensus…[that] there shall be immediate cessation of violence in Myanmar and all parties shall exercise utmost restraint." (Note the "shall.") And point three was that "a special envoy of the ASEAN Chair shall facilitate mediation of the dialogue process." That role has been expanded under the current occupant, Indonesian Foreign Minister Retno Marsudi. Nonetheless, even in its earliest days under Erywan Yusof, Brunei's second foreign minister, the intent was that ASEAN would play a defining role in whatever dialogue might have been brokered in Myanmar if the junta was interested in talking.
Now, the Five-Point Consensus is next to useless (of course), and, as such, represents a form of bad interference from ASEAN. But the point is that ASEAN tried to at least have some intervening role in the crisis. If there was the strict non-intervention that so many ASEAN officials like to talk about, the region's leaders wouldn't have gathered in April 2021 to try to give themselves some authority to influence what was happening in another member state. What's more, we've also seen a Malaysian government expressly and publicly say that it won't recognize the result of the election that the junta plans to hold later this year. We've had ASEAN officials give public comments condemning the atrocities committed in the country.
On the other hand, this week we've learned that the junta's defense ministry has been invited to the five-day regional ASEAN Defense Ministers' Meeting (ADMM)-Plus Experts' Working Group on Maritime Security, which will be co-hosted by Thailand and the United States next month. Lt.-Col. Martin Meiners, a spokesperson for the U.S. Department of Defense, told Myanmar Now that "attendance at ASEAN forums is determined by ASEAN member states." In other words, it was likely Thailand, a co-host, that signed off on this. And let's remember that although Min Aung Hlaing, the junta chief, has been barred from the bloc's most important gathering, junta officials have been welcomed to lower-level meetings ever since the coup. Had ASEAN invited both a junta and a non-junta official, perhaps one from the shadow National Unity Government (NUG), then that would constitute neutrality.
But there's a more fundamental point. Is it ever possible to be neutral and non-interventionist? Imagine that you were walking down the road and saw one person punching and kicking a badly-wounded person. Now, you don't know who began the fight. You don't know what it is about. Perhaps that doesn't matter. But wouldn't you think to intervene to at least stop the violence? That's an easy question. Imagine the same situation, but now there's someone else who is giving the assailant a refreshing energy drink so they have even more energy to punch and kick the prostrate man. And that benefactor tells the attacker that he'll give a big bag of money to whoever wins what appears to be an uneven fight. Of course, that third man says he doesn't care which person wins. That, through a slightly hackneyed analogy, is the real problem of so-called neutrality.
Thailand, Singapore, and Malaysia are among Myanmar's main trading partners. Singapore has been one of the biggest (if not the biggest) foreign investors in the country since the coup. We saw the perverse situation last year when almost on the same day the Cambodian government, then ASEAN chair, would be lecturing Myanmar's junta to stick to the Five-Point Consensus and just across Phnom Penh the Cambodian Minister of Commerce Pan Sorasak was expediting a trade deal with his junta counterpart Aung Naing Oo. How is trade not interference, and how is it not interference when the junta is the main entity that profits from Myanmar still being a party to ASEAN's free trade agreements?