What Are Central Asia's Economic Prospects in 2023?
The war in Ukraine, in particular, is putting a drag on economies across Central Asia.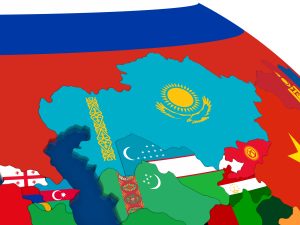 The World Bank's latest Global Economic Prospects report warns of a sharp downturn, with the clouds of a possible recession gathering amid high inflation and interest rates, sluggish investment, and the reverberations of the Russian war in Ukraine. According to the World Bank's current forecasts, the global economy is projected to grow by just 1.7 percent in 2023.
As the report notes: "in virtually all regions of the world, per-capita income growth will be slower than it was during the decade before COVID-19."
Central Asia, our region of focus here at Crossroads Asia, isn't spared from the gloomy outlook.
Growth in the Europe and Central Asia (ECA) region is estimated to have slowed in 2022 to 0.2 percent. Notably, excluding Russia and Ukraine from the data that figure sits at 4.2 percent, nearly halved from the year before.
Output, the report notes, is projected to "remain virtually flat in 2023."
"Although much of the projected weakness in regional growth this year emanates from a further output decline in Russia, forecasts for 2023 growth have been downgraded for over 80 percent of ECA's economies," the report continues.
Across Central Asia, growth rates have climbed back up since 2020's devastating numbers but the war in Ukraine — and its secondary effects on the global and regional economy — have put a damper on the bounce back. For example, of the four Central Asian states included (Turkmenistan is excluded due to a lack of reliable data of "adequate quality"), only Kazakhstan is currently forecasted to see a year-on-year improvement in its growth rate, from 3.0 percent estimated for 2022 to 3.5 projected for 2023. Nevertheless, it's still a slowdown from 2021's growth rate of 4.1 percent, after the pandemic year contraction of 2.5 percent. 
2022 marked a recovery of sorts for Kyrgyzstan, with the country rising from 2020's contraction of 8.4 percent to a growth rate of 3.6 percent in 2021 and an estimated growth rate of 5.5 in 2022. However, the forecast for 2023 is a slowdown to growth of 3.5 percent.
Tajikistan, which saw its growth rate slow to 4.4 percent in 2020 and rocket back up to 9.2 percent in 2021, is estimated to have notched growth of 7.0 percent last year, with the forecast envisioning a further slowdown to 5.0 percent in 2023.
Uzbekistan, too, saw positive — though slowed — growth in 2020 of 1.9 percent. In 2021 that shot back up to 7.4 percent, but 2022's estimates reveal a slowdown to 5.7 percent. The current forecast projects growth of 4.9 percent in 2023.
As the World Bank's analysis notes, the previously projected slowdown in the ECA region was "less pronounced that initially anticipated."
"A surge in capital and migrants from Russia, as well as a possible rerouting of some trade and financial flows, helped fuel domestic demand and services exports in several economies, particularly in the South Caucasus," the report notes. I'd argue that's true also of Central Asia, particularly Kazakhstan and Uzbekistan.
Of particular concern, however, as 2023 kicks off is inflation, which surged in 2022 "more sharply than in any year since 1998" alongside rising commodity prices, particularly of energy and food. 
The risks, the report notes, "remain skewed to the downside." It comes as no surprise that "a more prolonged or more intense war in Ukraine than assumed in the baseline could, apart from its humanitarian costs, cause significantly larger economic and environmental damage and greater potential for fragmentation of international trade and investment."
While the economies of Central Asia have returned to growth after the pandemic, the war in Ukraine has cast a heavy shadow across the region. While there have been some unexpected upsides, for example stronger than forecasted remittance growth in 2022, the long-term outlook remains gloomy. The global economic circumstances, combined with the concrete domestic difficulties — energy shortages, rising rents and food prices, resulting public frustration — are far from an ideal outlook.