Disillusioned, Ladakh Turns to Protests
Ladakh once celebrated its shift to union territory status. Now its people are protesting against broken promises.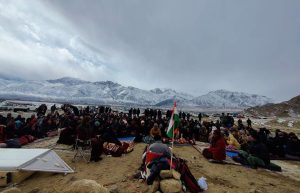 In August 2019, India's Himalayan region of Ladakh became a union territory, a decision that at the time was celebrated and welcomed by most of the region's population. Three and a half years later, the people's festive mood has changed to worry and concern.
According to locals, the development and safeguards that were expected to come with the new status did not materialize at all.
"It didn't take much time for everyone in Ladakh to realize that the promises of development and jobs which were made to us were not being fulfilled," said Asgar Ali, a Master's student from Kargil district.
On August 5, 2019, the erstwhile state of Jammu and Kashmir was stripped of its special status and bifurcated into two union territories – one being Jammu and Kashmir, and the other Ladakh. The people of Buddhist majority Leh, one of the two districts of Ladakh region, were jubilant over what they saw as a step toward realization of their long-standing demand for autonomy and self-governance. The people of Muslim-majority Kargil district, by contrast, vehemently opposed the decision and protested against the move by India's Parliament, which they believed was against the will of local people.
As the reality of its new status sank in, the people of Leh also began to raise concerns about diminishing representation. Many pointed out that what they actually wanted was a union territory with a separate legislature, where the local people have a say in governance.
"We have been deceived by the government by making Ladakh a union territory. It was totally opposite to what we had expected. Our representation has been taken away, we don't know where to take our grievances," a group of traders from Leh told The Diplomat.
A year after Ladakh was made into a union territory, the people of Leh and Kargil joined hands. Irrespective of their socio-political allegiances, Ladakh's people started coming together to protest, demanding statehood and safeguards for the union territory.
The Kargil Democratic Alliance and Leh Apex Body, two conglomerates of various religious, political, and trade leaders and activists from the respective regions, came together with their four-point demands, which included statehood for the region. They have presented those demands to India's central government.
"After a year since Ladakh became a union territory, the people of Leh and Kargil came forward on a joint platform of the Leh Apex Body and Kargil Democratic Alliance to pose our four demands in front of the government," said Sajad Kargili, one of the leaders of the Kargil Democratic Alliance.
"We want statehood for Ladakh; we want it to be included under the 6th schedule of the Indian Constitution. We want parliamentary representation for both of the districts and we want job security and reservation for our unemployed youth and a Public Service Commission."
The 6th schedule of the Indian Constitution covers "the administration of tribal areas," specifically in the states of Assam, Meghalaya, Tripura, and Mizoram. In Ladakh, almost 97 percent of the population belongs to tribal communities. Thus Ladakh's people not only want statehood, but under the conditions of autonomy offered to the four states named in the 6th schedule. Ladakh's inclusion under the 6th schedule would give autonomy to the regional council in legislative, judicial, and financial matters.
Facing a stern Ladakhi leadership, India's Ministry of Home Affairs in December of last year formed a high-power committee whose aim was redress the issue at hand. But the following month, the Leh Apex Body and Kargil Democratic Alliance refused to join any discussions with the committee.
"We refused to talk to the committee because our four-point demands were not included in the discussion. They had given us their word that they would take up these demands in the committee but did not," Kargili said.
"We want to talk; we don't want to keep up protesting. But the genuine demands of Ladakhis are being sidelined."
The members of both of the leadership conglomerates also objected to the composition of the high-power committee.
On January 15 this year, leaders from both the Leh Apex Body and Kargil Democratic Alliance held a protest in Jammu. This was the first instance where people of Ladakh across the religious and political spectrum were seen protesting for a unified cause.
"Ladakh was disenfranchised when the central government made it into a union territory. The remaining powers of the autonomous hill councils were taken away by the administration of the union territory," Nawang Rigzin Jora, co-chairperson of the Leh Apex Body, said.
Last month, Ladakh's celebrated educator and innovator Sonam Wangchukh held a five-day-long fast to support the demands of the Ladakhi people. Interestingly,  Wangchuk had expressed his gratitude to the BJP-led central government in 2019, after the erstwhile state of Jammu and Kashmir was bifurcated and Ladakh was made into a union territory.
"Today I very disappointingly want to say that we were better off with Kashmir than today's union territory," Wangchuk bemoaned in a video posted on social media.
An educational reformer and Ramon Magsaysay awardee, Wangchuk's fast was supported by various religious and political parties in Ladakh and a half-day shutdown was observed on January 31, on the last day of his fast.
Wangchuk also said that the people of Ladakh wanted a union territory but with some form of legislature where the people of Ladakh could decide for themselves. They did not want a Ladakh without any safeguards for jobs, culture, language, and identity.
"There have been no job postings from last three years. The government had promised 12,000 jobs but not more than 400 have been given. Most of the educated youth is unemployed," Wangchuk said.
He also expressed concern over the future of Ladakh's natural environment. "Ladakh is an ecologically fragile region. We have glaciers which provide water to northern India. We don't want big corporation to come here and pollute our ecology. I have always been rising my voice for our climate but at this point of my time it has become necessary to make the authorities listen," Wangchuk said.
Glaciers in Ladakh are receding at an alarming rate. A 2021 study done by students at the University of Kashmir showed that glaciers in the Pangong region of Ladakh have retreated by 6.7 percent over the last three decades. Wangchuk believes that with no provision in place to stop corporate exploitation in the region, the glaciers will be the first to bear the brunt.
After organizing protests at Jammu, the Leh Apex Body and Kargil Democratic Alliance has scheduled various protests until their demands are met.
"We will again protest for our demands in Delhi on February 15. Both of the leadership bodies have decided to continue their agitation with intensity throughout this year until our demands are met," a member of the Leh Apex Body said.