It's Time for Myanmar's Neighbors to Sideline the Military Junta
For their own interests, if nothing else, India, Thailand, and China need to throw their support behind the country's resistance movement.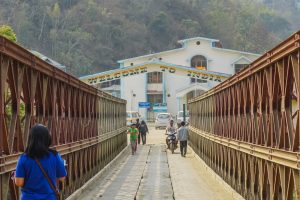 Anyone still hoping for a political solution to Myanmar's crisis should ask one question: is the military junta willing to be held accountable for its crimes? The definitive answer, demonstrated repeatedly by their mounting atrocities, is "no." But without accountability for the crimes committed since the February 2021 coup, which include the burning of women and children alive, there can be no political solution to the country's conflict.
Myanmar's people have accepted this since the early months of the coup and have been forced by the junta onto the path of armed resistance. Resistance forces comprising the ethnic militias and People's Defense Forces, emboldened by heavy junta troop losses, are determined to push on until Naypyidaw capitulates and the military is completely removed from political power – a position it has held since 1962 in various iterations.
A combination of low morale, growing insubordination, ineffective institutional governance, and endemic corruption has thrown the military into a crisis of combat effectiveness. The result has been a string of humiliating losses on the battlefield. And with the military rapidly losing territorial control, the junta's planned elections – even if fabricated to return a "victory" for the military's chosen parties – will be meaningless. No rational foreign government or firm will invest in a country where the self-proclaimed ruling authority is unable to guarantee protection for foreign investments, to say nothing of the moral questions. Moreover, the junta has no hope of gaining legitimacy under international law while pro-democracy representative Ambassador Kyaw Moe Tun continues to occupy Myanmar's seat at the United Nations.
Simply put, the military junta is losing. More than two years after the coup, the junta has gone from fighting to consolidate power to fighting for its survival. Countries, especially Myanmar's neighbors, must now act to protect their interests in a post-junta Myanmar.
China, India, and Thailand, in particular, have complex interdependent relationships with Myanmar. Incidentally, these are also countries that can do the most to expedite the victory of the resistance.
A post-junta administration will implement policies based on popular support. Unpopular major investment decisions will face backlash, regardless of the contractual obligations involved. The status of bilateral relations post-junta will be ranked on the level and nature of support provided by the country in question during the Spring Revolution. The work Myanmar's neighbors must now do is to win public opinion by helping tip the scales in the resistance's favor. Otherwise, they can expect strategic and lucrative investment opportunities, especially in sectors that can quickly recoup depleted dollar reserves, handed to countries that have been vocal and generous supporters of the resistance.
China
Criticism of China's continued engagement with the junta is valid. Yet the level of engagement from Beijing has been noticeably toned down, as evidenced by its silent response to the junta's invitation to attend last year's Lancang-Mekong Cooperation Summit and its abstention from the recent U.N. Security Council resolution condemning the military junta in Myanmar and calling for the release of all political prisoners, including State Counselor Aung San Suu Kyi.
China must be aware by now that the junta is in survival mode. It must move to ensure that its strategic interests are protected in a post-junta Myanmar. And there is much at risk: the Kyaukphyu deep-sea port that can provide China access to the Indian Ocean and reduce strategic risk by bypassing the narrow Straits of Malacca; the oil and gas pipelines and rail routes from the same area that traverse central and northeastern Myanmar into Yunnan; essential tin and copper imports; and rare earth vital to both China's consumer electronics and defense industries.
However, if public opinion of China continues to deteriorate, Myanmar's powerful neighbor will be dealing with a public outraged by Beijing's calculative fence-sitting during the Spring Revolution.
First, China should cease engagement with the junta at senior levels. Second, the prevailing sentiment among the Myanmar public is that Russia is acting as a proxy for China, supplying the junta with weapons and technology to suppress the resistance. A Russia that has been heavily dependent on China since the invasion of Ukraine is naturally assumed to be colluding with China, particularly in a country that China considers its backyard. Beijing must persuade Russia to cease its dangerous liaisons with the junta. Lastly, weapon sales and transfers across the border to the resistance should be encouraged and expanded to include anti-air weaponry – the golden ticket to resistance victory that will score major points with the Myanmar public.
India
India's current policy of engagement with the junta is confusing at best. External Affairs Minister Subrahmanyam Jaishankar himself once reportedly confided to a senior Myanmar diplomat that India's priority in relations with Myanmar was security in the northeast, where insurgent groups often launch attacks against the Indian army while enjoying sanctuary across the border in Myanmar.
Since the coup, the junta has reportedly been using insurgent groups in the northeast as proxies to attack resistance forces in bordering Chin State. Yet, India continues its counterproductive policy of engagement with the junta, which is actively working against its interests.
Next, is the Kaladan multimodal transport project and the India-Myanmar-Thailand trilateral highway, intended to reap economic gains for India's underdeveloped northeast. There is no security guarantee for the routes until there is a stable political and economic environment, which cannot be provided by a military government that is struggling to survive.
Lastly, India hopes to counter China's influence in Myanmar through continued engagement with the junta. This is an irrational tactic, as it can never realistically hope to compete against Beijing's influence in a military-ruled Myanmar. Billions in Chinese investment under decades of military rule serve as proof. Deciding between backing the junta or the resistance should be an easy choice for India. Yet, Delhi continues its self-defeating policy of engagement with the junta.
India should cease all public engagement with the junta. Humanitarian aid should be increased, and continued shelter offered to those fleeing the junta's persecution. Logistics lines should be strengthened, and weapons meant for the resistance troops should be allowed across the border. If New Delhi is bold enough, anti-aircraft weaponry should also be allowed to find its way into Myanmar. Lastly, valuable intelligence should be shared with the resistance. After all, it is not only China that engages the junta, but also Pakistan, which is actively boosting military ties and selling aircraft and weaponry to the junta.
Thailand
Although Thailand is already hosting thousands of Myanmar refugees, Myanmar's public opinion of the country's neighbor fluctuates in line with media reports of high-level government engagement with the junta.
Thailand's primary interest is maintaining a steady flow of natural gas imports from Myanmar. It is a net energy importer, with around 60 percent of its electricity generated from natural gas. Imports from Myanmar's Yadana gas field alone make up 11 percent of Thailand's natural gas consumption. Domestic natural gas output from its major gas field, Erawan, is declining sharply. With natural gas prices rising due to the war in Ukraine, Thailand will need to maintain its gas imports from Myanmar. Electricity rates have already risen by 14 percent, which has been detrimental to the country's post-pandemic economic recovery efforts. Additionally, Norway's $1.3 trillion sovereign wealth fund has divested from Thai energy giant PTT Plc, citing the risk of human rights violations. With more Western sanctions likely to follow, reputational and financial risks will multiply.
Thailand should likewise cease all public engagement with the junta, join fellow ASEAN member states in their condemnation of junta atrocities, tread cautiously on business ties with the junta to minimize reputational and financial risk, and provide all possible covert assistance to resistance troops along its borders, both to maintain border security and win popular support from the Myanmar people.
Instead of continuing futile attempts to prop up a failing military junta, Myanmar's neighbors should instead be racing to help the resistance and win the hearts and minds of the Myanmar people, to better protect their strategic interests when the military dictatorship eventually collapses.