The Asia-Pacific's Next Refugee Crisis Is Coming – Ready or Not
The Bali Process still holds promise for principled regional responses to the movement of refugees and migrants.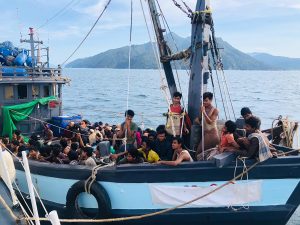 Last year marked 20 years since the creation of the Bali Process on People Smuggling, Trafficking in Persons, and Related Transnational Crime. Commendable for its longevity, serious-minded policy dialogue, and capacity building, the Bali Process' potential as a platform for regional cooperation on irregular movement remains unrealized. Distressed boats of Rohingya refugees left to drift in the Andaman Sea and Indian Ocean in the final two months of 2022 were another tragic reminder of this.
The Bali Process Ministerial Conference on February 9-10 in Adelaide, Australia – the first Ministerial Conference since 2018 – is a critical opportunity to recommit to regional cooperation and reenergize response mechanisms developed after the 2015 Andaman Sea Crisis, in which an estimated 8,000 people were abandoned at sea by smugglers.
Persistent conflict and instability in Myanmar, coupled with dire conditions in refugee camps in Bangladesh, mean more people are certain to undertake dangerous journeys in search of safety and opportunity elsewhere. The region must be ready. The Bali Process can and should become a platform for coordinating humane and legal responses to the irregular movement of refugees and migrants.
The groundwork has been laid. The 2016 Bali Declaration, agreed upon by Bali Process members at the Sixth Ministerial Conference, is a call for wide-ranging collective action to respond to irregular movement. Set against the backdrop of deadly failures during the Andaman Sea Crisis, and recognizing "the growing scale and complexity of irregular migration challenges," the Bali Declaration "underline[s] that the transnational nature of irregular migration requires a comprehensive regional approach, based on principles of burden sharing and collective responsibility" – and underpinned by international legal obligations.
An internal review of the Bali Process' response to the Andaman Sea Crisis followed in late 2016, echoing the Bali Declaration's appeal for regional cooperation. The review noted coordination shortcomings, but struck an optimistic tone about the potential of a new Consultation Mechanism, another outcome of the Sixth Ministerial Conference, and a to-be-formed Task Force on Planning and Preparedness (TFPP). The review observed that there was "a window of opportunity…to ensure that similar situations do not happen again."
Unfortunately, that window was largely missed. As irregular maritime movement dropped off after 2015 and international scrutiny faded, momentum behind the Bali Declaration and internal review eased. Bali Process co-chairs Indonesia and Australia deployed the Consultation Mechanism in 2017 following the movement of hundreds of thousands of displaced Rohingya from Myanmar's Rakhine State into Bangladesh, but it fell far short of yielding a meaningful regional response.
The TFPP has been more active, providing a forum for information sharing and capacity building, including table-top exercises to prepare regional officials to respond to large-scale irregular movements of refugees and migrants. Yet, it too has not generated more coordinated regional responses to predictable movements and foreseeable emergencies.
This was on display in November and December 2022. Notwithstanding fanfare around its 20-year anniversary and contemporaneous meetings of its members – including the 16th Ad Hoc Group Senior Officials' Meeting on December 6 – the Bali Process was seemingly absent in the response to distressed boats in the Indian Ocean and Andaman Sea. The reactions of regional governments were instead slow and disjointed. Communication between relevant officials was poor and coordination minimal. One boat carrying around 180 people is believed to have sunk, killing everyone onboard.
The region's next maritime emergency is not a question of if, but when. In 2022, the United Nations High Commissioner for Refugees (UNHCR) documented more than 3,500 Rohingya refugees attempting to cross the Bay of Bengal and Andaman Sea by boat. Although far below the number of attempted crossings of a decade ago, last year's figure is the highest on record since 2015. In the absence of regularized migration pathways, many will continue to seek out smugglers to take them on dangerous journeys by sea and overland, opening them to risks of human trafficking and other forms of exploitation.
Without a more comprehensive regional response, regional governments are unlikely to move away from reflexive approaches to irregular movement dominated by border management and national security. No country wants to unilaterally assume responsibility for migrants and refugees arriving by irregular means, lest they risk disproportionately shouldering that responsibility long term.
The Bali Process holds the potential for changing the status quo. With new direction, it could be well-suited for exploring regional coordination that addresses intersecting issues of migration, security, smuggling, human trafficking, humanitarianism, and human rights.
To this end, civil society actors and U.N. agencies have developed concrete recommendations for Bali Process reform. In July 2022, the secretariat of the Asia Dialogue on Forced Migration (ADFM), a Track 1.5 dialogue created in the midst of the Andaman Sea Crisis, published Future Ready, a report detailing eight opportunities for making the Bali Process more effective, not least as a platform for regional cooperation in response to irregular movement. In November 2022, UNHCR, the International Organization for Migration and the United Nations Office on Drugs and Crime – all organizational members of the Bali Process – released a joint paper with six recommendations, including ways of more effectively using the Consultation Mechanism and TFPP to respond to boat movements. More recently, the Asia Pacific Refugee Rights Network (APRRN), issued a statement calling on Bali Process members to reinvigorate these mechanisms and assume collective responsibility to rescue and protect refugees and migrants stranded at sea.
Beyond preventing further loss of life – a sufficient end in itself – there are other incentives for Bali Process co-chairs to heed calls for reform now and encourage Bali Process members to recommit to regional cooperation. For an Australian administration seeking to strengthen relationships with regional governments, reenergizing the Bali Process to support countries affected by irregular movement could build goodwill and dispel perceptions that Australia's interest in the Bali Process is dominated by self-interest, rather than solidarity and responsibility sharing.
And as Indonesia leads ASEAN in 2023 and confronts an enduring political crisis in Myanmar and stagnation of the bloc's Five-Point Consensus, the Bali Process presents opportunities for regional action that may continue to elude a divided ASEAN. Short of addressing root causes within Myanmar, the Bali Process could lead the development of coordinated responses to forced displacement from Myanmar that marshal resources from Bali Process members and more fairly distribute responsibility for rescuing or receiving refugees and ensuring their access to protection. In its dual roles as Bali Process co-chair and ASEAN chair, Indonesia is better-positioned to link up Bali Process mechanisms and relevant ASEAN structures – a possibility Indonesia outlined at the December 6 Ad Hoc Group Senior Officials' Meeting.
The Ministerial Conference this week is an opportunity to work toward a better Bali Process able to meet the challenges of irregular movement. It should not be missed.