Bird Flu's Young Victims
Over the past decade, nearly four out of five H5N1 victims in Cambodia have been children.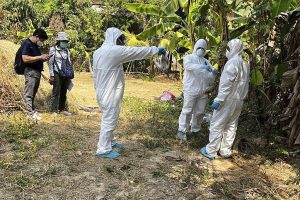 The death of an 11-year-old in Cambodia last month reopened a Pandora's box of questions about the mysterious H5N1 virus.
The case initially set off alarm bells among pandemic watchers. The girl from Prey Veng province appeared to be part of a family cluster; her 49-year-old father also tested positive for the virus. Post-COVID-19, the phrase "family cluster" has an ominous ring. Could the infection have involved human-to-human transmission? Much to the relief of scientists, Cambodian health officials ruled out that possibility.
The girl's death, however, highlighted another vexing problem. In the past decade, children accounted for nearly 80 percent of bird flu fatalities in Cambodia. In 2014, 100 percent of recorded cases were in the under-14 age group; nine contracted the virus, and four died. Data gathered by the Institut Pasteur du Cambodge shows that the median age of a bird flu patient is six years.
In 2013, when Cambodia experienced its worst avian influenza outbreak, Health Minister Mam Bunheng observed, "Children often care for domestic poultry by feeding them, cleaning pens, and gathering eggs. Children may also have closer contact with poultry as they often treat them as pets, and also seem to be most vulnerable and are at high risk because they like to play where poultry are found."
Backyard chicken farming is a family activity in Cambodia. Around 85 percent of the country's farmers raise poultry for extra income. Children help their parents by feeding chickens and ducks, collecting eggs, and even cooking the birds.
In 2013, the year of the worst outbreak, Cambodian papers carried numerous reports of young victims sickened by dead fowl that they had either handled or cooked. One H5N1 case involved a nine-year-old boy from Battambang province who helped his father prepare a meal with an infected bird. He fell sick soon after and died in a Siem Reap hospital.  "We don't have money so we didn't want to waste the dead chicken," said the boy's father.
Rural families raising backyard chickens are unlikely to comply with "biosecurity" procedures followed by commercial poultry farms, such as culling a diseased flock, discarding the carcasses, and disinfecting the premises. Although the Ministry of Health warns families about the dangers of consuming infected poultry, dead birds often go straight into the cooking pot.
A 2013 review of cases by the London School of Hygiene & Tropical Medicine found that most bird flu patients were young (under 18), had not received antivirals in the early stages of infection, and were taken to the hospital only when they were in critical condition. Data from confirmed H5N1 cases showed that "no patients received their first dose of oseltamivir within the recommended 48 hours from the onset of symptoms."
The study found excessive use of antibiotics and corticosteroids, despite the World Health Organization recommending against the routine use of these drugs for avian influenza. Further, none of the patients received mechanical ventilation, which could have saved lives. In the under-18 age group, the mortality rate was 100 percent.
The authors went on to conclude that Cambodia had "the largest resource gaps" and "potentially the highest rate of avoidable deaths" in Southeast Asia. In Cambodia, 44 percent of patients died on the day of admission to the hospital, compared to 12 percent in Indonesia. Fewer patients (28 percent) were treated with antivirals compared to neighboring Vietnam, where 82 percent of bird flu cases received oseltamivir. Only two people in the study, those who traveled to Vietnam, had access to ventilators.
The 11-year-old girl from Prey Veng was another case of delayed hospitalization. She was treated in a health center in her village for three days before being transferred to the National Pediatric Hospital in Phnom Penh on February 21. She died the following day.
A week later, the spokesperson for the Ministry of Health shared a sobering statistic: "bird flu is even deadlier than COVID-19. The mortality rate of those who contract H5N1 is as high as 50 or 60 per cent, globally." Cambodia's fatality rate currently stands at 67 percent, inflated by the high number of deaths among children.