Ex-Malaysian PM Muhyiddin Hit With Seventh Graft Charge
The besieged leader has described the charges as a form of "organized political persecution" designed to hobble his party at state elections later this year.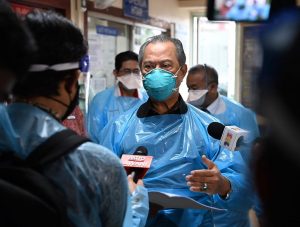 Malaysia's former Prime Minister Muhyiddin Yassin yesterday pleaded not guilty to a seventh corruption charge, this one alleging that his political party received illegal proceeds totaling 5 million ringgit ($1.1 million).
The charge came after the former leader, who led Malaysia from March 2020 until August 2021, pleaded innocent to four charges of abusing his power to obtain 232.5 million ringgit ($51.4 million) in bribes for his party Parti Pribumi Bersatu Malaysia (Bersatu), and two charges of money laundering involving 195 million ringgit ($43 million).
The 75-year-old is now the second former prime minister to be charged with corruption in Malaysia's history after Najib Razak, who is currently serving a 12-year prison sentence for involvement in the 1MDB corruption scandal.
The Malaysian Anti-Corruption Commission (MACC) accuses Muhyiddin of awarding contracts to selected ethnic Malay contractors in return for bribes – perhaps the most characteristic form of corruption in Malaysia – and approving a tycoon's appeal against the cancellation of a tax exemption.
On the latest count, MACC prosecutors allege that in January of last year, Muhyiddin received what they claim were unlawful proceeds from a firm called Bukhary Equity Sdn Bh. If found guilty, Muhyiddin faces up to 20 years in prison for each of the corruption charges, and 15 years for each count of money laundering.
Muhyiddin came to power in March 2020, after the mass defection of MPs led to the collapse of the Pakatan Harapan (PH) coalition government elected at the general election of 2018. In office during the height of the COVID-19 pandemic, his government approved a number of assistance programs, including, in November 2020, the multi-billion-ringgit Jana Wibawa program, which was designed to assist struggling bumiputera – i.e. ethnic Malay – contractors.
This and similar programs have come under close scrutiny since Prime Minister Anwar Ibrahim took office in November, after a close-fought general election earlier that month. Anwar immediately ordered a review of government projects approved by past administrations, including Muhyiddin's, claiming that many were granted to favored firms without tender.
So far, two other Bersatu officials have been charged with corruption related to the Jana Wibawa program: the party's information chief Wan Saiful Wan Jan, and the businessman Adam Radlan Adam Muhammad, who is also the divisional leader for Segambut constituency in Kuala Lumpur. Several other people, including an MACC officer, are also under investigation for their involvement in Jana Wibawa.
Muhyiddin has denied all of the charges against him, painting them as a form of "organized political persecution" designed to hobble his ethnic Malay Bersatu party at a string of upcoming state elections. Anwar has denied any political agenda, stating that he is willing to let MACC follow the money wherever it leads. "I want to state here that I am not holding this post (prime minister) to oppress, pressure or be cruel," Anwar said in parliament last week. He added that "I know what it means to be a victim of selective prosecution," a reference to the two long prison terms that he endured on transparently political charges.
That said, the looming state elections – a stress test for Anwar's unwieldy governing coalition – all but ensure that the legal proceedings will take on a strong political charge. In sentencing Najib Razak to prison last year for his role in the 1MDB case, Malaysia's judiciary sent a message that even the most wealthy and powerful were not above the law, underlining its independence from the political pressure. The Bersatu corruption cases seem set to offer another test.