How Do You Solve A Problem Like Hambali?
More than 20 years after the Bali bombings in which he allegedly played a central role, nobody quite knows what to do with a man once seen as Southeast Asia's most wanted terrorist.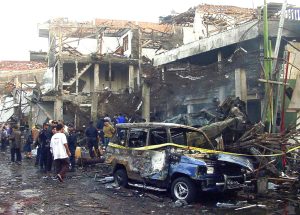 It was August 2003, in Ayutthaya in Thailand, when Thai police smashed their way into a rented apartment and dramatically arrested its occupant – terrifying the sleepy neighborhood and leaving everyone wondering: Who was this stranger who seemed so feared and so dangerous?
The answer was that, unbeknownst to the local populace, Indonesian national Encep Nurjaman, alias Hambali – the most wanted terrorist in Southeast Asia – had been arrested following a tip off about his seemingly suspicious behavior. A devout Muslim with a short and stocky build, the bespectacled Hambali had attracted attention in the neighborhood, rarely venturing outside under the warm Thai sun and seeming to prefer the shadows of his pokey rented apartment.
Following his arrest, Hambali, a senior member of the hardline Islamic group Jemaah Islamiyah, was swiftly handed over to the U.S. authorities who claimed they wanted to question him regarding terrorist attacks in Indonesia that had killed American citizens and attacked U.S. interests. These included the Bali bombing of 2002, which had killed over 200 people and injured 200 more, and the 2003 JW Marriott attack that killed 12.
Once in U.S. custody, Hambali was taken to a CIA black site in Rabat, Morocco, before being transferred to another black site in Bucharest, Romania, where he was tortured.
According to a 2014 Senate Intelligence Committee Report, Hambali almost immediately gave the U.S. authorities as much information as he appeared to know. Yet, despite this, he continued to be subjected to what were euphemistically named "enhanced interrogation techniques," with limited results. According to the report,
CIA officers interrogating Hambali in November 2003 wrote about Hambali's "account of how, through statements read to him and constant repetition of questions, he was made aware of what type of answers his questioners wanted. [Hambali] said he merely gave answers that were similar to what was being asked and what he inferred the interrogator or debriefer wanted, and when the pressure subsided or he was told that the information he gave was okay, [Hambali] knew that he had provided the answer that was being sought."
It continues,
After an Indonesian speaker was deployed to debrief Hambali, the debriefer "got the distinct impression [Hambali] was just responding 'yes' in the typical Indonesian cultural manner when they [sic] do not comprehend a question." 
In 2006, Hambali was transferred to the infamous Guantanamo Bay detention camp in Cuba. In 2021, he was charged with war crimes including murder, terrorism, and conspiracy related to the Bali bombing and the JW Marriott attack, and will now face a military commission at the unfortunately named Camp Justice – the war court at Guantanamo Bay, where detainees are considered "enemy combatants" in the global "War on Terror" rather than civilian prisoners.
After 17 years in prison, Hambali (now 58) will next face court, along with his two co-accused – Malaysian nationals Mohammed Nazir Bin Lep and Mohammed Farik Bin Amin – on April 24 of this year. He last appeared in court back in 2021, when the official charges filed in 2019 were presented to him, with subsequent appearances meant to take place around Labor Day last year cancelled due to the coronavirus pandemic.
Out of almost 800 men held in Guantanamo Bay, only 31 detainees remain and just 12 have ever been charged with a crime – including Hambali who, according to his lawyers, has always denied that he had any involvement in the Bali bombing.
This has also been corroborated by one of the remaining Bali bombers, Ali Imron, who has said over the years that the bombing was planned by his brother Ali Ghufron and another senior member of Jemaah Islamiyah, Imam Samudra. Both Ghufron and Samudra were executed in 2008 while Imron was handed a life term.
While it is unclear if Hambali will get a fair trial at Camp Justice, it does seem as if no one quite knows what to do with him.
The Bali bombing took place over 20 years ago, and evidence that would prove Hambali's involvement is likely to be scant. The U.S. authorities are also unlikely to send him back to Indonesia, as Hambali is considered a High Value Detainee – the U.S. designation for those who were subjected to its torture program – who may identify his interrogators and speak of the abuse he has endured.
On the other hand, the Indonesian authorities have said that they no longer consider Hambali an Indonesian citizen as he was traveling on a Spanish passport when he was arrested in Thailand – an indication that they, too, no longer want him to be their problem.
Speaking in 2016, Luhut Pandjaitan, then Indonesia's coordinating minister for political, legal, and security affairs, confirmed that the U.S. authorities had not discussed any plans with Indonesia to return Hambali to its shores.
"Thank God, don't add any more problems to this country," he said.