Inflation Continues Its Steady Upward Rise in Laos
Rising tourism arrivals could offer some economic relief, though the government faces a number of complex structural challenges.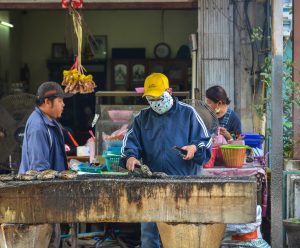 Year-on-year inflation continues to creep upward in Laos, rising to 41.3 percent last month and defying the government's attempts to curb the spiraling prices. As for much of the past year, the Lao Statistics Bureau reported this week that the soaring price of petrol, gas, and other imported goods, compounded by the weakness of the Lao kip, was continuing to create upward pressure on prices.
According to the Bureau, the surge was led by increases in the price of transport, which jumped 47.4 percent from last February, in large part due to high global oil prices. Medicines and medical care prices rose by 42.4 percent from a year ago, while hotel and restaurant services increased by 36.2 percent. The cost of housing, water, electricity, and cooking gas increased by a slightly more modest 28.3 percent.
Inflation began to take off in the second quarter of last year, when Laos's economy, already severely impacted by the COVID-19 pandemic, was hit by a combination of rising oil prices and the rapidly depreciating currency, which has nearly halved in value against the U.S. dollar since 2020. Last February, year-on-year inflation sat at just 2 percent, Radio Free Asia reported.
Over the past year, the Lao government has put in place a number of stop-gap measures to keep prices down. It has raised interest rates and limited the use of foreign exchange reserves for the import of essential goods. But as the state-run Vientiane Times points out, the weak kip hamstrings the government's efforts to curb inflation, "especially as one-third of the goods used to calculate price rises are imported."
One bright spot for the Lao government is that the rate does appear to be slowing, increasing just 1 percent on January's year-on-year inflation figure. This is consistent with Asian Development Bank projection that annual inflation will fall from 23 percent in 2022 to around 10 percent this year. The Lao Statistics Bureau also predicts that year-on-year inflation will remain roughly steady this month.
But as Chanhsy Samavong of the Laos Macroeconomic Research Institute and Buavanh Vilavong of the country's Ministry of Industry and Commerce put it in a recent article for East Asia Forum, these problems "have been caused by longstanding structural vulnerabilities, and can only be corrected by medium- to long-term reform efforts." Among these challenges are the need to broaden Laos' tax base and find long-term ways to bolster the country's foreign exchange reserves, which drained within months of COVID-19 hitting. Another issue the authors didn't mention was the need to reduce leakage in the political system (i.e. corruption) and to move away from the country's current debt-driven infrastructure-centric economic model.
Another glint of optimism for 2023 is the prospect of an increase in tourism arrivals, which could ease some of the downward pressure on the kip's value. Laos recorded around 1.3 million tourists in 2022, up from the government's target of 900,000. According to the Laotian Times, the government hopes to attract 1.4 million visitors in 2023, including an estimated 368,000 visitors from China, which opened its borders with Laos in January after abandoning its severe "zero COVID" policy.
The authorities have designated this year and next Lao Tourism Year, with plans to attract additional visitors during the country's chairmanship of the Association of Southeast Asian Nations (ASEAN) in 2024. All this is still a long way short of the record 4.8 million international arrivals recorded in 2019, the last full year before the COVID-19 pandemic. But for Laos in 2023, every little bit counts.