Mongolia and South Korea Emphasize Deeper Economic Ties 
Prime Minister Oyun-Erdene's visit to Seoul highlighted some future directions of bilateral economic cooperation.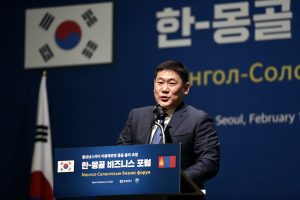 Mongolian Prime Minister Oyun-Erdene Luvsannamsrai paid a four-day working visit to South Korea from February 14-18. Since establishing a strategic partnerships in 2021, Ulaanbaatar and Seoul have made efforts to bolster economic relations, particularly in mineral extraction, tourism, and urban development.
On February 15, South Korean President Yoon Suk-yeol and Prime Minister Han Duck-soo received the Mongolian delegation led by Oyun-Erdene. The Mongolian prime minister was accompanied by Deputy Prime Minister and Minister of Economy and Development Khurelbaatar Chimid, Foreign Minister Battsetseg Batmunkh, Minister of Construction and Urban Development Davaasuren Tserenpil, Minister of Culture Nomin Chinat, and others.
Oyun-Erdene's visit to Seoul marked the first time in 12 years that a Mongolian prime minister had visited South Korea. During the meetings of the heads of government, Han highlighted the significance of Mongolia-South Korea bilateral relations within Seoul's Indo-Pacific Strategy.
For his part, Oyun-Erdene emphasized the importance of South Korea as both a trading partner and a gateway through which landlocked Mongolia could send its goods farther abroad. "We see South Korea as one of our customers, and the newly signed agreement between our two countries will help Mongolia trade globally through seaports such as Busan," he told Reuters.
These high-level bilateral meetings are meant to activate Mongolia-South Korea economic activities, increase investments, and deepen cultural ties.
South Korea is one of Mongolia's closest "third neighbors" in the region. Trade, tourism, cultural exchanges, and educational cooperation with South Korea all intersect with and have a direct impact on Mongolian society.
The Mongolian delegation's agenda in Seoul largely circled around Mongolia's long-term development plan, Vision 2050, and the Oyun-Erdene administration's post-COVID-19 New Revival Policy. Mongolia and South Korea signed six new Memoranda of Understanding (MOUs) with several new components that will enrich their strategic partnership.
According to the office of the Mongolian prime minister, Mongolia and South Korea have agreed to  start negotiations on an economic partnership agreement between the two countries. They also agreed to cooperate in the supply chain of rare metals; cooperate on mitigating climate change; boost their militaries' information sharing and capability enhancement; support cultural activities, programs, and content creation; and lastly, cooperate in urban planning and development projects.
In 2021, during an online summit between Mongolian President Khurelsukh Ukhnaa and the then-president of South Korea, Moon Jae-in, the two leaders agreed to advance cooperation in mineral extraction, which can be utilized to support South Korea's high-tech industry. Mongolia's rich natural resources, such as copper, tin, nickel, and molybdenum have the potential to be exported to South Korea and beyond.
On a broader scale, such cooperation can assist South Korea's supply chain issues, while Mongolia can gain an export outlet to the rest of the world using the Busan seaport. "I believe Busan could serve as a sea gate for Mongolia," Oyun-Erdene told the Korea Herald.
"Plans are under review to create a research team to continue our cooperation with Busan as a sea transit open for Mongolia."
In addition to expanding Mongolia-South Korea's cooperation in mineral extraction, Oyun-Erdene invited South Korean investors to take part in urban planning and development of a new satellite city on the outskirts of the newly built international airport in the Khoshig Valley. According to a December 2022 Technical Assistance Report from the Asian Development Bank, "The proposed satellite city aims to attract residents, public services, and economic activities currently overconcentrated in Ulaanbaatar, the capital city of Mongolia."
The Asian Development Bank (ADB) estimated the total cost of the project to be $200 million, of which the ADB would provide $100 million and the Mongolian government would provide $50 million. The remaining $50 million is expected to come from "cofinancing [loans and/or grants] from development partners" – possibly including South Korea – for a total of $45 million and "at least $5 million" in funds "mobilized from the private sector and capital market."
The idea behind creating satellite cities and towns is to relieve Ulaanbaatar's overpopulation. In addition, if these newly established communities and urban projects adopt green initiatives and environmentally friendly solutions, this could be an added benefit for Mongolia, providing an opportunity to attract investment in renewable energy.
From Mongolia's foreign policy and economic perspective, strong economic ties with South Korea, particularly in Mongolia's traditional strength of exporting natural resources, can assist Ulaanbaatar to establish multiple economic corridors. Each corridor will serve as an integral part of the national economy.
While mineral trade and urban development are included in the recent MOUs, newer initiatives such as content creation, culture, and education can also have a positive impact on Mongolia's non-mining sectors. Mongolia also supported South Korea's bid to host the World Expo 2030 in Busan, which has been a key goal for both the previous Moon and current Yoon administrations.