Southeast Asia's Post-Pandemic Tourism Revival
Regional tourism is finally rebounding from the impacts of COVID-19. Will Southeast Asian government do things differently this time around?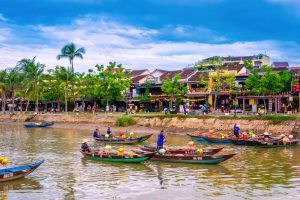 Before the COVID-19 pandemic, the tourism industry across Southeast Asia was booming. In 2019, the Philippines received 8.2 million foreign visitors, Indonesia 16.1 million, and Singapore 19.1 million. In Thailand 39.9 million foreigners showed up, making it far and away the regional leader in this area. These four countries combined for 83.3 million inbound tourists in 2019, a level of activity that has big economic consequences. In Indonesia it generated $16.9 billion in foreign exchange while Thailand brought in $57.2 billion.
The pandemic ground all of this to a halt, with 2020 and 2021 being especially difficult years. In 2020, Indonesia, Singapore, the Philippines, and Thailand saw a combined 1.5 million foreign visitors. And the next year brought only marginal improvement, with 2.5 million visitors. The impact of this disruption has been felt differently across the region. Thailand brings in eye-popping numbers of travelers and foreign exchange, but it also makes the country especially vulnerable to a hard stop in international travel. This is why Thailand pushed hard for a re-opening in 2021. But the emergence of the highly virulent delta variant closed the door on that, and Thailand ended 2021 with only 428,000 inbound travelers.
With vaccines becoming widely available, travel restrictions were loosened and 2022 was much better. Thailand led the way with 11.2 million inbound tourists, followed by Singapore with 6.3 million, Indonesia with 5.5 million and the Philippines with 2 million. These figures are still only about a third to a quarter of what they were in 2019, but the trend is clearly strengthening back toward pre-pandemic levels. This will be welcome news for those who work in the tourism sector, as well as central bankers and government officials who look to service exports to shore up their current accounts.
It is already spurring procedural reforms in some countries. Vietnam recorded over 18 million foreign tourists in 2019, but last year that figure reached just 3.6 million, or about one-fifth of pre-pandemic levels. The tourism recovery is lagging behind competitors like Indonesia and Thailand and one reason could be Vietnam's convoluted visa process, which officials are now indicating will be reformed to make it easier for people to enter the country. Reforming visa entry requirements is one of the most effective and least costly ways to boost tourism, and it looks like Vietnam's slow re-opening might help speed up reforms there.
Several years ago Indonesia overhauled its visa system, making it easier for most foreign nationals to enter the country as a tourist. The visa policy had a pretty clear impact, boosting inbound tourism significantly. However, the influx of tourists has recently sharpened tensions between locals and foreigners, especially in Bali. Social media has been rife with angry confrontations and last week the governor called for ending visas on arrival for certain foreign nationals.
To give some idea of what's going on here, 736,000 foreigners entered Indonesia in January 2023, and 45 percent of them came in through Bali. This is pretty typical of the distribution of tourism flows before the pandemic, and while it generates economic activity, resentment is also on the rise as the last three years apparently reduced collective tolerance for badly behaved guests. It is not too surprising that concentrating so much loosely regulated inbound tourism in one place might test its ability to handle the stresses and lead to backlash, especially these days.
Given what places like Bali and Phuket went through during the pandemic, one might expect some level of introspection about the type of tourism that countries pursue and how it is translated into wider economic and social networks. How wise is it to pursue an economic model so heavily dependent on tourism, and how can the foreign exchange earnings and economic benefits of tourism be balanced against over-development and inflamed social tensions? What lessons are policymakers in the region likely to have learned from all this? As inbound travel to the region snaps back to pre-pandemic levels we will know soon enough if they have learned anything, or indeed if they are even asking these questions at all.