Why Inclusion Matters for Myanmar's Resistance
In defiance of prevailing patriarchal norms, young women are playing instrumental roles in the country's "Spring Revolution."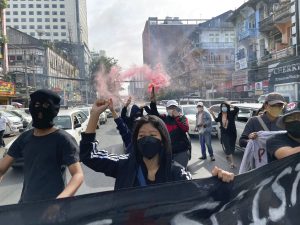 "You've messed with the wrong generation."
In the days after Myanmar's military staged a coup in February 2021, sparking mass protests across the country, this became a regular refrain for those opposing the military takeover, appearing on banners, placards and social media posts. Younger people – Generation Z and millennials – were the main driving force behind popular opposition to the power grab, not only on the streets but also within the Civil Disobedience Movement and online. They orchestrated boycotts of military-linked goods, launched fundraising drives for anti-coup activities, and organized "social punishment" campaigns aimed at pressuring individuals to cut ties with the regime.
When the military began ruthlessly cracking down on peaceful protesters, killing hundreds and detaining thousands more, it was again the younger generations who began forming armed groups in urban and rural areas to try to remove the military from power. While determined not to let the junta consolidate power, they also refused to accept a return to the status quo ante, particularly the 2008 constitution, which provides for an elected government to share power with the military.
In that regard, young activists have been instrumental in pushing the "Spring Revolution," as the anti-coup movement has come to be known, in a more progressive direction, demanding a new constitution, a new political compact with ethnic minorities, more inclusive political structures, and a reframing of relations with the long-persecuted Rohingya. New political entities such as the National Unity Government (NUG), a parallel administration created by elected lawmakers ousted by the coup, were forced to follow their lead, agreeing for example on an inclusive "Federal Democracy Charter" with minorities and other stakeholders, and issuing a policy statement on the Rohingya that promised to end state discrimination.
This was a significant departure from the pre-coup political landscape, when younger people and women had been largely excluded from the corridors of power. Traditional norms reinforced through the five decades of military rule between 1962 and 2011 had concentrated authority in the hands of older men; this was evident not only in the military regime, but also among the country's various ethnic armed groups, and even in the political opposition under the previous military junta. The transition to semi-civilian rule in 2011 brought a degree of improvement thanks to the more liberal political environment, but patriarchal attitudes remained the norm.
Aung San Suu Kyi was, of course, a notable exception. But as the Western-educated daughter of Myanmar's independence hero, she was atypical in a country where women, at best, exercised power informally, often through their husbands. The government she ran during 2016-2021 did little to promote inclusion of women and younger people in political life. Aung San Suu Kyi was the only woman minister in her administration, and while in power, her party, the National League for Democracy (NLD), largely shunned civil society, where youth and women were better represented. It also stalled on key gender-focused legislation, such as the Protection and Prevention of Violence against Women Law.
But after the coup, the youth directly challenged Myanmar's age and gender norms, and have since secured some tangible progress. The NUG, which is made up of NLD figures, activists, and ethnic minority leaders, has implemented many of the policies that young people have demanded. New anti-regime political structures, including the NUG and National Unity Consultative Council, an advisory body comprising a broader mix of stakeholders, are also more diverse than the NLD-era government and parliament, and consult with younger political leaders regularly.
More broadly, younger people involved in the anti-military struggle say that many older people in their communities view them with a new level of respect – not only because of their bravery and commitment, but also because of their ability and skills. They have become particularly influential in grassroots political movements, such as parallel local administrations formed in areas where the regime no longer has effective control.
"In the past, most people in the community seemed to think that young people weren't capable because they didn't have experience and knowledge … now, many have changed their views and they give us opportunities. They realize that the future of the country is in our hands," explained one young activist, who coordinates regular "flash protests" in an outlying Yangon township.
Yet Myanmar's patriarchal political culture has not been dispensed with entirely. The Spring Revolution has not swept away the old political order; rather, the new forces that have emerged need to work with existing players, like senior NLD officials and established ethnic armed groups. As a result, familiar patterns of behavior have gradually re-emerged in the new political and armed organizations. Although women have joined newly formed armed groups in unprecedented numbers, undergoing boot camp-style training, they have mostly been relegated to support roles, particularly those traditionally associated with women, such as providing medical care to injured comrades, for which they receive little credit.
The stalled progress has also been evident within the NUG, where younger members lack real influence over decision-making. Rightly or wrongly, this has created an impression of tokenism among many Myanmar people, a perception that has the potential to undermine popular support for the parallel administration. "Of course, the NUG is more inclusive than previous governments, but it's not at the level we were expecting," complained one young protest leader from Tanintharyi Region. "There is still gender and age discrimination in new political structures," agreed a student leader from Sagaing Region. "We need to continue making progress, and the next step is to create more space and give more authority to younger people and women."
There is a clear self-interest argument for why the NUG and other entities fighting the regime should make their structures more inclusive; at the very least, it would help to shore up support among the resistance's strongest advocates. But they should also see the bigger picture, beyond potential short-term gain. Traditional patriarchal values have been among the root causes of many of Myanmar's political, social, and economic failings: its unresolved armed conflicts, its poor health and education systems, and its ethnic and religious tensions.
The leaders of the resistance movement now have an opportunity to start redressing this legacy. While there is still deep uncertainty as to how the current crisis will end, nurturing a greater role for young people and women at this formative time could contribute to making Myanmar a more inclusive society in the long term, particularly when it comes to providing them with political opportunities.