Anwar Ibrahim, Prisoner of Political Allegiances
Having finally scaled the pinnacle of his country's politics, will political compromises now undermine Anwar's dream of a genuinely democratic Malaysia?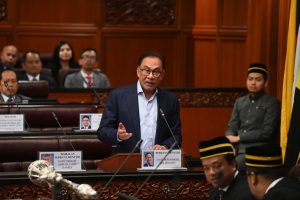 Last November, after two decades of struggle for democracy in Malaysia, Anwar Ibrahim, the former leader of the Islamist Youth movement, finally became the country's prime minister. In his long years of struggle, during which he was twice jailed, Anwar Ibrahim received the support of the world's greatest democracies for his courage in braving political persecution.
Anwar's ambitions, and his long and circuitous route to power, echoed those of Aung San Suu Kyi in Myanmar. To their people, both leaders were freedom fighters who embodied the hope for civil liberties and justice. To many Western democracies, particularly the United States, they were ideal allies in a region filled with political instability and high global strategic stakes. Like Aung San Suu Kyi, Anwar was forced to make dangerous alliances to gain and preserve power. His position is made fragile by the growing discontent of a vigorous opposition (Perikatan Nasional, or PN), and the infighting and infamy of his former archenemy turned political ally, the United Malays National Organization (UMNO).
While Aung San Suu Kyi won global praise for standing up to Myanmar's military dictatorship, her decision to work with the generals to encourage the country's political and economic opening in the 2010s eventually stained her international image. After she defended the military's brutal assaults on the Rohingya of western Myanmar in 2017, international shame poured on the Nobel laureate like acid rain, pushing major universities to remove from their walls portraits of the once immaculate icon. In February 2021, she was deposed in a coup d'état and arrested by the military with which she had worked over the previous five years.
Unlike Myanmar, Malaysia remains on relatively stable ground and is far from being a military dictatorship. Unlike Aung San Suu Kyi, Anwar is not facing the point of a gun – except maybe symbolically. Yet Malaysia's democratic institutions remain very fragile as political practices have for too long bent the rules of good governance. Will Anwar live up to his dream of transforming Malaysia into a fully-fledged democracy?
In the general election of May 2018, former Prime Minister Mahathir Mohamad led the Pakatan Harapan (PH) coalition to victory while Anwar was serving a five-year sentence for sodomy. PH's historic victory ended 61 years of unbroken UMNO rule; it allowed Anwar to receive the King's pardon and gain his release. The first accusations of sodomy against him dated back to 1998, when he formed a reform movement (Reformasi) that opposed the rule of Mahathir (with whom he later reconciled).
Over the subsequent two decades, Anwar maintained his innocence while promoting greater freedom for his country. During the 2022 general election campaign, Anwar's opponents were not shy in raising these earlier accusations to claim that Anwar was a "deviant" seeking to push LGBTQ rights on an otherwise conservative, Islamic majority. "Offensive posts relating to gender and LGBT were three times higher than race- and religion-related offensive posts," explained Thilaga Sulatireh, co-founder of Justice For Sisters, a Malaysian LGBTQ advocacy group.
Anwar's return to the political scene in 2018 indeed raised hopes of Malaysia showing greater respect for human rights in general, and the rights of the LGBTQ community in particular. However, as Anwar marks his first 100 days in office, the ambiguities of his positions are conflicting. For the first time in history, PH allied with the former UMNO-led coalition Barisan Nasional (BN). Anwar's party Keadilan (Parti Keadilan Rakyat, or Justice Party) and its coalition PH were together with Mahathir, the architects behind the defeat of UMNO in 2018, a time when the party was reeling from the revelations of the 1MDB financial scandal. However, Anwar invited UMNO to join his coalition after the inconclusive general election in November, despite his campaign promise to fight corruption.
Once a prisoner of conscience, Anwar has now become a prisoner of his political allegiances. The leader finds himself squeezed between his ethnonationalist Malay ally UMNO, still plagued by accusations of corruption and abuse of power, and a very powerful ultra-Malay opposition (PN), whose discourse amplifies the fear of the Malay masses that their rights, privileges, and prosperity are under threat. On the eve of six state polls that are due to be held later this year, Anwar resembles a political funambulist – one who is attempting to tread a narrow path between two raging volcanoes.
To begin with, Anwar needs to restrain the devouring ambitions of his UMNO allies while at the same time ensuring that the faction of his deputy prime minister, Ahmad Zahid Hamidi, maintains his hold on the party. This is necessary to ensure the continuity of UMNO support upon which PH's parliamentary majority relies. If another faction was to take control of UMNO, the party might be tempted to join forces with PN to form a super Malay front, disband the current coalition, and push Anwar back into political limbo.
Meanwhile, the pressure from PN is mounting after senior members of the coalition, including former Prime Minister Muhyiddin Yassin (2020-2021), were charged earlier this month with money laundering and corruption. Despite Anwar making good on his pledge to fight graft, the optics for PH ahead of this year's state elections aren't very favorable, given that the charges against PN leaders are perceived widely as a political attempt to disable the opposition.
Finally, Anwar must also maintain his popularity among his own supporters, who are hoping for him to implement democratic reforms: to restore social justice, address poverty, and expand civil liberties. However, this agenda is also partly painted by the opposition as being against the interests of the Malay majority – a fear that UMNO fails to dispel, having lost its once-formidable political hold in the Malay heartland to PN.
Anwar is indeed in a hard place; the political gesticulations of his government as it attempts to juggle with these various contradictions give it the appearance of a political circus. The expectation and perceptions of the international community for one of their favorite characters adds another layer of complexity to the challenges facing Anwar. In the West, Anwar is perceived as an icon for the defense of freedom and especially LGBTQ rights. In the Muslim world, however, the Malaysian leader is identified as a Muslim or Islamo-democrat, close to the Muslim brotherhood, with an ideology lying somewhere between Rached Ghannouchi's Ennahda Party in Tunisia and Recep Tayyip Erdogan's AKP in Turkey.
Since taking office, one of Anwar's first overseas visits was to Turkey, in February, and if it was not for the limits imposed on him by the current Tunisian regime, there is no doubt that Ghannouchi would have already visited Malaysia to congratulate his acolyte in person.
Many in the West are hoping that Anwar will defend LGBTQ rights, but at home this position is untenable. While Anwar has launched a police report against the opposition for reviving the allegation of "sexual deviance," he has also affirmed clearly that homosexuality is a crime in Islam. As reported by the Malay Mail, he declared that "religious people from all races and faiths and society should rise and say that the majority opposes LGBT tendencies and their ideas, as they force all of society to accept them, homosexuality, lesbians, and the like."
The election watchdog Bersih and other civil society organizations have also pointed out the fact that measures have yet to be taken to repeal or revise oppressive laws, as promised by the PH election manifestos in 2018 and 2022. These laws, which have often been used against political opponents and the independent media, include the Sedition Act of 1948, the Official Secrets Act of 1972, the Communication and Multimedia Act of 1998, the Printing Press and Publication Act of 1984, Universities and University Colleges Act 1971, and the Security Offences (Special Measures) Act 2012. Just a few days ago, the former minister of law and UMNO leader Nazri Aziz urged the authorities to probe 98-year-old Mahathir for his criticisms of Anwar's government.
The police and other government institutions have shown that their practices also contradict Anwar's supposed agenda as represented in the PH manifesto. Police have opened investigations against the organizers of the Women's March that was held on International Women's Day (March 8), and arrested and detained two high-school students for criticizing their school examinations. Also, three children's books on sexual identity have been banned, and men's and women's dress codes and sexuality are continuously policed by religious and civil authorities.
The slogan "Malaysia Madani" embodies Anwar's dream of justice. But since taking office, his progressive image has already suffered a few scratches as he has attempted to maintain his hold on power. In Malaysia's long march toward freedom, however, political shortcuts are dangerous. For Malaysian democracy to be anything more than an illusion, Anwar must urgently lift his government above these belittling power games.