ASEAN Chair Indonesia Condemns Deadly Myanmar Air Strike
It remains to be seen whether Indonesia, the bloc's current chair, can lead a tougher and more effective regional response to the country's conflict.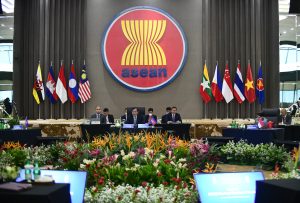 In a statement today, Indonesia, in its capacity chair of the Association of Southeast Asian Nations (ASEAN), said that it "strongly condemns" the air strike on a village in central Myanmar that killed at least 50 people, including children.
At just before 8 a.m. on Tuesday, the Myanmar air force launched an attack on a crowd that had gathered for the opening of a local office of the country's shadow government outside Pazigyi village in Sagaing Region's Kanbalu township, around 110 kilometers from Mandalay.
While the death toll of the Kanbalu air strike remains to be determined – local media reports put it at anywhere between 55 and more than 100 – it is clearly one of the deadliest air attacks since the coup.
"All forms of violence must end immediately, particularly the use of force against civilians," Indonesia said in a brief, four-paragraph statement. "This would be the only way to create a conducive environment for an inclusive national dialogue to find a sustainable peaceful solution in Myanmar." "We reiterate ASEAN's commitment to continue assisting Myanmar in seeking a workable and durable solution to the ongoing crisis through promoting the full implementation of the Five-Point Consensus," it added.
Agreed at a special meeting in Jakarta in April 2021, the Five-Point Consensus calls for an immediate cessation of the violence in Myanmar and inclusive political dialogue involving "all parties" to the country's conflict.
Needless to say, despite agreeing to the consensus, the military government in Naypyidaw has almost entirely flouted these demands, intensifying its attacks on those resisting its rule (and civilians perceived to be supporting them). It has also proscribed the main resistance organizations including the opposition National Unity Government (NUG) as "terrorists" and refused to negotiate with them.
In a statement emailed to various international press outlets, including The Diplomat, the military junta (or someone speaking in its name) defended the air strike on Kanbalu. It stated that the attack merely killed "terrorists" and blamed "destructive media outlets" for "fake news" claims that children were killed in the attack.
The resort to air strikes is best seen as a response to the stubborn persistence of armed resistance, even – indeed, especially – in areas that were once viewed as bastions of support for the ethnic Bamar-dominated military. The attack in Kanbalu speaks to the junta's willingness to go on shedding blood until its hold on power is secure and unchallenged.
In unleashing the power of its air force against unarmed civilians, Myanmar's military has once again snubbed ASEAN ahead of its upcoming summit and related meetings, which are scheduled to take place during May 6-10 in East Nusa Tenggara province. In particular, it will be a test of whether and to what extent Indonesia adopts a more robust position than last year's chair, Cambodia, which sought to engage the military government and cajole it toward voluntary compliance with the Five-Point Consensus.
Indonesia has been among the ASEAN member states most frustrated by the military administration's stonewalling, flagging a tougher stance. So far, however, signs of this have remained scant. Today's statement on the Kanbalu attack was notable for its caution; its wishy-washy calls for more dialogue and its reaffirmation of the Five-Point Consensus betrayed little awareness of the abundant evidence that Myanmar's military has no intention of implementing the agreement in good faith.
There is no doubt that Jakarta wishes to take a tougher line with the military junta, but it faces a familiar challenge: the need to reach a consensus among ASEAN member states on any alteration to the Five-Point Consensus, let alone its replacement with a more robust plan. Even reaching this consensus among the "ASEAN 9" – the bloc minus Myanmar – is likely to prove difficult, given the more accommodating positions of Vietnam, Laos, Cambodia, and Thailand toward Myanmar's military rulers. (To be sure, a new government could soon be in office in Thailand, but the prospect of a radical shift on Myanmar policy after next month's election is unlikely, given that the most progressive parties face a raft of structural constraints.)
Even should this consensus emerge, there is only so much that ASEAN can do given its doctrine of "non-interference" in the internal affairs of member states. While this principle is open to interpretation, and could conceivably be bent in the direction of a more activist Myanmar policy, this would again encounter pushback from some members of the bloc.
Beyond this, as I noted last November, ASEAN will quickly reach the natural limits of what it can do to coerce Myanmar's military, short of actively working toward its overthrow. The Tatmadaw, after all, is an institution that has shown its ability to weather long periods of isolation, sustained by informal economic links to neighboring countries, a bounty of natural resources, a metastasizing illicit economy, and nurturing relationships with great powers Russia and China. Given that Myanmar's resistance movement also sees little reason to negotiate – it, too, views its opponents as "terrorists," with some reason – a binding resolution to the country's conflict is beyond the power of any outside country or institution to bring about.
There is of course much more that the Southeast Asian bloc can do to communicate its opposition to the actions of Myanmar's military junta, short of such a binding resolution– not least because of the damage the conflict has inflicted on ASEAN's own international standing. It could begin engaging with the NUG and other opposition groups and make an advance announcement that it will refuse to accept any elections staged by the military. It could even temporarily suspend Myanmar's membership in ASEAN, pending conciliatory moves.
Myanmar's military has long placed itself outside the mainstream of the global community. Today's ASEAN chairman's statement raises questions about what Indonesia will be willing or able to do in response.