Comprehending Timor-Leste's Delayed Accession to ASEAN
For 11 years, ASEAN member states have advanced a number of rationales for delaying the admission of the region's youngest nation.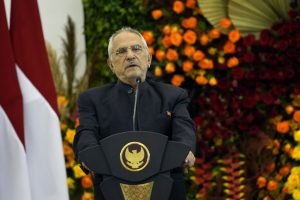 Eleven years after Timor-Leste officially applied for membership of the Association of Southeast Asian Nations (ASEAN), its bid was finally accepted at the ASEAN Summit in November, when the bloc's 10 member states agreed "in-principle to admit Timor-Leste." The terms defining the nation's road to full membership should be presented at the upcoming ASEAN Summit in May; Dili currently participates in ASEAN meetings as an observer.
Timor-Leste's accession to ASEAN would conclude a long journey that President Jose Ramos-Horta has described as more difficult than reaching "the perfection of heaven." Timor-Leste has largely met the criteria of becoming a member state, as explicated in Article 6 of the ASEAN Charter, since 2015. These criteria notwithstanding, the length of Timor-Leste's bid speaks more to existing intra-ASEAN divides on the reciprocal benefits to be obtained by the country's accession than any formal barriers to membership.
In particular, the long delay in admitting Timor-Leste to ASEAN has largely resulted from tensions in member states' views on how the young nation's membership would affect the grouping. Some ASEAN members appear to believe that Timor-Leste would become a "burden" on ASEAN.
This line of argument is often made in reference to Timor-Leste's lack of economic capacity and lagging development. In the early years of Timor-Leste's application, members such as Singapore, Myanmar, and Laos were reported to have highlighted the potential drawbacks of its membership to regional economic integration under the ASEAN Community framework. Laos has also expressed doubt over Timor-Leste's ability to satisfy its obligations as a member, particularly regarding its financial contributions. One observer argues that it is difficult to ascertain whether Timor-Leste's accession would create economic benefits for the rest of the bloc.
For this camp, Dili's dependence on oil and gas revenues is seen to add weight to such concerns. Throughout the course of its application for membership, risks from Timor-Leste's overreliance on oil and gas loomed, given the volatility of the global oil market and declining revenues from petroleum exports. Questions have been raised over Timor-Leste's ability to diversify its economy, and the ninth Constitutional Government's performance will be pivotal in determining whether Timor-Leste will be able to end its reliance on funds from oil and gas revenue.
To some extent, arguments centered on Timor-Leste's economic capacity serve as a pretext for politically motivated opposition to its membership. Some observers have drawn comparisons between the accession of Cambodia, Laos, Myanmar, and Vietnam in the 1990s and highlighted inconsistencies that do not simply stem from mere technical prerequisites. Casting aside factors associated with the ASEAN Charter, which did not exist when these four nations were admitted, many scholars have argued that ASEAN's hesitation reflects a potential divide between member states.
In particular, these observers point to a potential rift between democratic and non-democratic member states. In the years following its independence in 2002, Timor-Leste often vouched for principles such as human rights and foreign intervention in a fashion similar to Western states. This viewpoint stood out even more if one considered the support given by leaders such as President Ramos-Horta to Myanmar's Aung San Suu Kyi, which has been viewed with discomfort in the halls of power in Naypyidaw. In a sense, the economic pretext rationalizes a political subtext: that Timor-Leste's democratic identity does not bode well with the militaristic and authoritarian systems in several ASEAN member states, and that it potentially jeopardizes the bloc's principled of "non-interference" in members' internal affairs.
However, there are no reasons to believe that Timor-Leste's democratic identity will imperil ASEAN's adherence to the non-interference principle. For one thing, Timor-Leste has been a signatory to the Treaty of Amity and Cooperation since January 2007, which legally binds the half-island state to this principle. Moreover, without discounting the continuing challenges, the democratic divide in ASEAN does not seem to be as deep as it seemed to might be at the start of the 21st century.
Take ASEAN's ability to reach consensus on the current crisis in Myanmar. The Five-Point Consensus, notwithstanding its shortcomings, represents ASEAN's success in negotiating member states' political views on the basis of the non-interference principle. While consensuses achieved under ASEAN often reflect only the lowest common denominators, bridging political divides is an ingrained part of the bloc's diplomatic habits.
Taken together, the above suggests that the economic considerations for delaying Timor-Leste's accession fundamentally outweigh the political considerations, particularly as Southeast Asian states attempt to configure the reciprocity of Timor-Leste's membership. The "in-principle" approval of Timor-Leste's accession last year suggests that opposing member states in ASEAN might have figured out the answers to concerns over reciprocity.
For its own part, Timor-Leste is ramping up its multilateral activism by simultaneously making its bids for ASEAN and World Trade Organization membership "strategic" priorities. This activism hints at Timor-Leste's continuing confidence in its standing at the international level. Moreover, ASEAN member states might have a lot more faith in Timor-Leste's economic growth, given that its growth in GDP per capita, for instance, looks promising compared to other ASEAN member states such as Cambodia or Myanmar. ASEAN's acceptance encapsulates the belief that Timor-Leste's membership will be mutually beneficial, although previous debates over its accession could still point toward future intra-ASEAN divisions.