An Interview with Radio Azadi's Qadir Habib and Malali Bashir
In the wake of the Taliban takeover in 2021, RFE/RL's Afghan Service faced considerable challenges. But they have risen above them to continue providing information to Afghans young and old.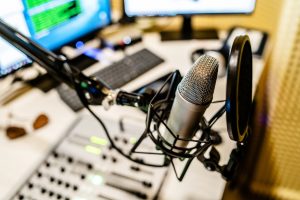 Journalism in Afghanistan has never been easy, but it perhaps has never been more difficult than it is today. Radio Azadi, the Afghan Service offered by U.S.-funded broadcaster RFE/RL was launched in 2002. With programing in two of Afghanistan's most widely spoken languages, Dari and Pashto, the service had by 2021 built up a strong reputation as a trusted source of information; journalists were targeted for attacks and harassment, but "journalists still had access to information, and people were free to express themselves," Qadir Habib, the RFE/RL's Afghan Service director, told The Diplomat's Catherine Putz in a recent interview.
With the coming of the Taliban to power, media came under extraordinary pressure, especially female journalists. But it wasn't just female journalists feeling the pressure; it was all women and girls. The Taliban's policies sought to silence women and slide them out of public sight. But Radio Azadi only doubled down, launching new programs to educate women and air their voices. In May 2022, RFE/RL's Afghan Service launched a new program, "Education Hour," which sought to plug the gap created by the Taliban's banning of girls from school. Malali Bashir, RFE/RL's senior editor in charge of "Education Hour," says, "Azadi uses our deep understanding of our national audience to reach listeners where they are."
In the following interview, Habib and Bashir explain the Afghan Service's mission, how it has responded to enormous challenges, and what it's doing to support its audience across Afghanistan.
Tell us about RFE/RL's Afghan Service. How did it develop and evolve in the years before the August 2021 collapse of the Afghan Republic government?
Qadir Habib: The Afghan Service of RFE/RL – known locally as Azadi – launched in January 2002 and quickly built a reputation as one of the most credible, and widely accessed, media outlets in the country. It has always focused on providing unbiased, accurate, and balanced news and information in Dari and Pashto, Afghanistan's most commonly spoken languages. From the start, the service has had a special focus on Afghan women, who consider Azadi a platform that allows them to be heard. Over the years, Azadi evolved and adapted beyond radio to digital platforms, with millions of engaged followers on Facebook, Twitter, Instagram, and YouTube. Before 2021, Azadi was also reaching its audiences with breaking news through SMS messages.   
Even prior to the Taliban takeover, Azadi was known for holding those in power accountable and was trusted because of this. Its popular call-in shows gave voice to women and other underserved communities. Thanks to a vast network of stringers, Azadi's programs addressed a wide range of issues, including security, politics, the economy, women, youth, corruption, and health. Reporting from the most remote parts of Afghanistan, Azadi made government officials aware of challenges that people faced in different parts of the country. Issue-based reporting remains at the core of Azadi's work, and even today, the issues our audiences share with Azadi are sometimes addressed by the Taliban. 
After two decades of service to Afghans, Azadi closed its Kabul bureau when the Taliban returned to power in August 2021 and now works remotely. In December 2022, the Taliban shut down Azadi's radio transmitter, and two months later blocked Azadi websites in the country. In response, Azadi provided access to free VPNs to circumvent the website ban and boosted our presence on digital platforms. We also doubled our daily broadcast schedule to provide 24/7 coverage, with 12 hours of broadcasts transmitted on medium wave, followed by 12 hours on shortwave. 
Azadi programing has always been based on people's voices and responding to their needs. Even without a bureau, we are in constant contact with our audience. The safety of citizen journalists (contributors from Azadi's audience) is our priority. We mask their identities and inform them about the risks of contributing. These journalists support Azadi's focus on what is happening on the ground and how it impacts people's lives. For example, Azadi asks people about their experiences with international aid, or what it means that health centers in remote areas have been closed. 
As the Taliban impose new restrictions on women, Azadi has doubled its programs for women and launched new programs to educate and inform them about their rights, such as a new two-hour call-in show, "This Is My Right," and a radio program that provides a secondary school curriculum to girls. 
Journalism has long been a difficult profession in Afghanistan. How has the return of the Taliban to power in the country changed the existing challenges faced by journalists in the country?
Qadir Habib: In the early 2000s, journalists faced threats from corrupt officials, drug lords, and warlords, as well as extremist groups who targeted journalists directly. In 2016, the Taliban claimed responsibility for an attack on Tolo TV employees that left seven dead. The Islamic State took responsibility for bombings in Kabul that resulted in the deaths of nine journalists, including three of my Azadi colleagues. In November 2020, Radio Azadi lost one of its best journalists in a targeted car bomb attack in Helmand province. By 2021, many media outlets were receiving credible death threats against their reporters, and some relocated outside the country. The media landscape was closing even before the fall of Kabul.
Even so, there were still laws in place to protect reporters. Journalists still had access to information, and people were free to express themselves. After the Taliban takeover, that changed. Over 50 percent of media outlets shut down, hundreds of journalists fled the country, and hundreds more lost their jobs. Many reporters were threatened, arrested, and tortured. At least two journalists remain in Taliban detention. According to reports, over 80 percent of female journalists are out of work. Those still working face restrictions: they must cover their faces with masks on screen and cannot appear in Taliban press conferences. Local journalists in the provinces are told to share their reports with Taliban information department officials before publishing.  
Despite the challenges, there are journalists in Afghanistan who continue to report. Ordinary citizens face threats if they raise their voices and criticize officials. Considering these restrictions, free and uncensored media such as RFE/RL's Azadi is more critical than ever for Afghans. Yet, the safety and security of our journalists remains our top priority. We tell them that no report is more important than a person's life. We take the same approach with the safety of our contributors and citizen journalists. We make sure to mask their identities. And by providing access to VPNs, we allow our audiences to securely use our online platforms.     
Much of the Taliban's most regressive policies target women and girls. How has this impacted your work as journalists? How has it impacted your listeners and readers?
Malali Bashir: The Taliban's restrictions on women and girls have renewed the importance of radio in reaching our audience. Our focus is on reaching the broadest possible audience across Afghanistan, and radio has an advantage in that regard since it is part of almost every household. Our programs are focused not only on bringing women's stories and interests to light, but also providing a platform for women experts and analysts from every field to express their own opinions, debate, and find solutions to the issues they face today. Azadi is often the only remaining space where women can express themselves in this way. 
Since the Taliban returned to power in Afghanistan and increased pressure not only on journalists but on women in general, we have been working like never before. By increasing our broadcasts from 12 to 24 hours per day, we have more radio call-in shows, meaning more opportunities to hear from Afghan women and girls. Women can call or leave messages on our radio's WhatsApp number, and we broadcast their messages and opinions. We make sure that women experts are invited to every program. We also engage with our female audiences on social media platforms.  
Taliban policies banning girls from most schooling have led you to a new initiative: providing educational programming via radio. How did the "Education Hour" program begin and can you explain what it's like to listen to for children in Afghanistan?
Malali Bashir: Radio Azadi launched a radio classroom program called "Education Hour" after the Taliban banned teenage girls from going to school. Our intention was to fill the education gap that girls will suffer while banned from secondary school. As a trusted national broadcaster with a huge audience, we wanted to use our reach to provide a missing public service. 
We launched "Education Hour" in May 2022 in cooperation with our partner, Learn Afghanistan. They develop a rigorous curriculum of lessons on history, geography, chemistry, and biology for grades 7-12. Azadi compiles these lectures into a one-hour program that broadcasts four days a week in Afghanistan's most widely spoken languages, Pashto and Dari (30 minutes in each language.) We chose to air the program during the early morning, when girls would have been going to school. Now entering its second year, "Education Hour" has garnered a positive reaction from our audiences both on radio and digital platforms. 
There are distinct similarities between journalism and education. Both seek to inform people, to empower them with greater knowledge and understanding of the world in which they live. But I'm sure there are differences and challenges too, especially in tailoring programming for educational purposes and for younger audiences. How have you used your knowledge as journalists to craft educational programming? Are you partnering with others to help provide educational materials to Afghanistan's children?
Malali Bashir: It's important for Afghan children to continue to read and write and have knowledge of their history, their identity, have a knowledge of science and stay a part of the rest of the world. Afghan children have the fundamental human rights that everyone else has, and they deserve an education.  
That's why we're partnering with Learn Afghanistan to tailor a rigorous curriculum that meets the educational needs of different grade levels in two languages. Azadi uses our deep understanding of our national audience to reach listeners where they are. Our decades of experience as a trusted national broadcaster enables us to be an effective distribution platform that reaches millions of Afghans. But, we're also learning as we go; we are always looking at ways to improve and expand the curriculum so it resonates with our listeners and helps students continue their learning and have hope for their future.
And a final question: Why is it important to ensure that Afghanistan's children are able to access educational materials beyond those crafted by the Taliban government?
Qadir Habib: Afghanistan has one of the youngest populations in the world, with a median age of 18. The Taliban do not allow girls to attend high school or university. While boys do receive education in Afghanistan, the quality of that education is often poor, and many children do not have access to proper schools or qualified teachers. 
Additionally, international officials have raised concerns that the Taliban plan to turn boys' schools into madrassas, which in Afghanistan and Pakistan have been associated with radicalization and militancy in recent decades.  
As a media outlet serving the Afghan people, we know that access to education is a complex issue that requires long-term, sustained efforts to address the root causes of poverty, radicalization, conflict, and discrimination. Nevertheless, it is essential to do what we can to help students continue their education, especially the most vulnerable groups such as girls and children in remote areas where access to education is limited. While a program such as "Education Hour" is not a substitute for proper schooling, it is the best available option to reach girls and other children in remote areas without internet access. We are doing what we can to support access to quality education.