India's Defense Diplomacy in the Gulf Is Growing
With both sides seeking to expand and diversify their security partners, India's military and defense relationships in West Asia have expanded dramatically.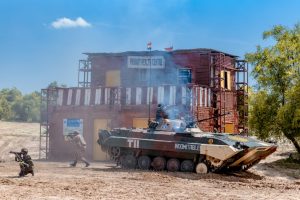 Over the last few years, India has been rapidly enhancing its overall bilateral ties with most of the countries in its extended neighborhood – West Asia. The traditional hallmark of their longstanding cooperation has been energy; however, there is now a steady growth of military-security and defense cooperation between New Delhi and select capitals, in particular from the Gulf region.
The upward trajectory in the political relations between them, mainly triggered by personal bonhomie and great camaraderie among the Indian and West Asian leaderships, facilitated the deepening of cooperation in this much-needed sphere. The same political goodwill between the governments of India and the Gulf states will likely provide further leeway to New Delhi to conduct its military-security diplomacy in this region.
For decades, the robustness of India-West Asia ties has been viewed and explained mostly through the lens of the energy trade, inflow of remittances, and size of the Indian expatriate community in the wider region. Today, both sides are adding more vigor to their cooperation by scaling up engagements in the defense sector, including joint military exercises, counterterrorism, and cybersecurity cooperation, to mention a few. This transformation has come about at a time when India strives to increase its military diplomacy in the region (and elsewhere), particularly by promoting its defense exports and strengthening military-security cooperation, with objectives to safeguard its strategic interests.
Most of the Gulf Cooperation Council (GCC) countries are also in a quest for forging similar partnerships, for security, economic, technological, and political reasons. India, therefore, has been constantly engaging with all the GCC members, namely the United Arab Emirates (UAE), Saudi Arabia, Oman, Bahrain, Qatar and Kuwait, to build strong defense and military-security ties.
If one looks at India's military diplomacy in the Gulf, it is noteworthy that heavyweights, such as the UAE and Saudi Arabia, have become its pivotal partners, alongside Oman, which is considered to be New Delhi's "closest defense partner in the region." In the recent year, cooperation with these two energy-rich countries has grown by leaps and bounds, with Abu Dhabi and Riyadh remaining as India's third and fourth largest trading partners, respectively. Beyond economic ties, however, India's defense engagements with these countries are gaining significant momentum. From mere training of security personnel in various military institutes, they have extended ties to other areas, including intelligence sharing, counterterrorism, artificial intelligence, electronic warfare, and cybersecurity – pivotal areas that are of major interest and concern to both sides, particularly considering the regional and internal security dynamics of India and the West Asian countries.
Certain security challenges and commonly shared threat perceptions emanating from non-state actors (terrorist and extremist groups) operating in both regions certainly help explain the expansion of traditional military-security ties. Beyond this, India and its Gulf partners have also become cognizant of the importance of establishing further linkages between their defense industries – both state-owned and private firms – to promote collaborations in manufacturing cutting-edge defense technologies. This is an emerging visible pattern with another important West Asian partner: Israel.
In the conduct of India's foreign policy, especially since the current government came to power in mid-2014, transfer of technology (ToT) and joint collaborations in the defense sector have been areas of immense emphasis by Prime Minister Narendra Modi. This is part of strategic move to augment domestic production under the "Make in India" initiative, launched in September 2014, with an aim to promote Aatmanirbhar Bharat Abhiyan (Self-Reliant India Mission). One of the factors that has triggered the need for establishing a self-reliant defense industry is the rapidly rising security challenges facing by India, which demand a round-the-clock availability of military equipment for all three services and related law enforcement agencies.
Presently, within the larger framework of its military diplomacy, India continues to look at the wider West Asian region to boost its security-defense cooperation. This has coincided with the rising interests of countries from this region, including Iran and Israel, to look toward the East for political, economic, technological, and security cooperation. Like the GCC, these two non-Arab states are equally cementing their respective bilateral ties with the South, East and Southeast Asian countries.
When it comes to the GCC members, there have been a few developments on joint collaborations in defense technology. For instance, in February 2023, during the International Defense Exhibition and Conference (IDEX) held in Abu Dhabi, India's Hindustan (HAL) and the UAE's defense firm, EDGE, signed a Memorandum of Understanding (MoU) to explore the possibility of joint design and development of missile systems and unmanned aerial vehicles (UAVs). This agreement, when executed, will likely see the amalgamation of Indian technology pertaining to gas turbine engines and Emirati guided weapon systems.
Defense industrial cooperation was also discussed during the 11th India-UAE Joint Defense Cooperation Committee meeting held in May 2022. Similarly, in late December 2022, Saudi Arabia's Power For Defense Technologies Co (PDTC) inked an agreement with India's DPSU Bharat Electronics Limited (BEL) to work jointly on technologies linked to aerospace, including both civilian and defense applications. A source also hinted at a prospective collaboration between Saudi Arabian Military Industries (SAMI) and Indian armed forces in the domain of multiple launch rocket systems (MLRS).
Tellingly, with India's interest to increase its strategic footprints in the Indian Ocean Region, New Delhi looks forward to uplifting its military-to-military engagements with Oman, including joint exercises, defense industrial cooperation. The geostrategic location of Oman makes it imperative for India to make unrelenting efforts to augment ties with this monarchical regime.
Further, the opening of a Kuwaiti defense attaché office in New Delhi in early 2020 could be looked at as a preliminary step toward enhancing defense and security ties. India has also been working closely with its with Bahraini and Qatari counterparts to ramp up cooperation in  maritime security and anti-piracy operations.
For any major country that promotes defense diplomacy, exports of its indigenously developed military technology form a core component of such efforts. For India, military diplomacy in West Asia has come at an opportune moment when its defense exports are on a steady rise. India exports defense equipment to over 85 countries, and in the financial year 2022-23, the value of its arms exports stood at 160 billion Indian rupees (around $2 billion). However, the West Asian market remains an untapped yet potentially lucrative destination for some of India's locally designed and developed defense products in the near future. Saudi Arabia, Qatar, and the UAE are the major arms importing GCC countries, and they are also diversifying their sources, creating an opportunity for Indian defense exporters.
While it may take some time for India to enter into these markets, recent developments with the Gulf countries have suggested the likelihood of forging more co-production initiatives. Simultaneously, Indian defense firms will also have to make continued efforts to bag arms contracts involving, for example, missile systems, small arms and ammunitions, naval equipment, etc. India, at the moment, should not worry much about facing competition from internationally-established arms exporters to West Asian region, including the United States, France, Italy, and the United Kingdom. It remains cognizant of the position that has been secured by these exporters in terms of the volume and categories of arms supplied, and also their quality.
Given the recent geopolitical developments, arms sellers like Israel and China are also eyeing mega defense deals with some of the GCC states. I argued in a piece in 2021 that "the Middle East is an emerging market for Chinese defense exports," and this projection appears to be more possible with Beijing's recent brokering of the rapprochement between Saudi Arabia and Iran. As a result, Beijing will use this diplomatic breakthrough, partially made under its aegis, to make further economic, military, technological, and political inroads in West Asia. That could pose competition to India's state-run and private stakeholders in the region, and potentially become a threat to New Delhi's strategic interests at a later stage.
On the brighter side, political realignments in West Asia could also open avenues for multilateral partnerships. Israel's normalization of relations with the UAE and Bahrain in 2020 should push India and these states to explore opportunities for joint collaborations, including in the defense sector. As it is, the recent announcement of a formal India-UAE-France trilateral agreement initiative is a welcome move, as it also mentioned the prospects for joint collaborations between defense forces.
India's military diplomacy vis-à-vis the Gulf region will undoubtedly see more progress in the future. Realpolitik and strategic interests have been instrumental in bringing India closer to the Gulf countries, with both sides willing to overlook some of their ideological differences lately. In the long run, defense industrial cooperation and technology transfers will likely come to form a pivotal component of their strategic cooperation. The possibility for such an outcome remains high as Gulf states, like India, are also embarking on rapid military industrialization programs and in search of alternative arms vendors. The convergences of interests – political, economic, technological and military-security –  therefore, could pave the way for the furtherance of India's military diplomacy with the Gulf states.