Kazakhstan's Ports: A Vital Node of the Middle Corridor
While many issues are beyond Astana's control, having modern and expanded ports will give the Middle Corridor a fighting chance at success.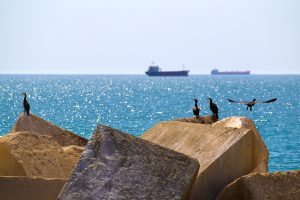 Kazakhstan is betting heavily on the Trans-Caspian International Transport Route (TITR), or Middle Corridor, as an alternative to reach European and international markets and bypass Russia. Many factors need to be considered to understand whether the corridor will boom in the short or long term; one vital topic is the future of Kazakhstani ports.
Kazakhstan's Aktau Seaport is the corridor's principal maritime on the Central Asian side, transporting cargo across the Sea to Baku Port, Azerbaijan. According to Kasym Tlepov, deputy head of the Transport Committee at Kazakhstan's Ministry of Industry and Infrastructure Development, Astana aims to expand Aktau "by building a new $28.9 million container hub by 2025." The project, known as Sarzha, will reportedly "improve capacity by more than 500 percent, increasing capacity from 40,000 TEU to 215,000 TEU per year." 
To attract investment to develop Aktau, Astana created the Special Economic Zone Seaport Aktau, which will run from 2003 until 2028. Astana has also approached potential investors and partners, including the Abu Dhabi Port Group, Singapore's PSA International, and Japan Inpex. The Japanese company announced in March that "a trial shipment was successfully delivered from the Aktau Caspian seaport to the Port of Baku, thereby opening a new route to ship oil to European markets while bypassing Russian borders." A cargo of 52,000 oil barrels from the Kashagan oil field was delivered during the trial run. 
Similarly, there are plans to develop a port in Kuryk that would create another node in the Middle Corridor's network. In an interview with CNBC, Nurzhan Marabayev, CEO of the Kazakh infrastructure investor company Semurg Invest, explained that his company is looking to develop Kuryk port, "a project that includes a bulk cargo terminal, designed for the transshipment of oil, bulk oil cargo, and liquefied petroleum gas."
So far, I have not found information regarding expansion projects for Bautino Port, a division of Aktau Port; however, this terminal should be similarly monitored.
When discussing the Middle Corridor, there is a natural tendency to focus on energy products like oil and gas. This is understandable as Kazakhstan's main exports are energy-related. Due to the war in Ukraine, Kazakhstan and Europe are keen to find alternatives to bypass Russian territory and minimize reliance on the Caspian Pipeline Consortium (CPC) pipeline (and the infamous Trans-Caspian pipeline will not be built anytime soon). 
That said, it is essential to note that the Middle Corridor does not simply transport oil and gas. Kazakhstan (and the other three members, Azerbaijan, Georgia, and Turkey) can use it to carry other cargo and goods. For example, the Corridor could transport Kazakhstani grain to extra-regional customers, given the global food crisis. Uzbek and Chinese companies are similarly interested in utilizing the TITR to transport goods. Last December, the first Uzbek train, loaded with copper, left for Europe via the corridor. To achieve these kinds of broader objectives, Kazakhstani ports must be developed to handle the extra cargo.
As a corollary to this analysis, it is worth noting that on April 5, Kazakhstan's atomic company Kazatomprom announced the delivery of "natural uranium concentrates" for Romania's Societatea Nationala Nuclearelectrica. The company has not disclosed how much natural uranium was delivered. Still, the company highlighted that "Kazatomprom exported its products via the Trans-Caspian International Transport Route." (I previously discussed the Middle Corridor and Kazatomprom in an article titled "Kazakhstan's Uranium Industry and the Middle Corridor Come Together.")
In late April, Kazakhstan's First Deputy Foreign Minister Kairat Umarov visited Washington and met with U.S. officials, including Under Secretary of State for Political Affairs Victoria Nuland, to discuss topics including energy and trade. Umarov's visit was a follow up to the late February visit of Secretary of State Antony Blinken to Kazakhstan. While the Kazakhstani media did not explicitly mention that the Middle Corridor was discussed during Umarov's visit, we can plausibly assume that the TITR was mentioned during energy and trade discussions. While Kazakhstan-U.S. trade is minimal (around $2.7 billion in 2022), U.S. companies operate in the Central Asian country, and Washington has an interest in seeing that European allies and partners have access to the resources and goods they require. 
The Kazakhstani government has big expectations for the Middle Corridor: the TITR can bring profits, investment, and jobs and improve the country's international image. However, every node must operate as effectively as possible for a transportation system to work efficiently and reliably. The upgrades to Aktau Port, and the Kuryk Port project, are important as they will improve the Corridor's vital nodes on the Kazakhstani side of the Caspian.
Factors like the future of the Ukraine war will determine whether the Middle Corridor will live up to the ambitions of its four member states, particularly Kazakhstan. While several issues are beyond Astana's control, having modern and expanded ports will give the Middle Corridor a fighting chance at success.