Strong Pacific Voices: Elevating Traditional Knowledge in Climate Adaptation
While indigenous communities are on the frontline of climate change, "these very same Pacific communities are also often fighting to be heard on the issue."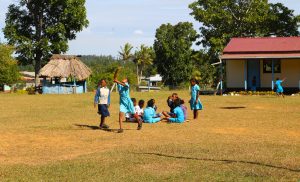 The Pacific Islands are home to a wealth of traditional and cultural knowledge about climate adaptation, and it is a place where communities have long been enacting local solutions to combat the impacts of climate change and build resilience.
Talanoa is a term used across many Pacific Islands countries that refers to an inclusive and transparent dialogue, an exchanging of ideas and knowledge through storytelling to foster relationships, gather information, and collectively find solutions to pressing issues. Since the Talanoa Dialogue was officially launched in 2018 at COP23 under Fiji's presidency, Talanoa is increasingly being recognized as an important format for collaborative discussion and decision making on climate change.
After visiting Fiji earlier in the year, in April 2023, Alinea International climate change and development specialists from Fiji, Samoa, Canada, and Australia came together in a Talanoa to discuss climate change, localization, adaptation, and the need to disrupt the status quo by bringing traditional knowledge perspectives to the forefront of global discussions and solutions. A key recurring theme of the conversation was the need to better harness and elevate local knowledge and the need to empower local leaders and knowledge keepers to help combat and adapt to climate change.
Katarina Atalifo, a Fiji-based international development and climate policy practitioner, highlighted the need to elevate local voices: "While our indigenous communities are on the frontline of some of the most severe impacts of climate change, these very same Pacific communities are also often fighting to be heard on the issue." 
She explained that there must be genuine recognition of the Pacific people's agency, starting from the village-level. "I think Pacific Islanders, not just academics, we need to put our hands up. We need to tell our stories in our own ways, in particularly culturally specific ways only then we can start harnessing that local knowledge."
Tautalaaso Taule'alo – who had a leading role developing the first Samoa Education Sector Climate Change and Disaster Resilience Strategy – shared the reality of climate change impacts in her home of Samoa. "I live in a village, in a rural area community where you see that the impacts are there. Our house used to be 200 meters from the sea, but now, it's getting closer and closer."
"And I see the young women that are living here, they used to grow crops and vegetable gardens, they can no longer do that because part of their land, it's either being eroded or it's salinated because of seawater intrusion. So, the women and the young people are the most affected ones."
Taule'alo explained that the impacts of climate change in her community are gendered, and disproportionately affecting women as the men predominantly work out of the community. Many men work overseas as seasonal laborers while women often stay in the community. According to Taule'alo, there is a pressing need to empower local women, who remain largely unheard when it comes to climate issues. 
In different settings, climate change can exacerbate existing gender inequalities and create new vulnerabilities and burdens. The impacts of climate change affect women and girls differently due to gender roles, systemic inequalities, and socioeconomic status. Women's voices, while crucial for informing climate change policy and action, are often underrepresented in decision and policy making forums. 
The United Nations Framework Convention on Climate Change (UNFCCC) Secretariat's Gender Composition Report from COP26, for example, showed that women accounted for only 29 percent of the total speaking time in audio recordings spanning over 73 hours. Fast forward to COP27 held in Egypt in 2023 and initial analysis by the BBC suggested women accounted for only 34 percent of committee members in negotiation rooms, with some country teams being more than 90 percent male.
Yannick Beaudoin, Alinea International's director of climate change and nature-positive solutions, talked about the inadequacy of Western knowledge systems alone in tackling the complexity of change processes needed to provide lasting climate solutions. There is a critical need for humility, respect, and relationship building to allow for a weaving of traditional and Western knowledge: "I hope we're starting to give up on this idea that only reductionist, quantitative, linear approaches will resolve something that's complex," he said.
"I think there's a lot of existing traditional transformational leadership in the Pacific; not just the type represented by Pacific political leaders sitting at the UNFCCC climate change negotiating table, which is just part of the same process," Beaudoin continued. "We need to look deeper, at what lies beneath the surface. The real leadership that is not constrained by Western governance systems. It's the foundation. It's the fabric, it's the culture, it's the social, it's the community. How can we help elevate that? How can we be good allies and accomplices?"
Indigenous traditional knowledge and practices are an important but often overlooked component of climate resilience and age-old cultural knowledge from the Pacific can help inform modern climate preparedness. Taule'alo explained that in donor-funded development programs, including mentions of traditional knowledge is often treated as a box ticking exercise but meaningful examples of this knowledge and how it can be applied are rarely integrated into reports. 
She gave the example of Pacific Islanders using their knowledge of the environment to make meteorological forecasts. For example, when breadfruit trees are fruiting heavily, people know to prepare for cyclone season or when cockroaches begin to emerge it is a good indication that rain is coming.
"You know, here in the Pacific, a small antidote to climate change is community. Our communities. We need to start having these conversations outside of government. We need to start being practical about how we adapt, in terms of agriculture systems, in terms of water. The solutions are here already. We are the ones that are adapting here in the Pacific, and there are already very practical things we can do," Atalifo added.
As the climate crisis continues to compound, it is increasingly important to disrupt the norm of Western-dominated decision-making and development programming, elevate traditional knowledge perspectives, prioritize locally led solutions, and amplify women's voices to build resilience to a changing climate.
The Talanoa in podcast form, curated by Joanne Sharpe, is available at the following link: Many Strong Pacific Voices.