Taliban's Ban on Afghan Women Working in UN Pushes Them Into Further Deprivation 
The Taliban's ban on Afghan women working in the U.N. can be viewed as part of its broader strategic plan to reestablish gender norms and hierarchy within the country.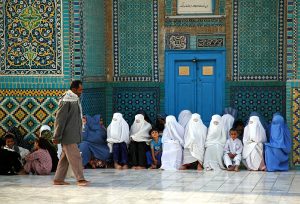 In April 2023, the Taliban's agenda to strip away women's rights in Afghanistan reached a new low as they banned female Afghan women from working with the United Nations. Following the news, the U.N. has advised over 3,000 of its national staff members, including approximately 400 Afghan women, to refrain from reporting to their offices due to concerns for their safety.
This ban comes as no surprise, considering the ongoing regression in women's rights since the Taliban regained control in 2021. In just two years, they have denied girls education beyond the sixth grade, restricted women's access to public spaces, enforced full-body covering in public, forbidden women to travel without a male relative, and forced NGOs to remove women from their workforce.
The consequences of these restrictions are dire. A U.N. Women report expressed that the ban on Afghan women working at NGOs in Afghanistan is a "death sentence" for millions of Afghan women, jeopardizing some women's jobs at NGOs and depriving others of life-saving aid. If this oppressive trend continues, Afghan women will be left illiterate, dependent, and without any hope for a better future. 
Importance of Including the Afghan Women in U.N.
After the Taliban initially banned Afghan women from working in NGOs in December 2022, many organizations had to scale back their programs, resulting in significant reductions in their operations. According to a survey conducted by U.N. Women among 151 NGOs in Afghanistan, only close to 15 percent were able to operate fully, and the impact on reaching women was felt by all organizations. Consequently, the U.N. missions played an even more crucial role in sustaining aid work in the aftermath. 
The U.N., with its extensive network of over 24 agencies, funds, and programs, stands out as a core organization that possesses the capacity and resources to collaborate with national and international NGOs in Afghanistan. The Taliban's move to ban Afghan women from aid work in December had a profound impact on the U.N.'s missions, as evidenced by a U.N. employee reporting a productivity drop of over 50 percent in just four months. This decline highlights the essential contribution of Afghan women in U.N. missions, as they have access to populations that their male colleagues often cannot reach due to conservative gender norms and segregation. 
In Afghanistan, U.N. women workers served in various capacities, such as nutrition experts, community health workers, teachers, vaccinators, nurses, and doctors, actively contributing to the welfare of Afghan women. However, the recent ban on U.N. Afghan women workers has created a deliberate obstruction, leaving many Afghan women without necessary assistance. This is particularly alarming as 20 million Afghans are facing life-threatening food insecurity, 6 million of whom are nearing famine.
Possible Motivations Behind the Taliban Decision and Its Implications 
The Taliban's ban on Afghan women working in the U.N. can be viewed as part of its broader strategic plan to reestablish gender norms and hierarchy within the country. 
Research indicates that female participation in U.N. missions serves as a source of inspiration, role models, and mentors for local women and girls, contributing to more equitable gender relations in communities. These role models empower women to speak out against violence, pursue career aspirations, and challenge societal expectations. Hence, by prohibiting Afghan women from working in the U.N. in the country, the Taliban obstruct the ability of Afghan women to transcend societal expectations, effectively suppressing their dreams and aspirations.
Moreover, by removing Afghan women from U.N. operations, the Taliban kill two birds with one stone. First, the regime deprives women of opportunities for self-sufficiency and economic independence. Second, it opens up more job prospects for men, perpetuating the notion of male providers. For instance, following the initial December ban, for some U.N. operations, Afghan men were hired to replace Afghan women. It is clear that with such strategies Taliban are trying to further their agenda to revive a culture where women depend on men for their livelihood. 
Additionally, this ban also serves as a strategic measure to suppress potential activism and uprisings against the Taliban. Afghan women possess a powerful tool that the Taliban fear: their shared pain and stories, which have the power to unite them. This collective pain has the potential to mobilize women and even men toward activism or even armed resistance. Similar strategies have been observed in the Salvadorian civil war, where Farabundo Marti National Liberation Front (FMLN) female combatants were successful mobilizers and recruiters who leveraged their shared identity and narratives as victims to gain trust, sympathy, and movement. Therefore, by putting this ban on Afghan women, the Taliban stifle their ability to interact, share stories, and mobilize for collective action.
Furthermore, the Taliban's decision to ban women from working with NGOs can be attributed to their desire to exert control over the flow of information to the outside world. Studies have shown that U.N. female agents can be great at gathering intelligence from local communities, particularly in patriarchal societies. By restricting women's participation in U.N. missions that closely engage with local communities, the Taliban seek to silence the voices of Afghan women and prevent the truth about their experiences from being known internationally.  
For instance, last year an undercover investigative journalist revealed a chilling reality, exposing the Taliban's efforts to hide the truth. According to her report, following the Taliban's takeover in 2021, prisons were emptied across the country, and women and girls were imprisoned by the Taliban for alleged "moral crimes" without any official records or reporting. These victims remained concealed, relying on their families to discover their whereabouts and negotiate their release. Through a deliberate absence of official documentation, the Taliban obscured these egregious abuses from the rest of the world. 
The Global Community Must Continue to Act for Afghan Women
It is imperative for the international community to take stronger actions and confront what can be recognized as "gender apartheid" in Afghanistan. International organizations must continue providing essential support to Afghanistan, including food, clean water, and healthcare services. To ensure the inclusion of Afghan women and girls, they must strengthen partnerships with local and grassroots NGOs that focus on women's empowerment and deliver vital services. Moreover, international organizations can invest in establishing online platforms, mentoring programs, and virtual networks, bridging geographical gaps, and enabling women to access information, education, and opportunities remotely.
This intervention is necessary not only to protect the rights of women today but also to prevent the continuation of these oppressive norms. Left unchecked, these abuses could shape a culture that will impact generations to come. We must gather the courage to establish a precedent and firmly assert that women's rights should never be subjected to political bargaining or negotiation.
The evidence of atrocities committed against Afghan women is abundant, and these acts constitute severe human rights violations. By standing together, we can unequivocally affirm our commitment to upholding Afghan women's rights as human rights.