Thai Elections Won't Restore the Rule of Law
A 15-year-old sits in detention for insulting the monarchy. With such cases in progress, the election this Sunday alone can't be expected to put Thailand back on track.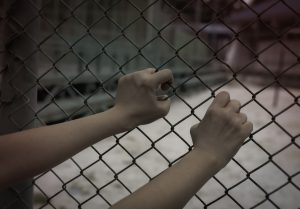 Thailand is preparing for a political earthquake, with a possible victory for the opposition in Sunday's election against the current regime, which came to power in 2014 through a military coup. Meanwhile, 15-year-old Yok (many Thai people go by a nickname), is sitting in detention, waiting to hear her fate.
Yok's crime? Scribbling some statements on the pavement and delivering a speech deemed critical of the Thai monarchy last October. As kids all over the country were enjoying their break (the school year starts in mid-May in Thailand), on March 29, police took Yok into custody. 
Unlawful arrests and prolonged detentions for allegedly "insulting" the Thai king are unfortunately nothing new. Lèse-majesté has been the law in Thailand since the country's first criminal code in 1908. 
But in recent years, a youth-led pro-democracy movement started to openly challenge the traditional grip on power of the "iron triangle" of Thai politics: the military, the palace, and the business establishment.  
Since then, lèse-majesté has been increasingly used as a convenient tool to silence and intimidate peaceful pro-democracy activists. Since November 2020, more than 240 people, including 18 children, have been charged under this law, the violation of which is punishable by three to 15 years of imprisonment. 
Still, the fact that Yok was 14 at the time of her alleged offense — the youngest protester to face such a charge — marks a new low for the Thai government and its judiciary. Yok's case is shocking not only because of her age or the fact that she was charged under a law that carries a penalty equivalent to that of manslaughter. It is also shocking because of the complete disregard that the authorities have shown for legality.
Police officers used widely disproportionate force at her arrest. After dragging Yok into a police interrogation room, officers pinned her down on the floor. As one officer straddled her, others reached under her shirt to confiscate the iPad she had used to livestream her run-in with the police on her personal Facebook account. Reflecting the politicized nature of the case, police ignored provisions under Thai law pertaining to juveniles, and a court later approved her detention.
At the Baan Pranee Juvenile Vocational Training Center for Girls, officials obstructed Yok's lawyer from seeing her, an egregious violation of her rights as a criminal suspect, not to mention the procedural protections to which minors are entitled under Thai and international law. Most recently, on May 3, the center's director issued an announcement barring visits from family and relatives in response to a peaceful activity by pro-democracy activists calling for Yok's release. She also reported being mistreated by the staff inside the center, who attempted to turn other minor co-detainees against her.
Lèse-majesté is only one of the pretexts Thai authorities use to crack down on pro-democracy activists. Since late 2020, more than 1,900 people have been charged for expressing their political opinions about the monarchy or the government led by Prime Minister Prayut Chan-o-cha. In 2021 a former civil servant received a 43-year prison term simply for sharing clips about the monarchy on social media. Last year, Petch, a 17-year-old activist was convicted under lèse-majesté twice — first in November and then in December 2022 for speeches discussing the monarchy. Sainam, also 17, was charged for wearing a black crop top with a protest message written on his torso.
Amnesty International and Human Rights Watch have called on the Thai government to immediately release Yok and drop charges against her. "By arresting a 15-year-old girl, the Thai government is sending the spine-chilling message that even children aren't safe from being harshly punished for expressing their opinions," Elaine Pearson, Asia director at Human Rights Watch stated. Since 2012, the United Nations Working Group on Arbitrary Detention has issued no fewer than nine opinions finding that Thailand's lèse-majesté law is inconsistent with international human rights law. 
Thai people will vote this Sunday in only the second election since the 2014 military coup. But whatever the results, the United States and international community cannot afford to ignore cases like Yok's, and should apply pressure to free her and for durable reforms to the easily abused lèse-majesté law. 
Yok's case shows why the election in Thailand this Sunday alone can't be expected to put the country back on track after almost nine years of disastrous military government.