Cambodia Amends Election Law, Disqualifying Non-Voting Candidates
The amendment is intended to prevent a boycott of the July 23 election, which could undermine the planned handover of power from Prime Minister Hun Sen to his son.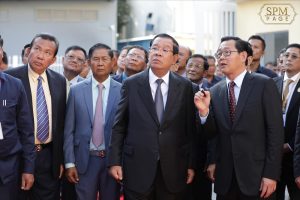 On Friday, Cambodia's National Assembly unanimously approved an amendment to the election law prohibiting those who don't vote in next month's national election from running as candidates in future elections. Hun Sen declared last week that the law would be amended ahead of the July 23 election in order to compel candidates for public office to cast a ballot.
"Individuals wishing to stand for election must participate in voting events prior to their mandate," Interior Minister Sar Kheng said in a statement posted on Facebook after the passage of the law, Reuters reported. "The amendments impose fines and punish individuals who disrupt and obstruct the voter registration process… (and) the election."
Under the amended election law, prospective candidates must have voted in at least two elections to qualify as a candidate in elections at the commune, district, municipal, provincial, and national levels.
In a speech yesterday, Hun Sen defended the change to the electoral law, claiming that it would apply to all political parties – not just the opposition. "They are not aimed at you alone, but at all political parties, because they must act responsibly. Encouraging people not to cast ballots is counterproductive. If you don't go to the polls, you waive your right to stand in any future elections," he said.
After the law has been approved by the Senate (a foregone conclusion) opposition figures living in exile abroad, unable to vote in the upcoming election, would automatically be disqualified from future elections. As Radio Free Asia notes, it will also discourage what remains of Cambodia's opposition from planning a boycott of the July 23 vote.
A coordinated boycott is about the only real avenue left for Hun Sen's opponents, following the National Election Committee's decision to bar the Candlelight Party (CLP), the country's only significant opposition party, from participating. The Commission cited errors with the CLP's paperwork, though the party has good grounds to consider the decision politically motivated: its officials were quick to point out that the same requirements did not apply at last year's commune election.
The disqualification of the CLP all but ensures another clean sweep of the election by Hun Sen's Cambodian People's Party (CPP), after the result in 2018 in which it won all 125 seats in the National Assembly. In a foreshadowing of the upcoming election, this came after a court disbanded another opposition party, the Cambodia National Rescue Party, for allegedly plotting to overthrow Hun Sen's administration.
While there have as yet been no open calls for a boycott, unlike in 2018, the CPP has some reason to be concerned and saw record levels of spoiled and invalid ballots. Nearly one in 10 votes was either blank or invalid that year, a considerable increase from around 1-2 percent at the national elections of 2008 and 2013. A similar or larger proportion of spoiled ballots might embarrass Hun Sen, taking the shine off his expected lopsided victory.
On its face, the legal amendment seems entirely unnecessary, given how marginalized most of Hun Sen's opponents now are. But it makes at least some sort of sense when one considers the real function that next month's election will serve: as an acclamatory plebiscite on the planned handover of power to his son Hun Manet, which is expected to take place sometime within the next mandate. Having gone to great lengths to ensure his party's nearly unchallenged victory, Hun Sen must also protect himself – and his legacy – against an incidental loss of face.