Can IPEF Protect Corporate Supply Chains?
An IPEF agreement notwithstanding, companies in the Indo-Pacific will still be at risk of disruptions to their supply networks.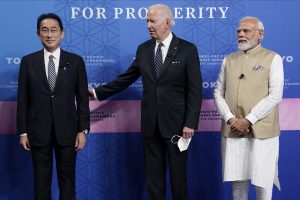 Late last month, an Indo-Pacific Economic Framework for Prosperity (IPEF) Ministerial Meeting was held in Detroit, concluding in principle the negotiations for the IPEF Supply Chain Agreement. IPEF was created in Tokyo in May 2022 with 14 founding member nations. Following the IPEF Ministerial Statements on September 2022, negotiations commenced in the four areas of trade, supply chains, clean economy, and fair economy. The agreement on supply chains looks set to be the first across the finish line. Next, the text will be finalized, domestic consultations will take place, and a comprehensive legal review will be completed ahead of the formal signing of the agreement.
At the request of the U.S., the IPEF does not include market access, a topic of high interest to ASEAN countries. At the same time, the Biden administration wants to appeal to domestic labor unions and environmental groups, which is why it is trying to include – much to the bewilderment of the ASEAN countries – regulations related to "labor [rights]" and the "environment," areas that appear largely unrelated to supply chains. However, because of the keenly felt need to reduce the risk of excessive dependence on certain countries and to strengthen supply chains, an agreement was quickly reached in that area.
The IPEF Supply Chain Agreement aims to increase the resilience, efficiency, productivity, sustainability, transparency, diversification, security, fairness, and inclusivity of supply chains through both collaborative activities and individual actions taken by each IPEF partner.
According to the U.S. Department of Commerce, IPEF partners aim to 1) provide a framework to build their collective understanding of significant supply chain risks, supported by each partner's identification and monitoring of its own critical sectors and key goods; 2) improve crisis coordination and response to supply chain disruptions and work together to support the timely delivery of affected goods during a crisis; 3) ensure that workers and businesses, especially micro-, small-, and medium-sized enterprises, in the economies of IPEF partners benefit from resilient, robust, and efficient supply chains by identifying disruptions or potential disruptions and responding promptly, effectively, and, where possible, collectively; and 4) better prepare businesses in the economies of the IPEF partners to identify, manage, and resolve supply chain bottlenecks, including by strengthening supply chain logistics and infrastructure, etc.
In other words, IPEF partners aim to identify items that are at risk of supply network disruption, share information in normal times, expand sources for the procurement of important goods and items among participating countries, as well as to allow for flexible procurement during crises.
From a corporate perspective, supply chain disruption risk is not limited to economic security. A framework is needed that can deal with natural disasters such as earthquakes and floods, as well as country risks such as riots and disturbances. To build a safety net that responds to supply chain disruption risk in a wide range of industries, it is essential to collect and analyze information that goes down to the corporate level, by going back up the supply chain. Unfortunately, most governments do not do this, and there are limits to what can be expected of them.
In the case of the United States, detailed reports on areas such as finances, activities, and transactions have to be submitted on a quarterly and annual basis, not only by companies in the United States itself, where the Department of Commerce operates, but also by foreign affiliates located overseas when 10 percent or more of the voting rights belong to American individuals or companies. Responding to all such surveys is mandatory.
Meanwhile, the Japanese Ministry of Economy, Trade, and Industry conducts an annual Basic Survey of Overseas Business Activities, but it is treated as a general statistical survey and reporting is not mandatory. As for the business activities of overseas subsidiaries, Japan broadly surveys sales and purchase amounts, but there are no questions about what specific items and procured and where, so it is difficult to measure the risk of supply chain disruptions. Many other IPEF member countries have no systematic surveys at all. Even so, IPEF does not oblige companies to disclose information.
As such, the measures implemented under the agreement will probably be very limited, with IPEF likely to be able to prepare a safety net for supply chain disruptions for only a few industries, such as for semiconductors, medical products, rare earths, and other mineral resources. Although the details of the agreement have yet to emerge, even when they do companies will need continue to developing their own means of reducing the risk of supply chain disruption.
For instance, after the experiences of the Great East Japan Earthquake and Thailand floods in 2011, Toyota worked to visualize supply networks and develop alternative production systems. In 2013, the company built the supply network database "RESCUE" (Reinforce Supply Chain Under Emergency), which allows instant tracing of about 400,000 components for various car models as well as suppliers up to tier 10. In the past, it could sometimes take several months to identify the types and quantities of missing parts, but with RESCUE bottlenecks could be identified and addressed in about a day. However, even Toyota was forced to suspend operations several times during the COVID-19 pandemic. An IPEF agreement notwithstanding, companies in the Indo-Pacific will still be at risk of disruptions to their supply networks.