Cyclone Biparjoy: Pakistan's Coastal Belt Is on the Verge of Destruction
As the cyclone moved toward landfall, thousands of people were at risk in Pakistan's Sindh province.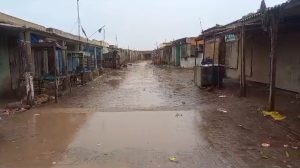 Cyclone Biparjoy's landfall at Sindh, Pakistan is expected in a few hours. It is already raining with strong winds in many parts of the country, and due to rising sea levels the coastal areas of several districts of Sindh province have been flooded.
Despite extensive preparations beforehand, a large population is still stuck in vulnerable areas. According to official figures, there are some 38 million people in high-risk districts, with estimates that 308,394 will be directly affected by the cyclone.
According to the Meteorological Department, as of this writing the cyclone is 220 km from Karachi, 210 km from Thatta and 130 km from Keti Bandar. According to the statement, winds are blowing at a speed of 150 km per hour in the center of the storm, while the height of the waves is 25 to 30 feet.
Given the danger of the storm, the government of Pakistan has issued an alert and started a rescue operation.
The coastal areas of Badin, Sajawal, and Thatta districts are being evacuated. According to the statement issued by the Sindh chief minister's office, so far more than 70,000 people have been shifted to 51 relief camps in safe places.
Hakim, 40, a resident of Keti Bandar, along with her two children, were among the hundreds of people to arrive at a relief camp in Thatta district after the city was evacuated due to Cyclone Biparjoy.
She is worried that all the goods and valuables in the house they left behind are going to be destroyed. "We have come here empty-handed, we have nothing. Even if the situation improves, it is not possible to rebuild the house" if it is destroyed.
"We have left our homes due to the danger of the storm, but now where will we go and what will we do?" Hakim lamented.
Noraan, who has taken shelter in another relief camp, was unhappy with the state of the camp. "We were happy in our house, we have been taken to the camps due to the storm, and there are no facilities available here.
"Let's pray that the situation will be fixed as soon as possible so that we can return to our homes. The children are crying. We are worried about what to do now."
Despite floodwaters entering the Keti Bandar area, many people are still there to look after their homes.
Majeed says that all the relatives have been shifted to safe places, but some have stayed behind: "We are there so that if the situation does not worsen, we can restore our houses."
The government is conducting the evacuation process, and many local people have reached various safe places with their help.
Anwar said that many people had left in the government vehicles. "We were in a panic, we saved ourselves by taking whatever money was left."
Due to the expected impact on the coastal belt of Karachi, instructions have been issued to the coastal areas, including Ibrahim Hydari and Rerhi Goth, for residents to evacuate their homes. But most people remained as of this writing.
Residents of Ibrahim Hydari told reporters they were unwilling to evacuate. "Where should we go after leaving our jobs and homes? The sea is our home, if we leave here, we will not be anywhere."
Due to the rise in the sea level as Cyclone Biparjoy comes closer, water has already entered several villages in Keti Bandar and hundreds of houses have been inundated.
According to the advisory issued by the Provincial Disaster Management Authority (PDMA) Sindh on Wednesday, "On the evening of June 15, the storm is expected to pass between Keti Bandar and the Indian Gujarat coast with wind gusts of 100 to 120 km/h" but going up to 140 km/h.
The Provincial Emergency Operations Center of Sindh's PDMA is continuously monitoring the system and will issue updates accordingly. People are requested to take precautionary measures and follow the government's instructions.
Heavy rain with wind speeds of 80-120 km/h are expected between June 14-17  in Thatta, Sajawal, Badin, Tharparkar, Mirpurkhas and Umarkot districts of southeastern Sindh province. Widespread thunderstorms are likely.
From June 14 to June 16, Karachi, Hyderabad, Tando Muhammad Khan, Benazirabad, and Sanghar districts are also likely to witness heavy rains and thundershowers with winds gusting from 60-80 km/h.
Already, the protective embankment of Hayat Jat village in Thatta has also been breached and water is moving forward. Rains have also started along with strong winds in many areas including Thatta, Sajawal, Keti Bandar, and Mirpur Sakro. As of mid-day Thursday, some places had lost power due to fallen electric poles.
Thousands of people have been left homeless, and the government has evacuated a large number of people to different camps, but many others remain in areas threatened by Cyclone Biparjoy.
According to PDMA Sindh, strong winds can damage fragile and crude houses, and conditions on Sindh's coastline are at risk of getting very bad, with waves reaching 2-2.5 meters. Fishermen have been requested not to venture into the open sea until June 17.
However, some fishermen of Badin district were already fishing far out on the open ocean before the warnings came down, and their relatives have not been able to reach them.
Muhammad Umar said that a week ago fishermen of the village went deepwater fishing on some 20 boats. "When we suddenly came to know about the cyclone, our hearts were broken. Were they hit by the storm?"
Their family members say that they have not heard any news of the missing men.