Kin of Forcefully Disappeared People in Bangladesh Demand Answers
The forum Maayer Daak has helped people overcome their fear of further retribution from the state and speak up about enforced disappearances.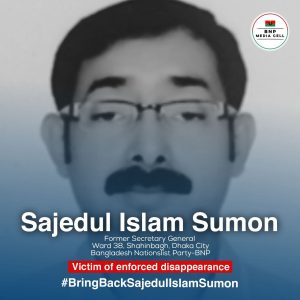 While Bangladesh is internationally lauded for its economic growth and development under Prime Minister Sheikh Hasina, international human rights organizations are slamming it for its dismal human rights record.
Under Hasina, the Bangladeshi elite paramilitary force, the Rapid Action Battalion (RAB), and other Bangladeshi law enforcement agencies are alleged to be responsible for more than 600 enforced disappearances since 2009, nearly 600 extrajudicial killings since 2018, and torture. Some reports suggest that these incidents targeted opposition party members, journalists, and human rights activists.
Against the backdrop of the persistent campaign of local and international human rights organizations, the Biden administration on December 10, 2021, levied sanctions against the RAB and six of the elite paramilitary force's former officials as well as current and immediate past heads of the Bangladesh Police. In addition to the sanctions, the U.S. State Department imposed a visa ban on two former RAB officials and their family members for gross human rights violations.
While this punitive action has almost stopped enforced disappearances and extrajudicial killings in Bangladesh, families of "forcefully disappeared" people are demanding answers from Bangladeshi authorities.
They have united under the banner of Maayer Daak (Mother's Call) to amplify their voices in a collective cry for justice. These mothers, sisters, and wives have become unwavering advocates for their kin, demanding the truth about what happened to their loved ones, and ending the culture of impunity.
According to the United Nations, an enforced disappearance occurs when someone is arrested, detained, abducted, or deprived of their freedom by state agents or individuals or groups acting with state approval. The act is followed by a refusal to admit the detention or hiding information about the fate or location of the person, leaving them without legal protection.
The International Convention for the Protection of All Persons from Enforced Disappearance defines enforced disappearance as a crime against humanity.
Bangladesh's Awami League government has persistently denied the allegation of enforced disappearances, with ministers even ridiculing the claims,  saying that "those missing were in hiding to escape prosecution for criminal actions, to avoid debt repayments, or due to family disagreements." Bangladeshi Foreign Minister A.K. Abdul Momen even said that "Many on the list of missing persons have drowned in the Mediterranean or are hiding inside the country."
However, Mohammad Ashrafuzzaman, liaison officer of the Asian Legal Resource Center in Hong Kong, told The Diplomat that there is a systematic pattern of enforced disappearance in Bangladesh.
"First, law enforcement agencies pick someone up; second, they deny that they ever picked or detained that person; third, the victim's family members fail to register the police complaint; and fourth, that person never returns or is found dead," Ashrafuzzaman said.
"Even when some lucky person returns from forced disappearance they don't speak up," he pointed out.
A March 2022 study by the Center for Governance Studies (CGS) noted that 318 of the 522  people who were forcefully disappeared between 2009-2018 returned. But they never spoke up.
A Bangladeshi journalist found two secret illegal detention facilities in the capital city of Dhaka and one in a southern district.
The Sweden-based Bangladesh-focused investigative news site Netra News released photographs of a cramped cell in a secret prison called Aynaghar (House of Mirrors) managed within the premises of the Dhaka Cantonment.
"We know that my brother Sajedul Islam Sumon, who is a local organizer and leader of the opposition Bangladesh Nationalist Party (BNP), was detained by RAB in December 2013. But following that detention, we don't know of his whereabouts. It's been almost 10 years, and the government is yet to acknowledge that they picked up or detained my brother," Sanjida Islam, sister of Sumon, told The Diplomat from Dhaka.
Sanjida said that she and her family went from one government office to another in search of him. But no one registered their complaint.
Against that backdrop, Sumon's family along with other the relatives of other enforced disappearance victims organized a public event in Dhaka in 2014. Since then, they regularly organize public events demanding to know from the government the whereabouts of their loved ones.
That forum for families of the alleged victims of enforced disappearance has now become Maayer Daak. Sanjida who is a coordinator and key organizer of Maayer Daak, said that Argentina's Mothers of the Disappeared, formed in 1977, inspired them to form Maayer Daak.
Underpinning the significance of Maayer Daak, Mary Aileen Diez-Bacalso, executive director of Forum Asia, told The Diplomat that "a forum like Maayer Daak gives voice to the voiceless family members of the disappeared. Women, especially mothers of the disappeared, bear the brunt of the devastating consequences of enforced disappearances.  Giving them a voice, through Maayer Daak, will amplify the many voices of women — mothers, grandmothers, wives, and daughters of the disappeared." Diez-Bacalso was the founding general secretary of the Asian Federation against Involuntary Disappearances (AFAD) between June 1998 and July 2019.
Against the backdrop of persistent government denial of systematic enforced disappearances in Bangladesh, organizers of Maayer Daak have come under intimidation and harassment from the law enforcement agencies.
People have been arrested at its meetings. Members of law enforcement agencies harassed them in their houses in the middle of the night and raided some of their houses. The U.S. ambassador to Bangladesh, Peter D.  Haas, was heckled by ruling party figures when he visited Sanjida's house in December 2022.
Despite multipronged harassment, Maayer Daak persists in its efforts to draw public attention to the problem of enforced disappearances in Bangladesh. It has garnered national attention through regular media coverage of the heart-wrenching accounts of children, wives, and parents and their endless waiting for their loved ones.
BNP leader A.K.M. Wahiduzzaman said that if the BNP comes to power in upcoming general elections, they will put all the families of the disappeared people on state aid, establish a truth commission to investigate what happened to them, and initiate a judicial process under U.N. supervision to put the perpetrators of the enforced disappearance on trial.
Whether the struggles of Maayer Daak succeed remains to be seen. But it has come a long way by helping victims and families of disappeared persons overcome fear of further retribution from the state and managing to internationalize their story.
The Argentine mothers of the disappeared took several decades and thousands of marches to bring the perpetrators of torture and enforced disappearance into the spotlight of justice. As a result of their persistence, up until 2016, 700 of the dictatorship's torturers were sentenced. Importantly, Argentina remains a democracy.
The movement of Maayer Daak too is becoming a symbol of courage and a living testament to the brutal cost of authoritarian politics.