Malaysia Seeking Interpol's Assistance to Investigate Comedian
The New York-based comedian Jocelyn Chia created a social media storm last week when she posted a short clip featuring a joke about Malaysian Airlines Flight MH370.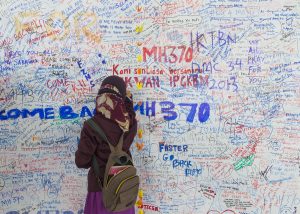 Yesterday, Malaysia's police chief made the startling announcement that the country's government is seeking Interpol's assistance in tracking down a stand-up comedian who made jokes about missing Malaysia Airlines Flight MH370.
Jocelyn Chia, a comedian based in New York, created a massive online wave in Malaysia and Singapore earlier this month after she posted on social media an 89-second clip from a live comedy set at Manhattan's Comedy Cellar.
Speaking to reporters yesterday, national police chief Acryl Sani Abdullah Sani said Malaysia would this week ask Interpol for Chia's location and full identity, Reuters reported, citing the state news agency Bernama. Malaysia plans to investigate Chia's routine under its own laws related to provocation, incitement, and publication of offensive online content, he added.
The clip of Chia's set includes a number of jokes at Malaysia's expense. Among these were routine cracks about Singapore and Malaysia's famously fractious relationship, which dates back to Singapore's expulsion from the Malaysian Federation in 1965. Riffing on this theme, Chia joked that Singapore had risen to become a first-world country while Malaysia had remained a "developing" one, quipping, "Isn't that the best breakup revenge?"
She then pivoted to jokes about Malaysian airplanes, suggesting they "can't fly," which many took as a reference to flight MH370, which went missing along with 239 passengers and crew en route from Kuala Lumpur to Beijing on March 8, 2014. The plane and its passengers have never been found.
"What? Malaysia Airlines going missing not funny, huh?" she said. "Some jokes don't land."
After the clip was posted online last week, it ignited a significant backlash against Chia and the Comedy Cellar. As the New York Post reported, "the Greenwich Village club's website was hacked, and 4,000 one-star reviews were posted on Google."
There was also a predictable beating of chests among right-wing nationalists in Malaysia. As the Malaysian internet creaked under the weight of online acrimony, the home minister denounced Chia's comments as insensitive and offensive, and youth activists from the United Malays National Organization (UMNO), the party that has dominated Malaysian politics for most of its post-independence history, marched to the U.S. embassy in Kuala Lumpur on June to "protest" Chia's jokes. "This is something that is unacceptable for the whole nation and [so] we are here," the youth group's chief Dr. Muhamad Akmal Saleh said, according to CNN. "Freedom of speech must come with sensitivity."
Singapore's government also took the backlash seriously enough to distance itself officially from the comic, who was born in the United States but held joint U.S.-Singaporean citizenship until adulthood. In a tweet, Foreign Minister Vivian Balakrishnan, apologized for her "horrendous comments" and noted that "she certainly does not speak for Singaporeans."
Interpol is an intergovernmental organization that aims to share and access data on crimes and criminals, with a focus on terrorism, cybercrime, and organized crime. The organization states on its website that it works with police in 195 countries in order "to make the world a safer place."
Why an organization with such a serious mandate should waste its time tracking down a comic is anyone's guess, but it is clear that given the backlash among Malaysians, Kuala Lumpur felt that it needs to take a strong stance.
As the New York Times noted, the outrage over Chia's jokes "demonstrated the fraught line toed by comedians when edgy routines are removed from their natural habitats in dark, late-night, alcohol-lubricated clubs and posted to social media for all to see." It is also a reminder that in many parts of Southeast Asia, national sensitivities are no joking matter.
For her own part, Chia has refused to apologize, defending her remarks on the grounds of free speech. "I didn't want the haters to think they had won and got me to back down," she told the New York Times.
Like any comedian, she couldn't resist making jokes about Malaysia's appeal to Interpol. "Would love to see the face of the interpol officer who received this request," she wrote on Twitter.
"Was wondering if there's any other Comedian more under fire than me right now and realized ah right, @ZelenskyyUa has it worse," she added in another tweet, tagging the handle of Ukrainian President Volodymyr Zelenskyy.